No more doubting that Chris Weidman is 185's true king
LAS VEGAS — The first one might have been lucky. (It wasn't.) The second was possibly a fluke. (But not really.) And the third one? Well, good luck characterizing this one as anything other than what it was, which was mostly a good old-fashioned butt-kicking against one of the best fighters of the last decade.
Chris Weidman has nothing more to prove about the legitimacy of his UFC middleweight title reign after Saturday night's UFC 175. Even those people with bad eyesight and faulty judgment should be able to agree with that after Weidman mostly dominated former light-heavyweight champ Lyoto Machida over five rounds.
Truth be told, he never really had anything more to prove to them in the first place. To them, beating Anderson Silva twice wasn't enough. Those are the people who could conveniently ignore the fact that Weidman out-landed Silva in both fights, knocked him out once and knocked him down twice.
Those people are not reasonable, yet they were still there in massive numbers, debating the legitimacy of what Weidman had done, or in there collective opinion, what he had failed to do.
Their argument was that Silva had not fought seriously the first time around, and so getting clipped and finished was more a punishment of his clowning than a byproduct of Weidman's preparation. And the second fight? Unlucky break, literally. No matter that Weidman won all four rounds they competed in and never faced a single moment of adversity.
There's nothing they can say now. Due to his unique style and cerebral approach, Machida has always been something of a bellwether opponent, a measuring stick of both skill and improvisational ability. No one accidentally beats Machida. Even when current pound-for-pound king Jon Jones faced Machida at 205 pounds, he struggled in the first round. Machida is too technically good, too defensively adept, too quick. Too exceptional, really.
He requires you to think outside the box, perform at your absolute apex and hold your defensive guard for the duration. It is a lot to ask, and most fall under the demands.
Weidman did all that and then some. He won four of the five rounds, losing only the fourth. And all this after having, in his words, "probably the worst camp of my life."
Machida is defensively brilliant, but he couldn't stop Weidman's technical aggression. The champion mixed up his punches and kicks, and constantly pressured the challenger, working diligently to cut off Machida's escape lanes. He ultimately landed 43 percent of his strikes and scored five takedowns against a fighter known for his ability to frustrate wrestlers.
No one against Machida had ever managed more than two takedowns. Weidman's 90 total landed strikes is also the most any opponent has scored against Machida.
The champion was so effective with his offensive mix that by the fourth, down big on the scorecards, Machida did something unheard of for himself. He threw caution to the wind, stood in the pocket and began exchanging with the champion. Machida had some moments of success there, but Weidman, showing the same competitive fire he flashed against Silva, often invited Machida to throw more offense at him even while absorbing damage.
"The plan was to keep the fight standing but Chris Weidman is a tough opponent," Machida said. "He's the true champion. He deserves the title."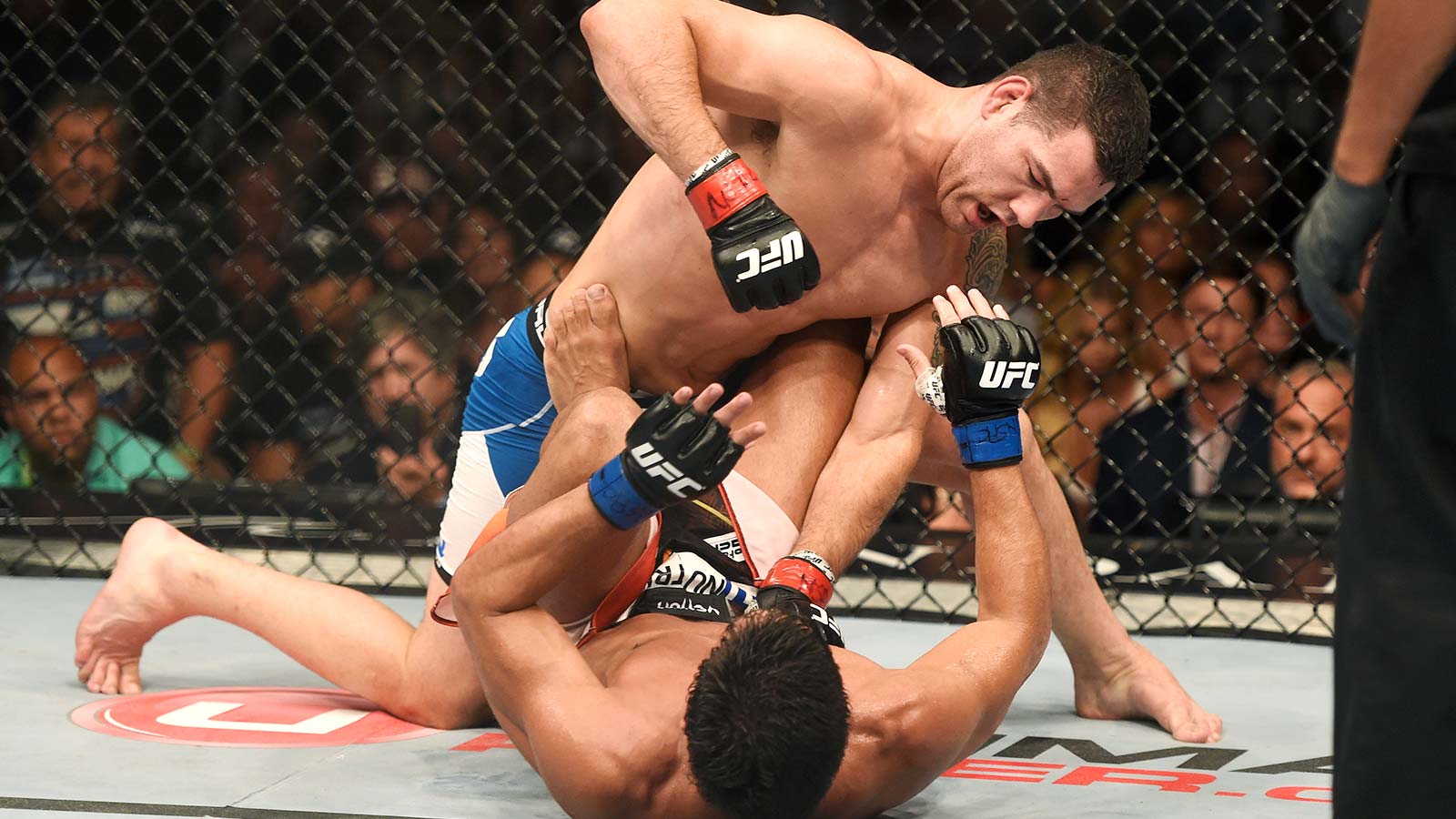 If Machida could accept it, the rest of the world should, too.
"I think the mystique of Anderson Silva was so strong that people were just like, Anderson got old, or this or that. Anderson's leg broke. Everyone had excuses," UFC president Dana White said. "This was an important one. This was big for him, man. Not just me, I'm sure all the fans who watched tonight, all the media, everybody had to be thinking, 'How's he going to get to Machida?' How's he going to get to Machida and cut off the ring? He has a very deceptive style.' And everybody knows now that Weidman is the man."
Of course, if you were paying close attention, you would have already known that by now. The New Yorker earmarked as the future world No. 1 by his trainer Ray Longo even before he stepped foot in the UFC, Weidman is another special talent that is finally transitioning the UFC story from departed favorites like Georges St-Pierre, Forrest Griffin and Brock Lesnar to young talent.
Among that group, there's him and Anthony Pettis, Jon Jones and Ronda Rousey. At a time when fans bemoan the exploding schedule of events, they often forget that the elite talent before us is transcendent.