Nate Marquardt taps out James Te Huna in UFC Fight Night Auckland main event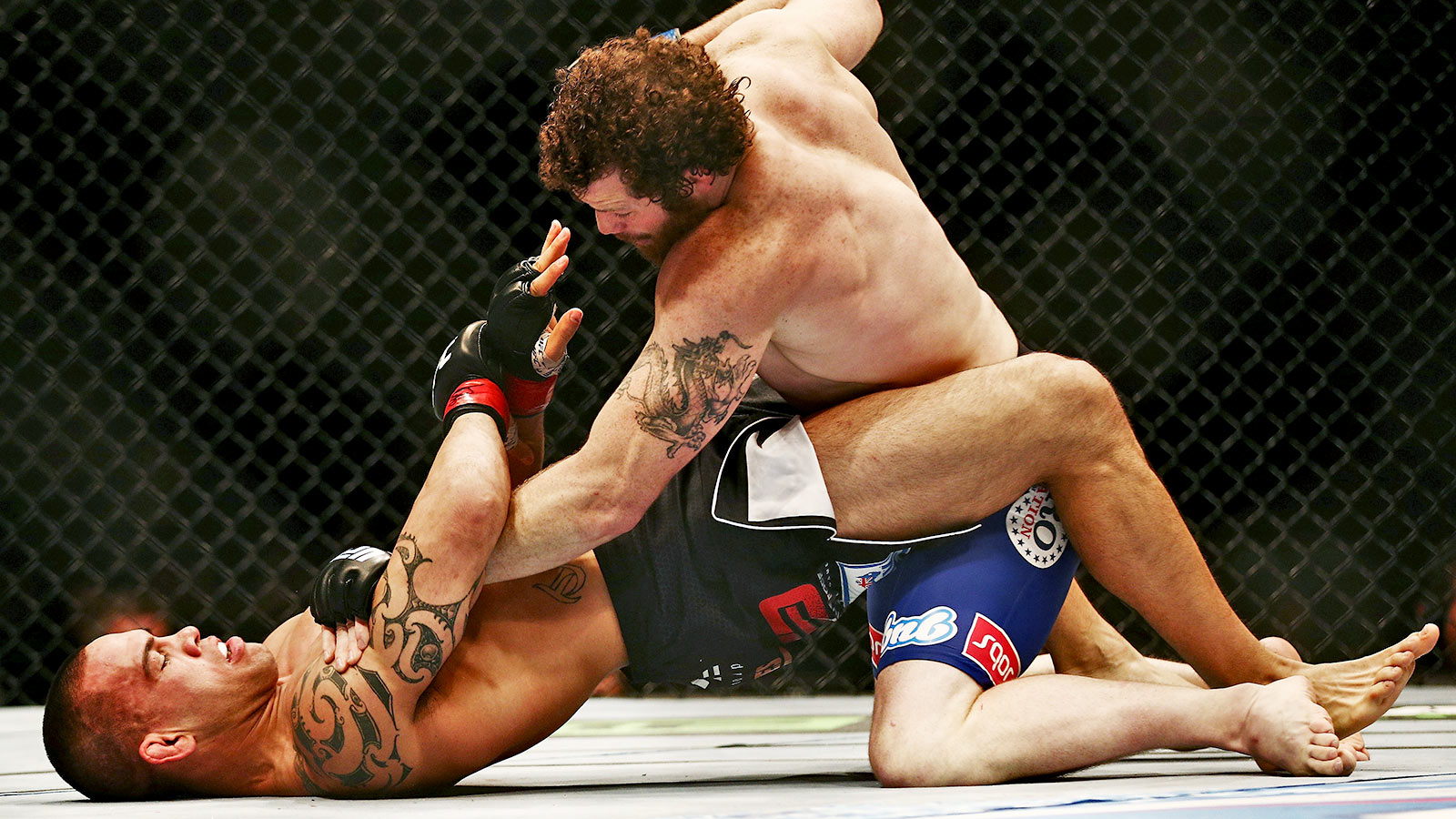 Faced with the first losing streak of his career and fighting as an underdog on his opponent's home soil, Nate Marquardt's UFC career might have laid in the balance.
But showing his veteran poise, the American needed less than a round to silence the critics at least temporarily, force James Te Huna to tap to an arm bar at 4:34 of their UFC Fight Night main event in Auckland, New Zealand.
The odds had closed with Marquardt as almost a 2-to-1 underdog despite a resume that was far superior to Te Huna's. The belief that was Te Huna's power coming down from light-heavyweight would be a major problem for Marquardt, who was knocked out twice in a row by UFC welterweights Jake Ellenberger and Hector Lombard.
But back up at his longtime home of 185 pounds, the 35-year-old Marquardt said he had more faith in his chin, and shook off Te Huna's lone barrage with no ill effects.
Marquardt stormed out of the gate early, dropping Te Huna with a knee to the head less than 30 seconds in. Te Huna survived it but was mostly on the defensive as Marquardt took the fight aggressively to him.
He seized control for good when he took the New Zealander down and passed to full mount with about 90 seconds left in the round. After some ground and pound, Te Huna tried to escape out the back door but Marquardt caught his arm and forced a tap, silencing the rowdy crowd.
It was only the second UFC armbar of 2014, in well over 200 fights.
Back in the win column for the first time in nearly two years, Marquardt is now 33-13-2 while Te Huna dropped to 16-8.
In other main card action from Auckland, Jared Rosholt defeated Soa Palalei via unanimous decision, Charles Oliveira tapped out Hatsu Hioki with a modified anaconda choke, and Robert Whittaker topped Mike Rhodes via unanimous decision.
Full results
Main Card
Nate Marquardt def. James Te Huna via armbar submission, Rd 1 (4:34)
Jared Rosholt def. Soa Palelei via unanimous decision (30-27, 30-27, 30-27)
Charles Oliveira def. Hatsu Hioki via modified anaconda choke submission, Rd. 2 (4:32)
Robert Whittaker def. Mike Rhodes via unanimous decision (30-27, 30-27, 30-27)
Preliminary Card
Jake Matthews def. Dashon Johnson via triangle choke submission, Rd. 3 (3:16)
Richie Vaculik def. Roldan Sangcha-an via unanimous decision (30-27, 29-28, 29-28)
Vik Grujic def. Chris Indich via TKO, Rd. 1 (4:55)
Neil Magny def. Rodrigo de Lima via TKO, Rd. 2 (2:32)
Dan Hooker def. Ian Entwistle via TKO, Rd. 1 (3:34)
Gian Villante def. Sean O'Connell via split-decision (29-28, 29-28, 28-29)