Nate Diaz: 'As far as I'm concerned, I beat Conor McGregor twice'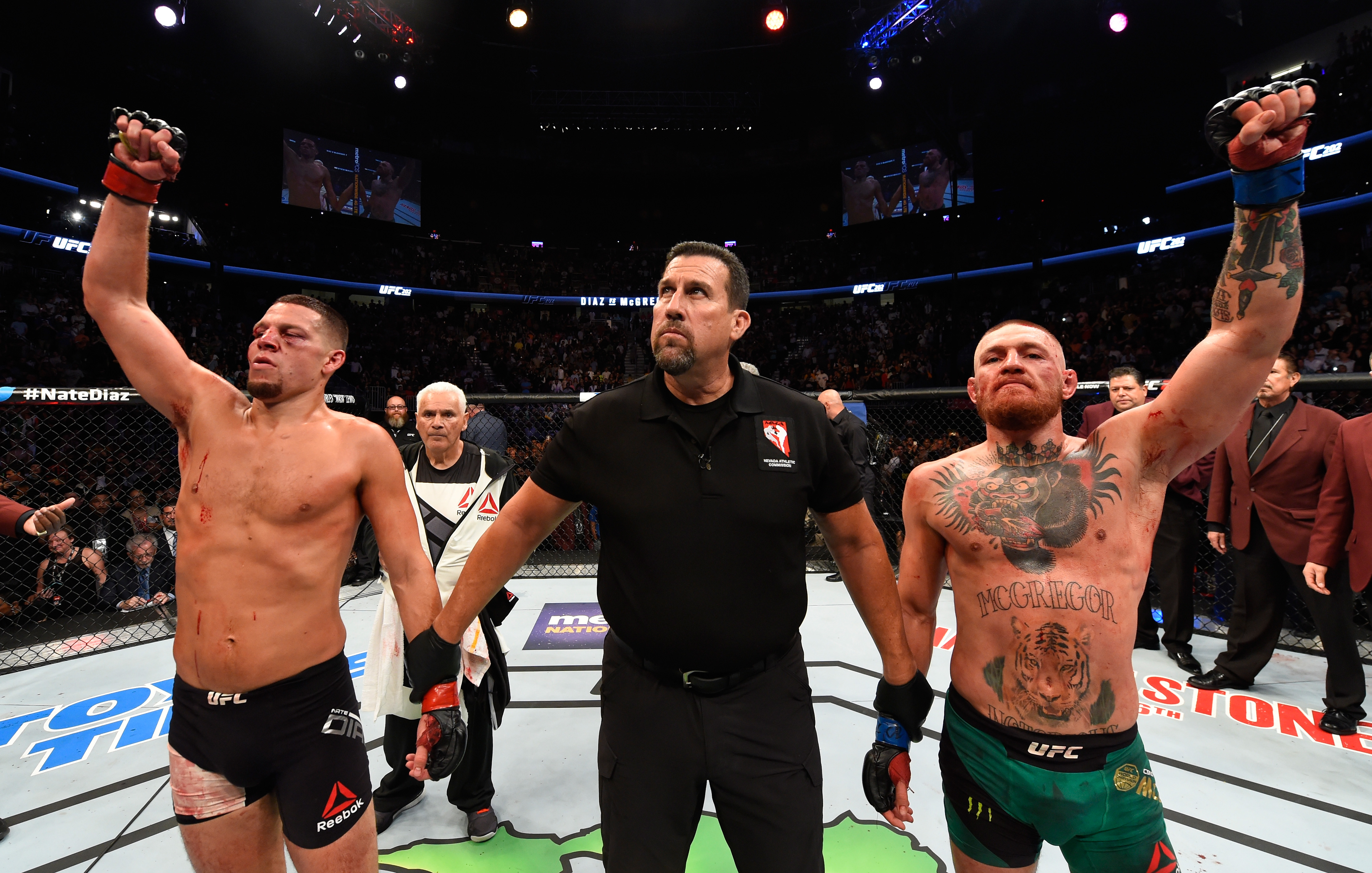 Nate Diaz is adamant as ever in his belief he deserved to see his hand raised after his 25-minute war with Conor McGregor at UFC 202
Conor McGregor defeated Nate Diaz with a hard-fought majority decision at UFC 202 earlier this month. That is how most of the world should remember it because that is, in reality, what happened.
With this victory, McGregor avenged his previous loss to Diaz, which came at UFC 196 in March. This would tie them at one win apiece, setting up the inevitable rubber match down the road.
But according to Diaz, he's actually undefeated against Irish rival.
During an appearance on former UFC fighter turned WSOF commentator Chael Sonnen's You're Welcome podcast, Diaz was adamant as ever in his belief he deserved to see his hand raised after their 25-minute war. When pressed whether he was hoping for a third fight against McGregor, in typical Diaz fashion, he shrugged the question off.
"Remember last time [I beat McGregor and UFC president Dana White and Lorenzo Fertitta] rushed to his house the next morning and said he was all obsessed or whatever?" asked Diaz. "I was pretty crazy about it for a couple of days, but it's whatever to me, you know? I won that fight so I'm not jumping for joy already for round three. I think I beat him twice, so it's 2-0 as far as I'm concerned. It might get made down the road, I don't know.
"I believe they know too, because he's got a smart coach on his hands. Him and his coach know what happened in the fight and they aren't stupid, so I think they are going to do what they can to return to his division and get onto a new stage."
But this time Fertitta won't be there as he, and his brother Frank, sold the UFC to WME-IMG earlier this year for more than $4 billion.
Diaz would then revealed he has yet to meet the new owner Ari Emmanuel,but was expecting a sit-down with White in the near future.
"I usually deal with Dana and Lorenzo with my management," said Diaz. "I usually get a lot of stuff done with Dana. There was a lot of friendly stuff going on, but it was hard for me to recognize because I was fighting. I had a lot on [my mind] but I saw there was a bunch of different people around, but I didn't see much because I was more paying attention to the fight.
"I didn't meet the new guys, and I didn't see them or anything. I don't think they were even there. They weren't on the scene. So no, I've not seen anything, but I look forward to meeting them and see[ing] who's doing what and what's what."
This article originally appeared on