Miesha Tate won't pass judgment on Rin Nakai's brand of marketing
Miesha Tate may be on the outside looking in when it comes to the women's bantamweight title after dropping two fights to champion Ronda Rousey, but with her No. 2 ranking and huge name value she remains one of the biggest stars in the sport.
Tate most recently defeated former title contender Liz Carmouche in April, and while it's essentially impossible to find an opponent for her to face who's ranked higher in the division, there are plenty of other top-15 names who could stand on the other side of the Octagon to give her a challenge.
The UFC opted to go in a completely different direction, however, and give Tate a fight with undefeated Japanese prospect Rin Nakai instead. Nakai is 16-0-1 as a professional and does hold wins over notable names like Tara LaRosa and Sarah D'Alelio, but she's largely unknown to American fans and not ranked among the best women in the world.
"She was completely off my radar," Tate told FOX Sports when asked about Nakai. "I had no idea the UFC had an intention of bringing her in, but once I signed on the dotted line I was committed and ready to do this fight. I feel kind of honored that the UFC would choose me to come over to Japan for the first women's fight in history that the UFC is putting on Japan soil.
"I think they realized that I have a strong presence and coming over here is going to help grow the international market and build the fan base over here in Japan. I think they chose me for a reason."
It's interesting, it's definitely different, but at the end of the day how she chooses to market herself really has no bearing on her performance in the Octagon
— Miesha Tate
Tate knew Nakai's name before they got matched up together, but the Japanese-born bantamweight fighter gained a bit of odd notoriety when the fight got announced. Prior to signing with the UFC when she was with her old promotion Pancrase, Nakai was featured in a series of bizarre videos where she was often dressed in strange outfits, almost in the nude and doing activities like weightlifting or baking a cake.
While Tate was more familiar with Nakai as a fighter, it didn't take long for her to find out the other side of her opponent's personality as displayed in the videos.
"To be honest, I've known of Rin Nakai for quite some time. She used to fight at 145, and the first time I ever saw her it was just a fighting video. She was fighting someone at 145. I never really looked into her videos beyond that, but I had seen some pictures," Tate said.
"I knew the whole deal before it was announced to the world that her and I would be fighting. I knew she had done some kind of provocative and a more risque way of marketing herself, but I never really thought much of it because I never thought of us fighting each other. When this did come to fruition, it was like the world is definitely going to be in for a surprise because not a lot of people are going to understand this and her choice of marketing."
The general curiosity about the multitude of videos Nakai shot has raised more than a few eyebrows leading into this fight. Her choice to wear a tiara and frilly prom dress to her first UFC news conference probably didn't help matters much, but Tate is not going to sit in judgment of Nakai on her choice of attire or how she chooses to market herself before a fight.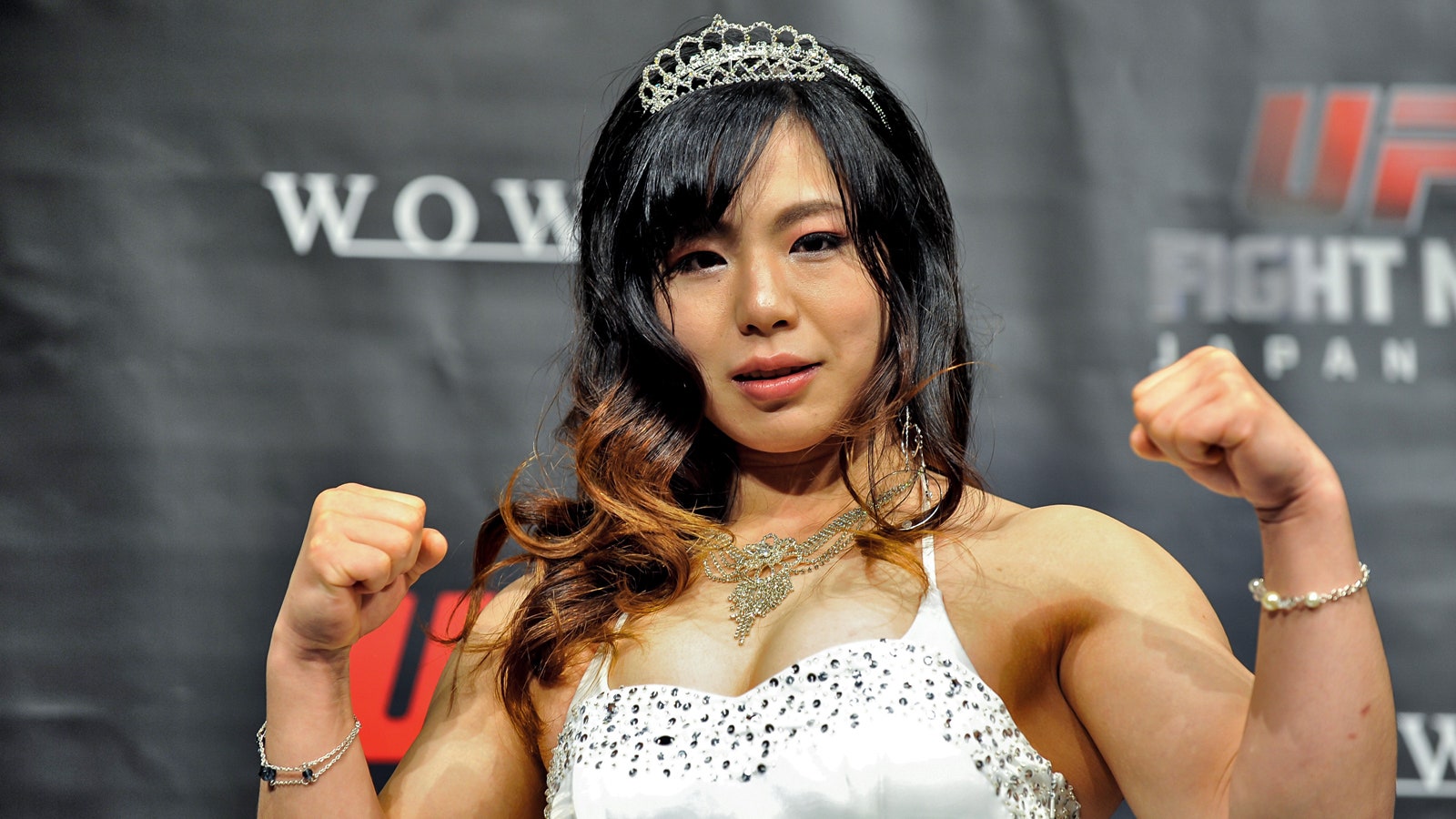 In the past, Tate has been accused of using sexuality as a way to sell herself as a fighter, so she understands all too well how misconceptions can haunt someone even with the best of intentions. It's not Tate's place to tell Nakai how she should or shouldn't market herself.
In other words, Tate couldn't care less what videos she's done or will do in the future.
"A lot of people want to pass judgment, but I'm not going to pass judgment on Rin Nakai," Tate said. "I don't know her background story, and I don't know the cultural differences fully, so she may have felt she needed to do that because women's mixed martial arts here in Japan has historically not gotten a lot of recognition. They have some of the best fighters in the world, and nobody seems to care.
"So maybe that was her way to do the 'something shiny' kind of thing, like, 'Look at me, but now watch me fight, watch my skill set.' I've done that on a certain level myself, but not on Rin's level. I don't see myself ever doing it that way, but with the cultural difference and her stepping up trying to get more attention for mixed martial arts, maybe she felt that was necessary."
While the videos are probably going to get a lot of attention this week because it's Nakai's debut, Tate is much more worried about the undefeated fighter standing in her way on Saturday. None of the pre-fight chatter changes the fact that Nakai is a hungry newcomer looking to make her name off of Tate's ranking and past success in the division.
"It's interesting, it's definitely different, but at the end of the day how she chooses to market herself really has no bearing on her performance in the Octagon," Tate said.
"She's won 16 fights with no losses. That's hard to do for anyone and I don't even care who you're fighting. At the end of the day, she's 16-0. That's what I have to focus on. I think she's going to be a very tough fight, probably one of my toughest to date. Her marketing strategies have nothing to do with what I have to do on Saturday night."