Michael Bisping, Georges St-Pierre get into brutal war of words at pre-fight presser
LAS VEGAS — Middleweight champion Michael Bisping was about 30 minutes late to the fight announcement press conference for his showdown with Georges St-Pierre but he quickly made up for his absence.
Bisping missed out on the start of the press conference due to the car sent to pick him up going to the wrong hotel, but as soon as he hit the dais to confront St-Pierre he was off and running.
Before St-Pierre could even finish the sentence he was speaking, Bisping interjected and let his presence be known.
"No one gives a [expletive]. No one gives a [expletive] Georges," Bisping said.
While St-Pierre was known much more for his skills inside the cage than his trash talk outside of it, he returned fire while mocking Bisping's tardy arrival at the press conference.
"I think Vegas got the best out of you unfortunately," St-Pierre said with a smile on his face.
Bisping then turned his attention to St-Pierre's long absence from the sport after he walked away from his welterweight title in 2013 with no clear indication whether or not he would ever return.
Over the past year, St-Pierre has sought to reach a new deal with the UFC but by the time he actually steps back into the Octagon he will be closing in on four years without a fight.
"Listen, Georges while you were away because you were too scared of everybody taking steroids, I was man enough to be fighting those guys. You went away," Bisping said. "You went and [expletive] chased aliens.
"I don't know what you did. No one gives a [expletive] where you were or what you did. You're coming back, the sport is in a different place, game over."
Bisping's attack then targeted St-Pierre with a common insult many of his past opponents have used against him by saying that the former welterweight champion is more athlete than fighter.
"Here's the fact — I'm a real fighter, you're an athlete and good for you," Bisping said. "You're a very, very good athlete but you're an athlete. I'm a fighter. Fact."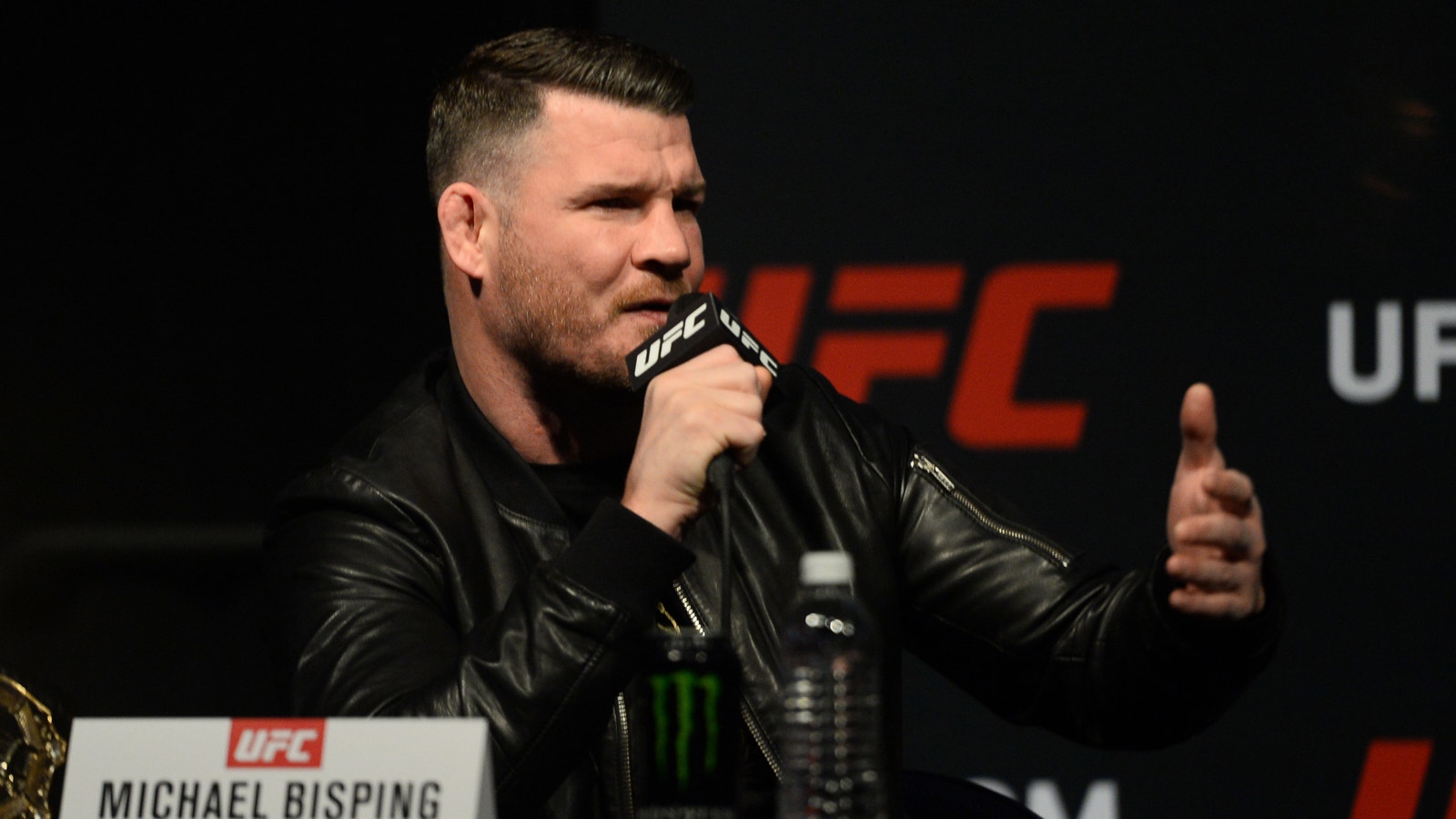 St-Pierre had clearly heard that before from several other fighters throughout his career and now every single one of them has a loss on their record next to his name.
"I wish Michael Bisping would have come out with a different song than all the guys that I fought before," St-Pierre said. "Oh you're just an athlete, blah, blah, blah, you're not a fighter. My journey in mixed martial arts is more than legit. I've had incredible obstacles. I fought guys, I had to come back, Carlos Condit and everybody. I've fought [Johny] Hendricks, B.J. Penn, I came back and I showed true heart and that's why I'm here today.
"I'm not an easy target and my journey is honorable."
Of course it would be easy to say that Bisping was just promoting the fight and beginning to build the anticipation towards the showdown with St-Pierre, which may take place as early as July as part of the annual International Fight Week festivities in Las Vegas.
From the sound of things, Bisping was genuinely perturbed that St-Pierre not only decided to come back after nearly four years away but he also hand picked him as an opponent for his first fight.
"I respect you coming back but I know why you picked me. You think I'm an easy fight," Bisping said to St-Pierre. "Just like Anderson [Silva] did. Just like Luke Rockhold did when I knocked him out in the first round. Just like everybody does and time and time again I prove them wrong.
"This is the guy, the greatest of all time, didn't want to face Anderson when he was the man but he comes out of retirement to face me."
Bisping closed out his tirade by pointing out that while St-Pierre may be looking at him as the path of least resistance to add a second UFC title to his resume, the middleweight champion has a much different idea in mind.
"It's an easy payday," Bisping said. "Let's cut the bull [expletive]. It's an easy payday. So thank you very much Georges."