Khabib Nurmagomedov believes he was a pawn in negotiations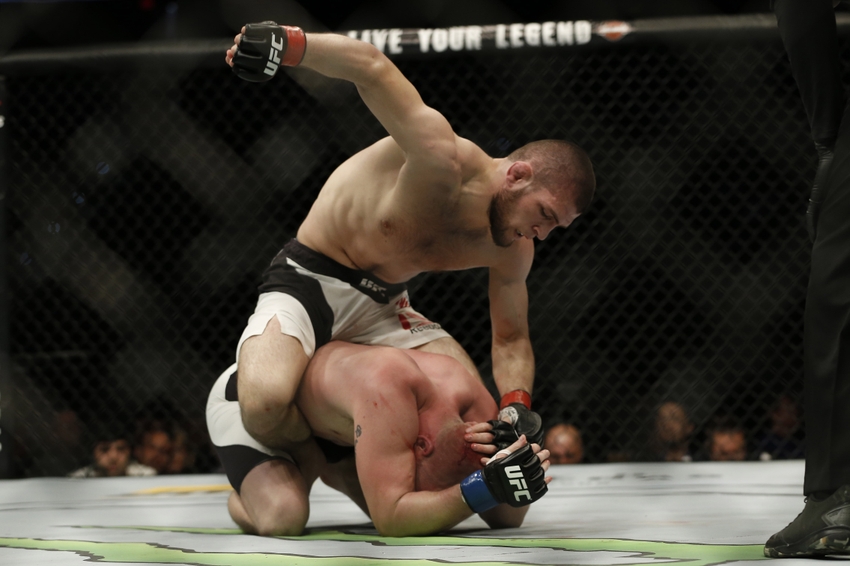 Khabib Nurmagomedov continues to find himself on the outside of the lightweight title picture.
The bout between Eddie Alvarez and Conor McGregor took a while to come together, but now it's the massive headliner for UFC 205. Before this event was official, the expectation was that Alvarez would defend his belt against top-ranked Khabib Nurmagomedov. However, that fight didn't come together, as Nurmagomedov was booked against Michael Johnson at UFC 205. Nurmagomedov has expressed anger at the situation, so much so that he believes he was "used" in a sense.
"The UFC sent me two contracts, why don't you talk about this?" Nurmagomedov asked Ariel Helwani of MMAFighting. "If you think the UFC has used my name, why don't you talk about this?"
Nurmagomedov was visibly frustrated with Helwani and what he perceived as his lack of reporting around the idea that he received two offers to fight Alvarez for the title. At 23-0, the undefeated Russian has remained one of the top-ranked lightweights in the sport, but his penchant for sudden injuries has kept him out of the title fight. Since joining the UFC in 2012, Nurmagomedov has fought only seven times; just once in 2016 since returning from a two-year layoff.
"You play a different game," Nurmagomedov argued with Helwani. "You play different games, and that's why I block you. I'm a loyal guy and I feel like you're not loyal."
Helwani directly asked Nurmagomedov why he didn't get the fight with Alvarez as was originally planned.
"Because you used my name," Nurmagomedov responded. "But if you know this, why don't you tell me anything? You have to stop and stay loyal."
While the back and forth continued between the reporter and the fighter, neither could come to the conclusion as to what caused the breakdown. In the end, Nurmagomedov still finds himself outside the title picture without any assurance that a victory over Johnson would make him the number one contender.
This article originally appeared on