Jose Aldo requests release from UFC 'after being fooled so many times'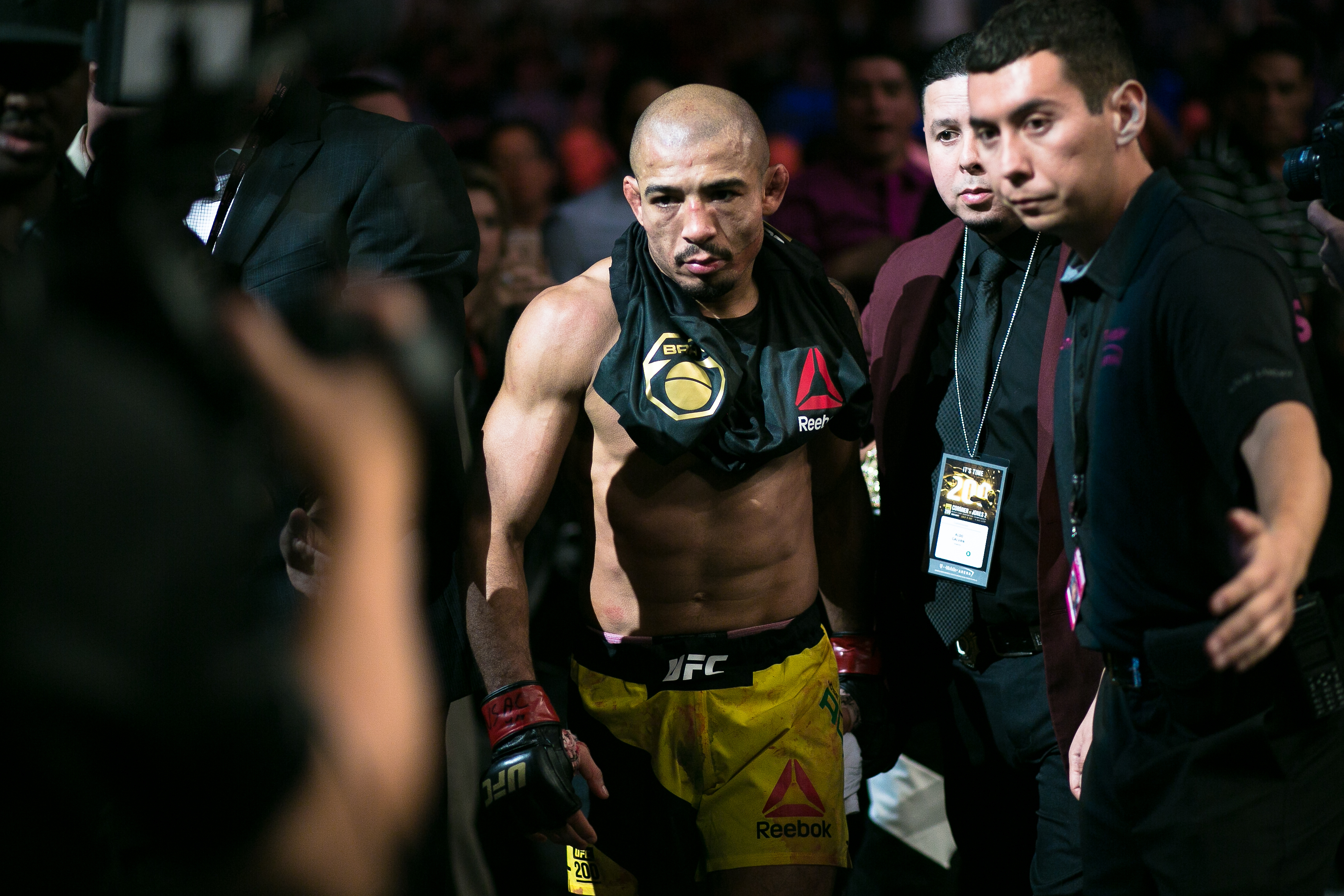 Fed up, Jose Aldo has requested his release from the UFC
Fight fans may never get a change to see longtime featherweight kingpin Jose Aldo step foot inside a UFC Octagon ever again.
On Tuesday, in an interview with Brazilian media outlet Combate, the UFC's reigning interim champion revealed he is requesting his release from the fight promotion after six years of fighting.
Aldo (26-2) earned his interim belt with a unanimous decision over former lightweight champion Frankie Edgar at UFC 200 earlier this year. This got him back into the win column after losing his undisputed title to current champ Conor McGregor following a stunning 13-second knockout in their title fight at UFC 194 in December. This setback snapped Aldo's 10-year undefeated streak, which included seven straight title defense.
More UFC from FanSided: 
McGregor predicts first-round knockout of Alvarez
Dana White: Rousey wants to to fight Cyborg
Eddie Alvarez vs. Conor McGregor to headline UFC 205
Following this win over Edgar, it was widely believed Aldo would get his chance at revenge against McGregor in a title unification bout in the near future.
Flash forward two months later and McGregor is instead being matched up with UFC lightweight champion Eddie Alvarez at UFC 205.
So with his chances of rematching his Irish rival dashed away, Aldo revealed he was instead offered two other opponents, neither of which he was interested in.
"I heard about everything that happened through my coach," Aldo said (h/t MMAFighting.com). "He had spoken with [UFC matchmaker] Sean Shelby Saturday and Sean still had no answer about anything, and asked if I could fight on November 12. My coach said that if it would be Conor, yes, and then Sean asked him if I would fight Max Holloway or Anthony Pettis. 'Dede' [Pederneiras] said that for those who I'd rather do a full camp and it could be on December 10. We waited until Dana publicly said that he wanted this fight with McGregor to happen. And then we expected it to happen: I'd get my rematch to unify the featherweight belts, or I'd have my belt back and fight Holloway or Pettis, since Dana [White] said all the time that Conor couldn't keep both belts. But, to my surprise, I heard last night about the fight between McGregor and Eddie Alvarez, which was also denied by Dana last week. And to make it worse, he would keep the featherweight belt, and possibly having two belts at the same time."
Specifically pointing to UFC President Dana White, Aldo would go on to reveal he his fed up with being told one thing only for the UFC to go in another direction. As a result, the Brazilian icon requested the UFC release him contract.
"Conor himself said before that he wouldn't give his belt away by any chance and nobody would take it away from him," said Aldo. "After all this, I see I can't trust any word from president Dana White, and who's in charge of the promotion now is Conor McGregor. Since I'm not here to be an employee of McGregor, today I ask to cancel my contract with the UFC. When they offered me a fight with Frankie Edgar, Dana said that the winner would challenge McGregor or win the linear title, that he would lose his belt if he didn't return to the featherweight division after his rematch with Nate Diaz. After being fooled so many times, I don't feel motivated to fight in the UFC anymore."
While White is on record saying if McGregor defeats Alvarez, he will be forced to give up his featherweight title, Aldo simply isn't buying it.
"I don't believe in Dana saying that Conor would have to vacate one of the belts after UFC 205 because, based on what we're seeing, this type of decision is not in his hands anymore, Conor makes the calls now," said Aldo. "And the biggest proof that who's in charge in the UFC now is Conor is that when I wanted to move up to fight Pettis, they said I'd have to vacate my belt and try this fight with no title whatsoever. But with him, they let him move up to the division above without losing his belt, and also let him do any fight he wants. I understand that he sells a lot, but it gets to a limit when it's no longer a sport, it becomes a circus. I don't want any type of fight with the UFC. The only thing I want is to go on with my life, and they will go on with theirs."
Where this whole situation goes from here will be one of the more intriguing storylines to watch in the UFC that we've seen in quite some time.
Have we seen the last of Jose Aldo fighting for the largest MMA company in the world?
This article originally appeared on