Jose Aldo doubles down on request for UFC release, Max Holloway responds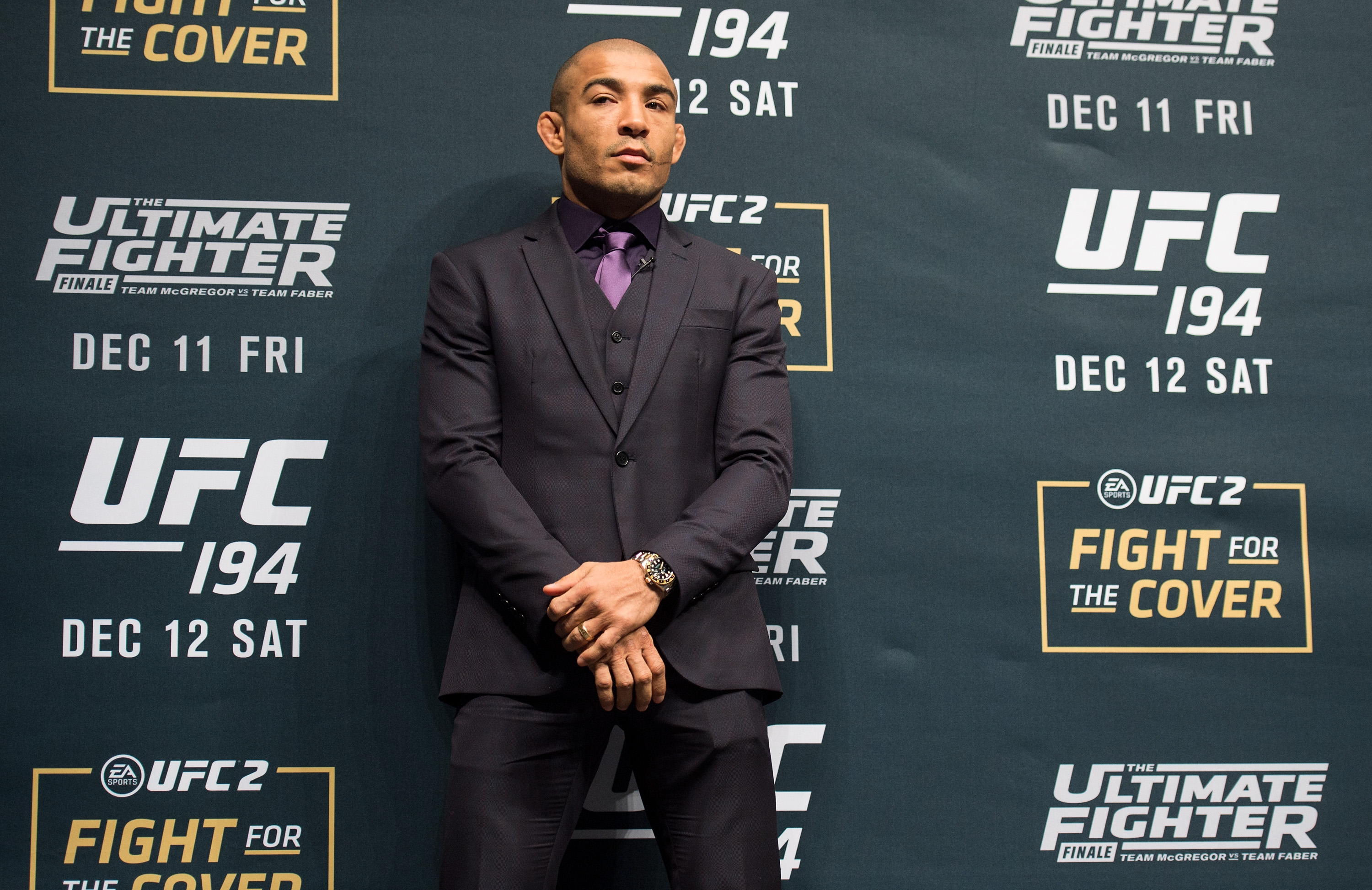 Jose Aldo is doubling down on his desire for his release from the UFC, much to the chagrin of featherweight top contender Max Holloway
Jose Aldo did more than enough to earn his rematch against Conor McGregor.
McGregor previously got the better of Aldo in their title fight at UFC 194 in December, knocking out the Brazilian just 13 seconds into the first round. Aldo rebounded with a unanimous decision victory over Frankie Edgar at UFC 200, earning the promotion's interim featherweight title.
A title unification bout was all but confirmed by UFC President Dana White when he announced McGregor would be forced to drop back down to 145-pounds in order to face Aldo, who had already called for the fight at Madison Square Garden in New York City, or give up his featherweight title.
However, White later revealed McGregor would instead be facing lightweight champion Eddie Alvarez at UFC 205. Combine this with the fact McGregor is being allowed to keep his featherweight belt while he challenges Alvarez for the 155-pound title, and it's no surprise Aldo is upset.
More UFC from FanSided: 
McGregor predicts first-round knockout of Alvarez
Dana White: Rousey wants to to fight Cyborg
Eddie Alvarez vs. Conor McGregor to headline UFC 205
So upset, in fact, the Brazilian requested his immediate release from the UFC mere moments after the UFC 205 press conference concluded.
White later spoke with Combate TV, revealing he was hoping both he and Aldo could come to a solution. Not soon after, Aldo back called back into the TV station and reiterated his desire for a his release while also revealing he was looking to retire from MMA altogether.
"Not even fight MMA, too. It has reached a limit now," Aldo told Revista Combate (h/t MMAFighting). "I talked to 'Dede' a long time ago and he convinced me to continue. I went to the Frankie Edgar fight and won. I fought to win for 'Dede'. I'm not angry or upset now, nothing. I never fought for money, I had a good career and legacy as featherweight champion.

"If [White] likes me and my family, I just hope he released me. I don't want a fight. I want to leave as I came in. The UFC and WEC didn't give me anything. Everything I conquered was my merit and from my team. Nobody gave me anything. I conquered everything. And I gave them a lot more than they gave me back. I just want them to release me from my contract. I'm not a whore to sell myself [for money].

"I don't even want to fight MMA. I want to follow a career in another sport. That's what I want."
UFC featherweight contender Max Holloway later took to Twitter to respond to Aldo's recent comments.
Holloway (16-3) is currently riding an incredible nine-fight win streak, the longest a UFC fighter has gone without fighting for a UFC title. In his most recent effort, 'Blessed' earned an impressive decision win over former title Ricardo Lamas at UFC 199 in June.
Prior to this win, the young Hawaiian scored back-to-back stoppage wins over Cub Swanson and Oliveira before earning a decision over Jeremy Stephens. To date, his last loss came at the hands of current featherweight champion Conor McGregor.
The 24-year-old Hawaiian has also be calling for a fight against either Aldo or former lightweight turned featherweight title contender Franke Edgar.
Aldo has yet to responds to Holloway's most recent callout.
This article originally appeared on