Jose Aldo blasts Conor McGregor: 'He was never the champion'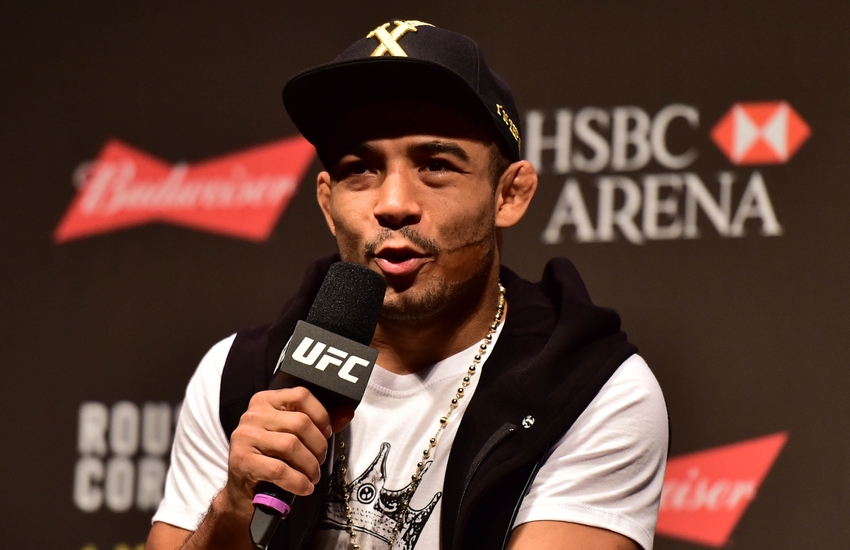 Jose Aldo has responded to the UFC stripping Conor McGregor of the featherweight title.
Jose Aldo has some choice words for former foe Conor McGregor.
McGregor, the reigning lightweight champion and former featherweight champion, previously got the better of Aldo in their title fight at UFC 194 in December, knocking out the Brazilian just 13 seconds into the first round. It not only marked Aldo's first loss in 10 years, but also cost him his featherweight title.
Since that faithful December night in 2015, McGregor has made the jump up to welterweight on two occasions to challenge Nate Diaz before heading to the lightweight division to challenge then champion Eddie Alvarez.
While Aldo would rebound with a decision win over Frankie Edgar at UFC 200, earning the UFC's interim title, he made waves with his recent retirement talk following the UFC announcing McGregor would get a shot at Alvarez instead of him.
In the end, McGregor earned the 155-pound title with a second round TKO over Alvarez, making him the first fighter in UFC history to hold two belts in two separate weight classes simultaneously. But his reign would come to an end just 14 days later as the UFC recently announced the Irishman would be relinquishing his featherweight title, thus making Aldo the new undisputed champion.
"I knew that would happen," Aldo told UFC.com (h/t MMAFighting). "To me, I never stopped being champion. I lost that fight [at UFC 194] because of an accident. I knew that I would win a rematch, that I would be champion again. It's not my fault that he's such a p***y he was never the champion. I don't see myself losing to anyone in this division or any other [division]."
But one thing that has thrown a wrench into Aldo's pursuit of his rematch is the UFC's recent announcement the UFC 206 main event between Anthony Pettis vs. Max Holloway will now serve as an interim title fight. Aldo, to his credit, is holding out to fight the winner in a title unification bout in early 2017 before moving up and challenging McGregor at 155 pounds.
"First, I want to defend my title, and then go after a fight with him (at lightweight)," said Aldo. "Just like Dana (White) said, we can choose who we want to fight, so I want to fight him. That's what will happen."
While Aldo has no preference between Pettis and Holloway, he claims Pettis would draw more attention given the fact he is also a former WEC and UFC lightweight champion.
"I don't see any problem. I'll be prepared for whoever wins," said Aldo. "Pettis has a bigger name, or course, was a champion before, so it would be a bigger fight. But if it's the other one, no problem, I'll win no matter what."
UFC 206 is set to go down on Dec. 10 at the Air Canada Centre in Toronto.
This article originally appeared on