Jon Jones Will Resume Alcohol Use; Claims USADA Felt Remorse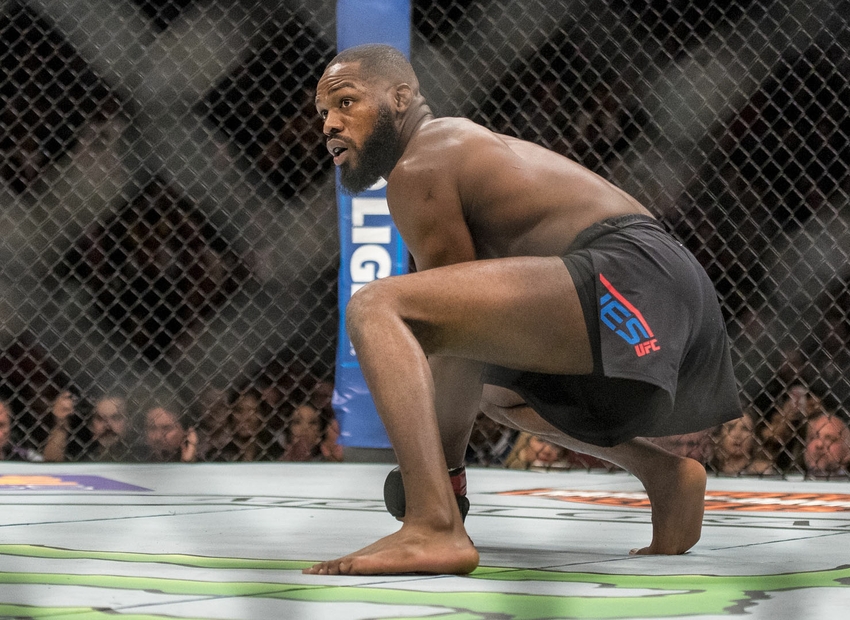 Jon Jones appeared on Joe Rogan's podcast today to discuss his 1-year suspension and pulled back the curtain on some ongoing sagas in his life.
The drug use of Jon Jones was a focal point of the conversation, given his past cocaine use, DUI, and marijuana usage.
"I think a big part of me longed to not be famous sometimes," said Jones, when discussing his past drug and alcohol use.
Both his drinking and marijuana use started in high school, where he felt like he didn't really fit in.
Jones noted that he had to change his social circle after a string of very public incidents with the law. It was reported last year that Jones fled the scene of an accident after striking a pregnant woman with his rental car, breaking the woman's arm in the process. Jon Jones arguably injured that woman more than anyone he has ever stepped into the Octagon with.
According the former champion, almost everyone he knew smoked marijuana and until he stopped just recently. He didn't realize the effect it was having on his life.
"I stopped responding to a lot of people," said Jones.
Joe Rogan kept the conversation positive, noting the progress Jon has made and will continue to make if he stays on the correct path. Jon insists he's a changed man, even though he hasn't formally gone to rehab or sought help.
Jon insisted that he will continue to use alcohol in his life, although he says isn't necessary at every outing like it once was.
"I'll drink Red bull," said  "Bones" Jones, when talking about his beverage of choice in social situations. Jones admitted that he feels like he needs to keep up with everyone else at bars, so he has to consume something to make him more energetic.
Want your voice heard? Join the Cage Pages team!
Jones says that he has changed his relationship with alcohol, and now he can just have one drink; he can drink at home peacefully instead of a situation where "everybody's gettin' crazy."
Prior to this realization, Jones claims that his phone would be blown up on the weekends when his friends would all expect (and rightfully so) the fighting star to pay for their entertainment for the night. On several occasions Jon would buy rounds of drinks for people he had never met before just to have a good time.
"I feel above the way I used to. I used to let so much consume me."
While all is fine with his marijuana and alcohol use, at least publically, Jones didn't seem to learn anything about using random pills from his one-year suspension that was handed down by the United States Anti-Doping Agency. Instead, he says USADA's lawyers felt remorse when reviewing his case.
Jones said he thought the pills he took would make him "bigger (and) stronger, for longer," and noted, "I have a huge c***, Joe."
Instead of taking responsibility for his actions, Jon Jones decided to claim that he wasn't properly educated by USADA about what supplements are banned.
It was ruled that Jones was acting out of negligence and would be suspended one year. Jones claims that USADA was able to tell that the pills were tainted — which is true.
The pills did in fact have inconsistent amounts of different substances in them, even ingredients not included on the label. Since some pills were inconsistent, it was ruled that the whole batch had to be deemed contaminated.
On the podcast Jones confirmed that he had taken "gas station (boner) pills" many times in the past, largely because there were no consequences for his actions in terms of a test failure.
Jones claims he would rather be labeled "boner guy" than "steroid guy."
Jones did confirm that he obtained a "Cialis-like pill" from a teammate that had a pharmacist girlfriend. That teammate has since been identified as Eric Blasich. As the story goes, over dinner, Blasich and Jones discussed various drugs and their effects. Jones then obtained and ingested the said pill, which was believed to have caused his failure for clomiphene on June 16.
"I didn't think anything of it; I didn't think anything was sketchy about it"
Jones' suspension will conclude on July 7, 2017, but Jones made it clear that he will be competing on December 11, in a grappling match against Dan Henderson at Submission Underground 2. Grappling, while it won't please athletic commissions or USADA, is allowed for fighters that are suspended.
Another rumor that Jones dispelled on JRE #880, is that fighters are not allowed to be in contact with non-suspended athletes during their suspension. Jones has clearly trained with his teammates and said no one has told him that it wasn't okay to do so.
Jon Jones lives in Albuquerque, New Mexico, now, instead of New York. He feels that he can dedicate much more time to MMA now that he's away from the non-fighting people.
As far as getting back in the Octagon goes, the former LHW champ says that he potentially has the best years of his career left in him and "he hasn't taken any damage whatsoever." That stands out in the pre-CTE era of MMA that we are in now, where severe head trauma is too common.
Jon Jones feels comfortable in his weight division. He does wish to become the two-division champion someday (should win back his light heavyweight title) if the UFC decides to introduce a 225-pound weight class between light-heavyweight and heavyweight.
This article originally appeared on