Joanna Jedrzejczyk: 'I may not have big boobies, but I'm the best female fighter'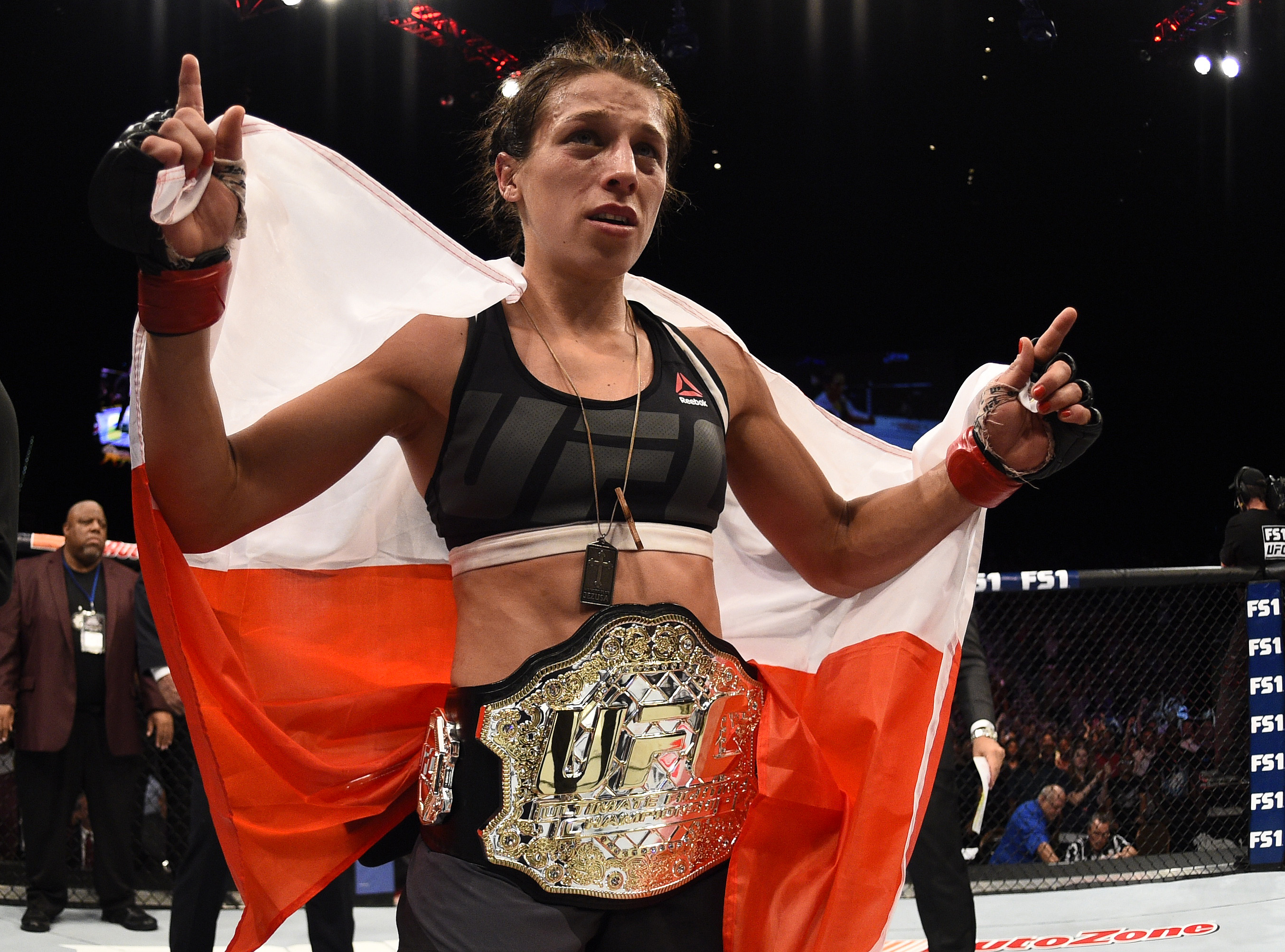 Reigning UFC strawweight champion Joanna Jedrzejczyk knows exactly what her legacy in mixed martial arts will be.
Joanna Jedrzejcyzk, who recently made the move to Coconut Creek, FL to train full-time at American Top Team after spending her entire career training in her home country of Poland, will be looking to defend his 115-pound title against fellow Polish standout Karolina Kowalkiewicz on the historic UFC 205 card in New York City.
Finally healthy, Jedrzejczyk full expects to put on the best performance of her life as she cements herself as the greatest female fighter on the planet.
"Before, I broke my hand twice and it was not good for me. I had to take a longer break, but now I'm feeling great, so I'm ready to go," said Jedrzejczyk during the UFC 205 conference call. "I know that I'm not the prettiest one, I'm not having big boobies or I'm not American, but I want people to remember me as the best female fighter, undefeated in MMA, and the UFC champion of the world.
"I want to be a legend. I want people to talk about me in five, 10 years, 20 years, that I was one of the best female MMA fighters, that I was one of the best UFC champions in the world back in the day. This is what I want. I just want to retire as an undefeated champion. This is my goal. This is my dream, and I want to make this dream become (real) life."
Jedrzejczyk (12-0) was last seen defending her title with a decision win over longtime rival Claudia Gadelha at The Ultimate Fighter 23 Finale in July. This marked her second win over her Brazilian counterpart after defeating her at UFC on FOX 13 in 2014.
Prior to her most recent win, 'JJ' put on a striking clinic against former Invicta FC atomweight champion Jessica Penne at UFC Fight Night 69 en route to a violent third round TKO. She followed this up with a decision over Valerie Letourneau.
But now on UFC 205, which will go down on November 12 at Madison Square Garden and mark the UFC's first event in New York, Jedrzejczyk recognizes the opportunity to make a name for herself in front of the American audience.
"Finally, I can make some money, you know?" said Jedrzejczyk. "I never complain about the money and I'm not going to do this, I'm just joking. I'm very happy that I can fight on 205, that I can fight in New York on the first UFC event in New York. I'm very happy to fight on the same card with Conor McGregor, with Eddie [Alvarez], with Tyron [Woodley], with Stephen [Thompson] and with the other fighters.
"This card is an amazing card, so I'm very happy. It's a pleasure for me. Like I said, I want to be part of the biggest UFC shows ever. My dream is to fight in Poland, but next year. Now it's time to build myself in the U.S. more. I got lots of attention after my fight with Claudia, so now I'm ready to take over the UFC shows."
If Jedrzejczyk is able to continue her winning ways and emerge victorious at UFC 205, it would mark the fourth consecutive title defense, which would put her second behind Demetrious Johnson in terms of active UFC championship reigns
"There are so many [contenders]," said Jedrzejczyk when pressed about whether she still had competion at 115-pounds. "The strawweight division may be the lightest division in the UFC, but we are very tough fighters. Like my last fight with Claudia Gadelha on July 8 in Vegas was pretty tough and I know that I put a really big dot on an 'I.'
"People said so many times that there nobody who can take this belt away from me, but it isn't true. I'm trying to stay humble. This camp was even harder than before the fight with Claudia Gadelha, so definitely, I'm focused. I keep my eyes open and I train very hard because there is lots of talent in this division. So definitely, this fight with Karolina, it's a big challenge for me. But I will win this fight and you're going to be surprised how I'm going to win this fight."
More from FanSided
This article originally appeared on