It's time for Dana White to have a long talk with 'Shogun' Rua
When Mauricio "Shogun" Rua debuted in the UFC in 2007, the assumption was he would fight one time and then compete for the light heavyweight title because he was just that good. The Brazilian had gone 16-2 in his career up to that point, with one of those losses coming to Mark Coleman in PRIDE when he was taken to the ground and his arm snapped, which caused the fight to be stopped immediately.
Rua's start in the UFC was a bit rough, but he eventually reached the top when he knocked out Lyoto Machida to become the light heavyweight champion in 2010. Unfortunately, since that win Shogun has gone just 3-6 while enduring a lifetime of damage to his body and brain over the course of those nine fights.
He was bludgeoned for 2-1/2 rounds before his fight against Jon Jones came to a merciful end. He nearly defeated Dan Henderson in a fight that's regarded as one of the greatest MMA battles of all time, but it can't be discounted the punishment he endured to make it through that 25-minute war.
"Shogun" was battered for three rounds against Alexander Gustafsson and while he came close to beating Henderson in their rematch earlier this year, the end of the fight saw his nose rearranged after his face was mashed in by a huge right hand.
Then on Saturday night in Brazil, "Shogun" suffered the worst defeat of his storied career as Ovince Saint Preux — arguably one of the least notable names on Rua's entire resume — knocked him out in just 34 seconds. One left hand was all it took to face-plant Rua into the canvas before he ate at least six or seven more shots and the referee finally stopped the massacre.
It was one of the hardest moments to watch for any real fan of mixed martial arts, especially those who have followed the sport since Rua first burst on the scene in 2003 as a member of the PRIDE roster. Rua's warrior spirit can never be questioned, but with a 1-4 record in his last five fights and two straight knockout defeats that scrambled his brain, it might be time for someone to intervene in his career.
Rua has stated emphatically that he's never even contemplated retirement. Just a few weeks ago when he was originally scheduled to face Jimi Manuwa in the main event, he scoffed at the idea even being brought up to him.
"It never really crossed my mind," Rua said about retirement in mid-October. "Much to the contrary, I was always planning on continuing to fight. If I'm the guy going in there fighting and I'm happy doing it and the UFC is the promotion that hires and promotes my fights and they are happy with having me on the show, then why would I stop fighting? It doesn't make much sense. It never really crossed my mind."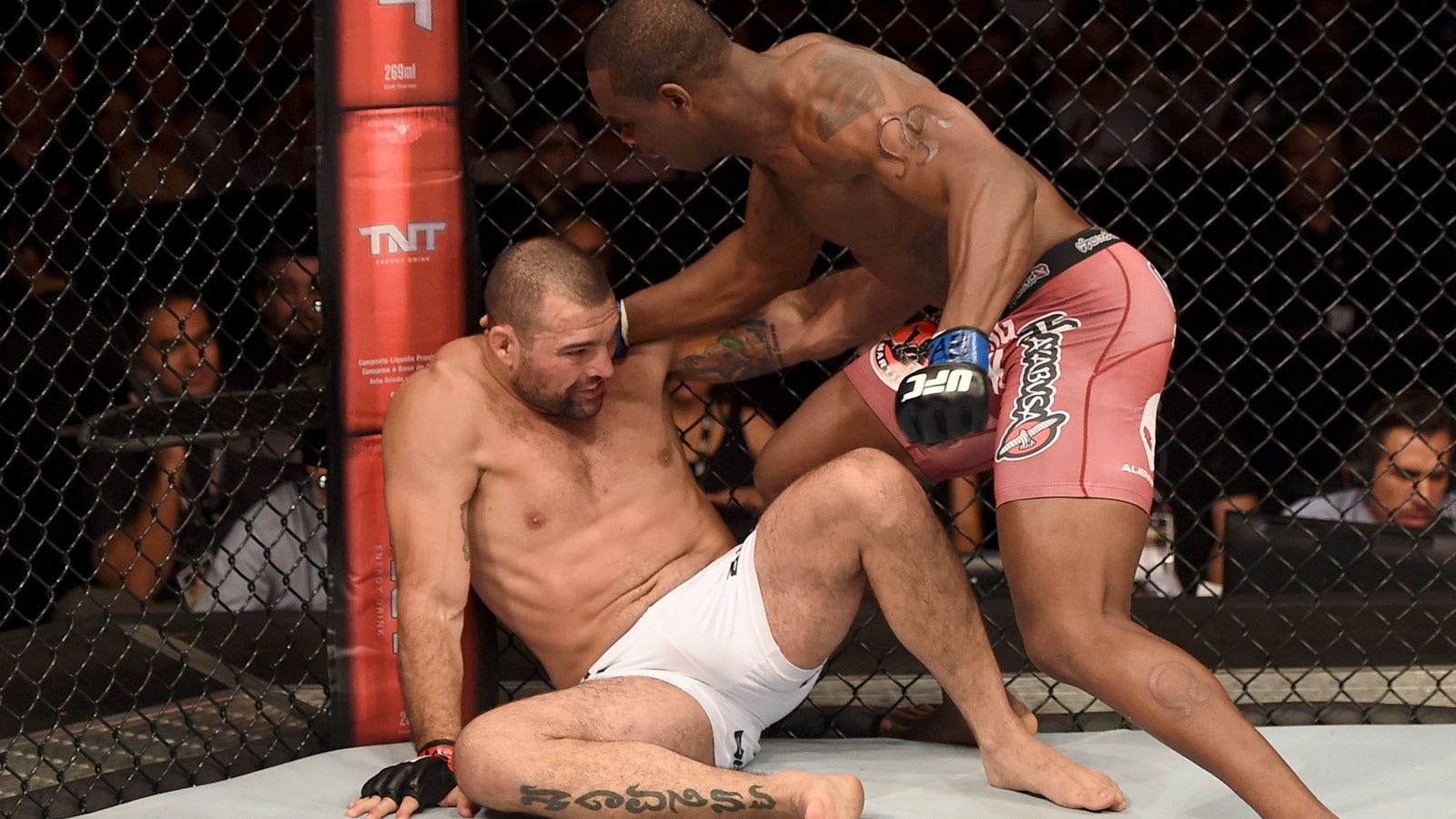 On Saturday night following a knockout that saw the right side of his face swell up like a balloon, Rua didn't seem to waiver very much on that statement, despite a 34-second knockout loss to Saint-Preux.
"Losing is always bad. This weight class and heavyweight, when a punch lands, you feel it. But I'm going to get through this loss and talk to my team about the future," Rua said. "Defeats always suck."
Rua's next gig is already booked. He'll be coaching on "The Ultimate Fighter Brazil" opposite Anderson Silva. The two aren't going to fight when the fourth season is over and looking at the result on Saturday night, that's a very good thing.
It's clear at this point that Rua isn't about to save himself, so isn't it time someone does it for him?
When UFC Hall of Famer Chuck Liddell suffered a similar stretch in his career, UFC president Dana White finally intervened and said enough was enough. He gave Liddell ample opportunities to come back from losses and try to find the magic that once made him the most feared knockout artist in all of MMA. Instead, the defeats just piled up and watching Liddell's head bounce off the canvas wasn't fun — it was just plain sad.
Rua's fights are the stuff of legends. His bout against Antonio Rogerio Nogueira in PRIDE is still regarded as one of the best ever. His first fight with Dan Henderson might be the best ever — period. "Shogun" painted in brutality the way some artists use oils and brushes. Now it's Rua getting lit up like a Christmas tree and it's not fun at all. It's just sad.
It would be easy to point at Rua's age and say he's only 32 and he's only been knocked out three times. Then again, the wear and tear his body has endured throughout a 12-year MMA career pushes him well past the actual number his age represents. Sure, he's only been knocked out three times but each one seems to get worse and worse as his chin deteriorates and head just keeps taking damage.
No fan or media member — including me — has the right to tell an athlete when they should retire, but for the sake of his long term health and legacy, maybe it's time for someone in a position of power to sit down with "Shogun" and strongly suggest to call it a career.
"Shogun" is a legend. An icon. One of the greatest fighters of all time. He has nothing left to prove. Allow him to coach "The Ultimate Fighter" and then be an inspiration to the next generation of up and comers.
Chuck Liddell and Matt Hughes are enjoying cushy post-fight careers in the UFC with the toughest part of their jobs being to show up at events and take pictures with adoring fans. Couldn't Brazil use somebody like that? Wouldn't Shogun be the perfect face for the UFC in Brazil? It's not my call to make, but it's time for somebody to make that call.
Dana White — the ball is now in your court.