Is Ronda Rousey being portrayed inaccurately on 'TUF?'€™ Opinions differ
Is Ronda Rousey getting a bum rap? There are conflicting opinions among "The Ultimate Fighter" cast members.
It comes as no surprise that Team Tate star Julianna Pena believes Rousey was portrayed exactly "the way she is." But the two men who will fight Saturday at the "TUF" Finale for a six-figure UFC contract – Davey Grant and Chris Holdsworth – think Rousey is not nearly as unapproachable as she might come off on the show.
"I think they showed her [to be] a little more miserable than what she really is," Grant said Monday on a media conference call.
Rousey saw the backlash coming, even before the show starting airing on FOX Sports 1 back in September. She told the New York Post in August that she believed coaching on "The Ultimate Fighter" would "be a blow to me and my image."
"I'm a very unrestricted, unedited person and they put me in a hostile environment," Rousey said. … "I'm a person that doesn't operate well while being restrained. I'm gonna do some crazy s**t and people aren't going to know why, because [the producers] can't explain it."
The UFC women's bantamweight champion could have very well been talking about last week's episode in which she flipped rival coach Miesha Tate the bird and cursed her out after winning a rock-climbing coaches challenge. Twitter exploded with hate for Rousey, prompting her mother and sister to respond.
What went unaired is that Rousey actually sat in a sauna for five hours before the challenge to prove a point to her team after Anthony Gutierrez quit while trying to cut weight for his semifinal fight with Grant.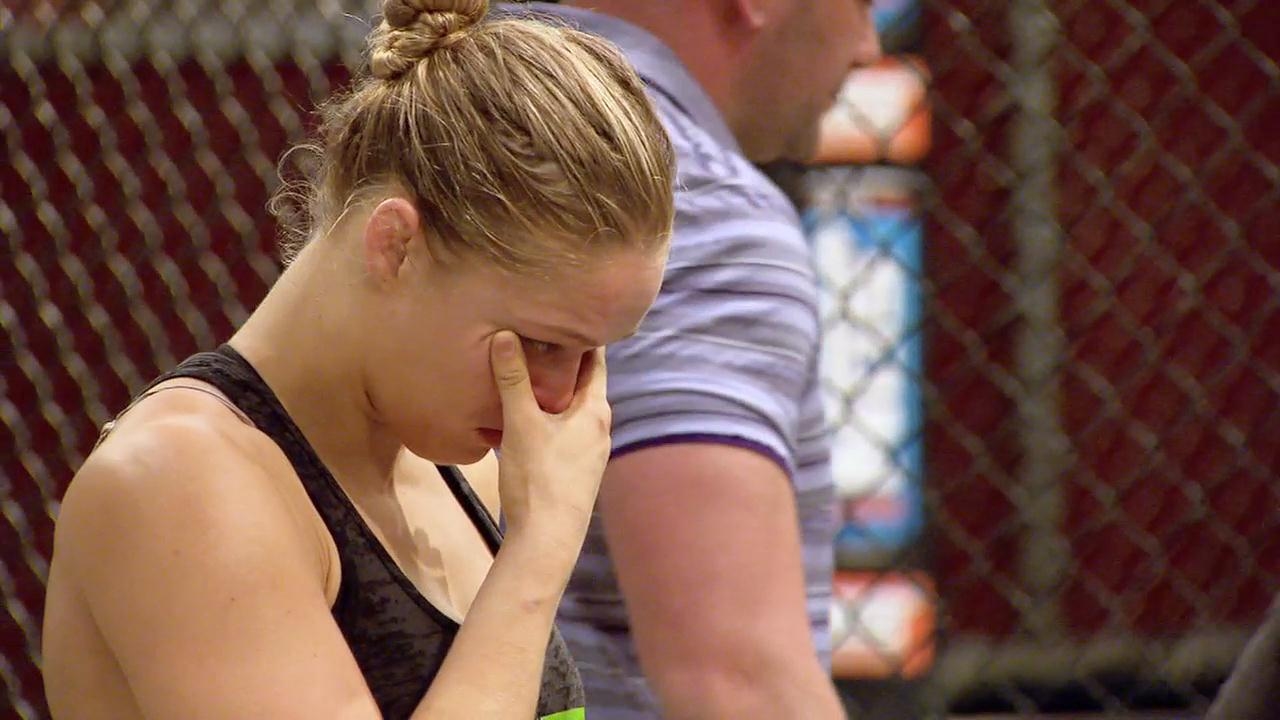 "She's a lot more bubbly and a really, really nice girl," Grant said. "I don't think the show portrayed her accurately. She's a lot happier."
Holdsworth was on Tate's team, but he agrees with Grant. Rousey wasn't nearly the monster she came off as. Holdsworth called her "a cool, down-to-Earth person." He admitted that he was a "fan boy of Ronda" before the show and really wanted to be on her team before being picked by Tate – "I think all the guys did," Holdsworth said.
"She's very competitive and she can show that," he added. "She likes to play psychological games, get under people's skin and always win. … I got the chance to see her bubbly side as well."
Rousey's popularity, as she somewhat predicted, has taken a hit. In a fan vote for the fighter who will join Jon Jones on the cover of the next UFC video game, Tate beat Rousey in the first round. If that vote occurred before "The Ultimate Fighter" started, there's little doubt Rousey would have won by a landslide. Her popularity and mass appeal has landed her roles on two upcoming blockbuster movies: "Fast & Furious 7" and "The Expendables 3."
Pena is not surprised by the public-relations nightmare, because she feels like Rousey is exactly what everyone saw on "TUF." The finalist, who will meet either Jessica Rakoczy or Raquel Pennington on Saturday with a contract on the line, felt like Rousey pinpointed her as the enemy right away, because Pena is a training partner and friend of Tate's.
"As far as me personally, she had gotten into some spats with me," Pena said. "She sad some choice words to say to my face. She didn't really rub me the right way."
Rousey was well prepared for the criticism, saying "I assume it's going to be the absolute f***ing worst," before the season started.
And UFC president Dana White? He's on record saying it isn't the show. It's Rousey.
"It's not the way she portrayed herself – it's who she is," White told reporters after UFC Fight Night: Belfort vs. Henderson earlier this month. "It's why women fight in the UFC, because of her. I could care less if you don't like her or you like her."
Rousey would probably say the same thing.