Is Demetrious Johnson Too Good for His Own Good?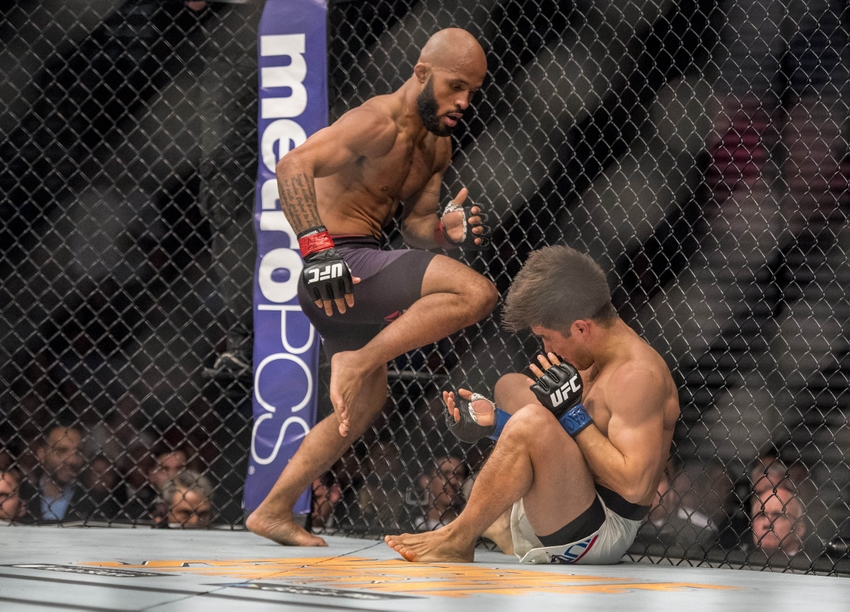 Demetrious Johnson is the pound-for-pound best fighter in the world.  But without a credible threat to his reign, is he simply too good for his own good?
Demetrious Johnson is a great mixed martial artist.  Arguably, he is the best fighter in the entire UFC.  But, as the latest Ultimate Fighter Finale is set to take place on Saturday, it would seem that "Mighty Mouse" might actually be too good for the flyweight division.
Demetrious Johnson hasn't lost a fight since dropping a decision to current bantamweight champion Dominick Cruz in 2011.  He's amassed ten straight victories since then, the majority with the UFC flyweight championship on the line.  His list of victims is a who's who of the flyweight rankings: Joseph Benavidez, Henry Cejudo, John Moraga, Kyoji Horiguchi among others have all fallen in bouts with the champion.
He has decimated the field to the point that the UFC chose to capitalize on his dominance by centering the current season of the Ultimate Fighter on finding a "worthy opponent" by drafting flyweight champions from smaller promotions around the world.  From a competitive standpoint, it has been an excellent season for the show.  The reality: the current flyweight division has yet to produce someone that the organization can promote as a threat to Johnson.
Even as recently as July, Johnson was scheduled to face fifth-ranked Wilson Reis at UFC 201 in a bout that was universally regarded as Demetrious merely adding another top-ten feather to his cap before The Ultimate Fighter season concluded.  Quite frankly, it appears that the UFC has run out of ideas for the flyweight division due to Johnson's reign.
It was believed that things would be very different.  Similar to the women's strawweight division, the idea was that there would be enough talent from within the UFC and abroad that it would grow into a competitive division.  Unfortunately, while the women's division is churning out new stars, the flyweight division has grown stale and the title-challengers are beginning to feel more anonymous.
Want your voice heard? Join the Cage Pages team!
What does that mean for Demetrious Johnson?  Similar to Anderson Silva or Roy Jones Jr. in boxing, he can continue to rack up wins at flyweight until age or odds eventually catch up to him and he loses. The most intriguing option at this time is a rematch with Cruz.  Since their first bout, Johnson has evolved into arguably the most complete fighter in UFC history.  His versatility and ability to finish both on the feet or on the ground have many considering him the best pound-for-pound fighter in the world.
Against Cruz, Johnson would be facing a similarly well-rounded fighter with a significant size and reach advantage.  Even more so, there is little to lose for Johnson in going up in weight.
If he is victorious, he becomes the second simultaneous two-division champion in UFC history.  Should he lose, it would be chalked up to simply too many physical advantages in favor of the also talented Cruz.
It's unfortunate to discuss a fighter of Johnson's caliber in such terms.  But, that is the world he's created in the last several years.  Regardless of who faces him in the cage on Saturday, Johnson will be the heavy favorite.  Any outcome in favor of "Mighty Mouse" is expected to be business as usual.  Barring a shocking upset, it's likely to be another performance that leaves the MMA world eager to see him finally face on opponent also on his spectacular level.
This article originally appeared on