Is Brock Lesnar returning? The buzz builds for possibility
It was two years ago at the UFC's year-end show when Brock Lesnar laced up his UFC gloves for the last time. He was TKO'€™d in less than three minutes and walked away from the sport, eventually returning to professional wrestling.
The mixed martial arts world has never truly let him go. Every so often, his name boomerangs back around and into some intriguing dream match or in sheer speculation. In only seven fights, Lesnar had become such a unique sensation that his presence could virtually guarantee a huge buyrate for an event, which in turn, led to massive paychecks for him. In a pro wrestling way, he seemed destined for a comeback.
Now, with 2013's year-end show days away, online speculation on the popular MMA forum MixedMartialArts.com has suggested that Lesnar has an urge to return to the Octagon.
For now though, UFC president Dana White is staying mum.
After the UFC 168 post-fight press conference, White was told there were rumors that Lesnar would travel to Las Vegas to meet with him this weekend, but seemed surprised by what he heard.
"Really? I don'€™t know. I honestly don'€™t know,"€ he said.
Honestly?" a reporter asked him.
"€œHonestly,"€ he said.
FOX Sports spoke to two UFC sources who said that they, too, had no knowledge of a potential meeting with White. However, that in and of itself is no guarantee that nothing is afoot. When he was an active fighter, Lesnar's camp was notorious for its level of secrecy. It is quite possible he demanded a confidential meeting.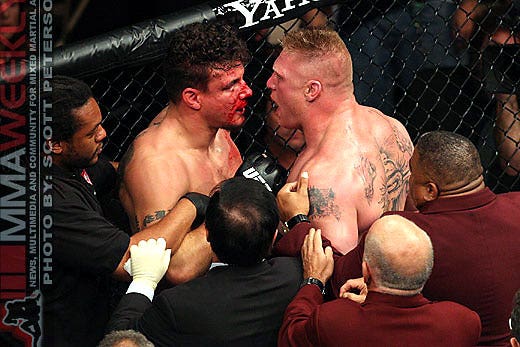 When he was an active fighter, Lesnar's camp was notorious for its level of secrecy. It is quite possible he demanded a confidential meeting.
Despite White's claims, the fight world was abuzz by the possibility, with the fans and media in town for this event shifting their focus off the huge rematch between Chris Weidman and Anderson Silva, if only temporarily.
Now 36 years old, Lesnar is a part-time performer with World Wrestling Entertainment, and is expected to have a major role in the company's Wrestlemania XXX in April 2014. Ostensibly, he could start a training camp soon afterward and be back in the cage in the later summer, although there are potential snags in the way. In the past, White has voiced an uneasiness about blurring the line of reality and fantasy if Lesnar wanted to cross worlds, but with the company's biggest headliner Georges St-Pierre on indefinite hiatus, White may revisit that debate. Of course, that all hinges on whether Lesnar indeed has an itch to scratch, and right now, that information remains top secret.
Lesnar won the UFC championship in Nov. 2008, and defended it successfully twice, although his reign was impacted by two serious bouts with diverticulitis that led to surgery and threatened his athletic career. Lesnar lost the championship in Oct. 2010, losing to Cain Velasquez. During that time, he headlined four straight pay-per-views that broke the 1 million buy mark, a UFC record.