Frankie Edgar considering move to 135, eyes McGregor fight at 145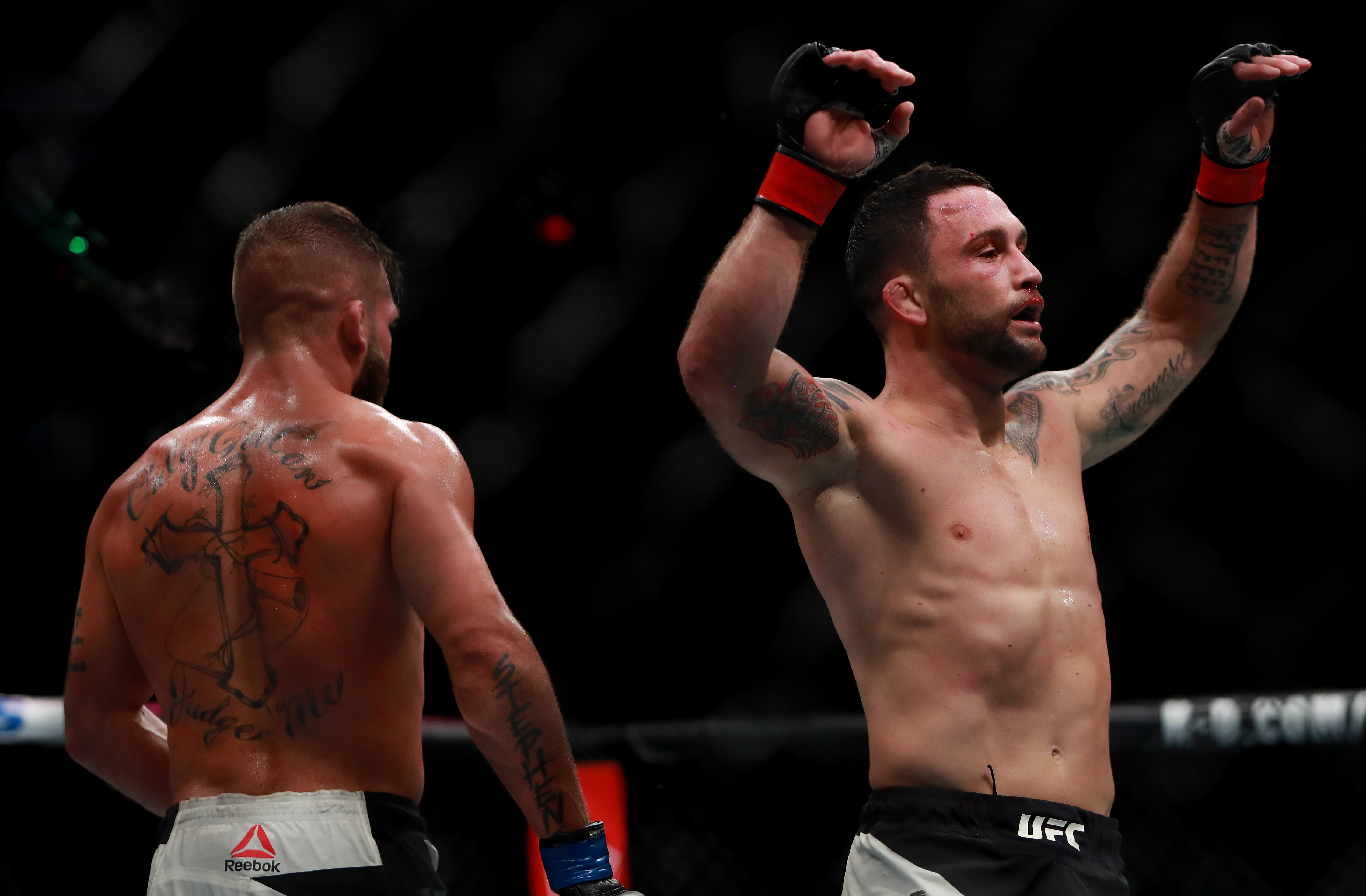 Former UFC lightweight champion and current top-ranked featherweight contender Frankie Edgar is considering a move down to bantamweight unless Conor McGregor is willing to fight him at featherweight.
Former UFC lightweight champion Frankie Edgar is considering another division move down to bantamweight. Following his win against Jeremy Stephens in a featherweight fight at UFC 205, Edgar said he would consider a move down to bantamweight unless the featherweight champion Conor McGregor is willing to fight him.
In his fight against Stephens, Edgar survived a second-round head kick to pick up a unanimous decision win. While Edgar did appear rocked following the head kick, he said he's been hurt in the past and he bounced back quicker from the kick than he thought.
The win for Edgar not only comes in his backyard of New York City at Madison Square Garden for the New Jersey-born fighter, but also comes off a loss to Jose Aldo for the interim featherweight title. Edgar dropped a decision at UFC 200 to Aldo, who has since said he is willing to retire from MMA.
With the future of the featherweight division being held up by champion Conor McGregor, the newly crowned lightweight champion, Edgar seems open to moving down to bantamweight.
"Right now, I'm staying at 145, I don't know, man. We'll see what I say tomorrow. Right now it's 145. Cruz has a fight ahead of him. We'll see what happens in that one and maybe make a choice after that."
The bantamweight division has an upcoming title fight as champion Dominick Cruz will defend his belt against Cody Garbrandt at UFC 207 on Dec. 30 in Las Vegas, but depending on what happens in the featherweight division, Edgar could move down.
Ultimately, Edgar seems focused on a fight with McGregor, if he's willing to go back down to featherweight and defend his title. Edgar believes that McGregor should have to defend his belt at 145 before doing anything at 155.
"Hopefully, Conor (is next), if he wants to come back down to 145 and give me that title shot. We'll see what happens.
UFC President Dana White said McGregor would have to give up one of his two belts if he won the lightweight title, which he successfully achieved at UFC 205 against Eddie Alvarez. Following the victory, White said he would let McGregor enjoy his belts and "talk business later" with the two-weight champion. If McGregor is willing to go down and defend his featherweight title, Frankie Edgar is ready to challenge for it.
This article originally appeared on