For Cub Swanson, a career comeback worth celebrating; now give him a title bout
There was a time when Cub Swanson's career was mostly left for dead. This was about the time that Jose Aldo caught him with a double flying knee in about the same ticks of the clock it took you to read this sentence. But that was also before we realized just what we had in Aldo, too.
Back then we thought, What kind of fighter loses in eight seconds?
Now we think, Well maybe that wasn't so bad.
Swanson has filled the time and space since then with some incredible moments, and in the process, managed to do the near-impossible by forcing that incredibly lopsided, embarrassing defeat into blip status. How has he done it? With a two-year run of awesomeness. Six fights, six wins and four knockouts.
It helps that fight fans have short memories. With all of the events that fill up the calendar, it's not exactly easy to keep everything straight, so forget about digging stuff out of the mental archives like that, even if it is meaningful.
Swanson's journey back to the forefront should be an inspiration to others who experience some dark times in the fight game. It's a cruel world out there, with many among the masses itching to write your career obituary after any kind of bad stretch.
Sometimes that mentality proves correct. Other times it is as wrong as picking "all of the above" on a true/false test. This is one of those times.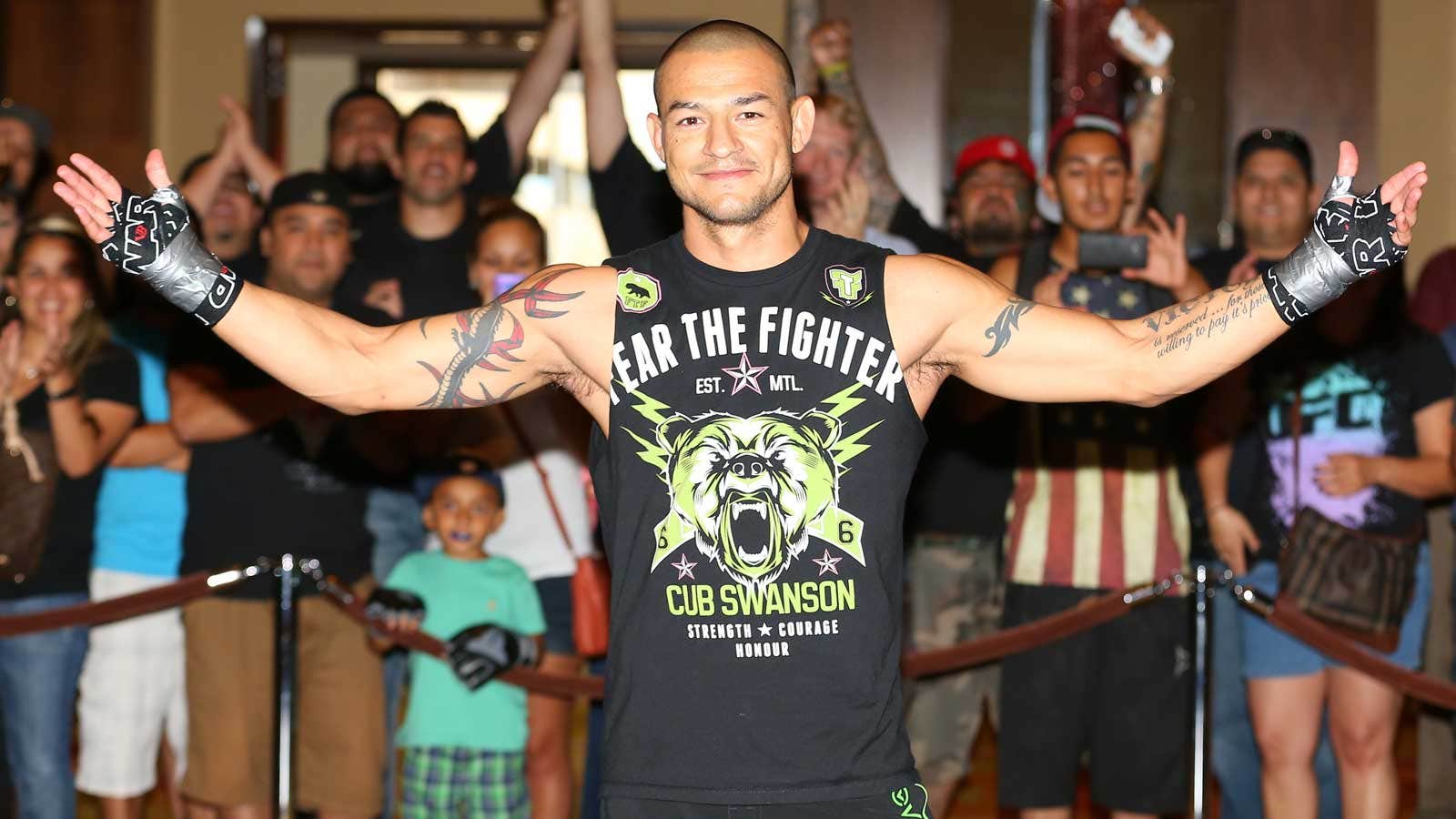 There are several impressive facets to Swanson's streak.
For one, he's beaten three straight opponents ranked in the top 15. For another, he's shown the ability to swing the fight his way on a punch or two, as he's done during his TKO wins, or the ability to win a battle of attrition, as he did Saturday night against Jeremy Stephens in San Antonio.
Also impressive? All six of his opponents during his current win streak at one time fought at lightweight, so he's mostly fighting and hurting bigger guys.
Finally, there's this: wait for a title shot? Don't think so, even if he is probably the de facto top title challenger after Jose Aldo and Chad Mendes settle their feud in August.
"I'm not really trying to wait forever," he said.
Well that's pretty refreshing. A prizefighter willing to take some risks, not too different from his fight persona.
"For me winning a title is just like a dream, you know what I mean?" he said. "Something I want to do so bad. But it's something I feel is going to come to me if I just keep doing what I'm doing. If I keep doing what I'm supposed to do, it'll come. "
One of the under-the-radar improvements that has allowed Swanson to blossom has been his takedown defense. In a career where he's stopped exactly half of the takedown tries against him, his last six opponents — arguably the toughest stretch of his career — are just 9 for 30 in their attempts, just 30 percent.
That emphasis on takedown defense has allowed him to open up his striking offense, content with the knowledge that he has the power to bend the fight to his standup preferences.
Can Swanson upset Aldo? A couple years ago, people would have laughed at the thought of the American in any kind of sustained fight against the division's force. Now, when you ponder it, you think, well that's not gonna happen again, so what is?
Maybe we never get the chance to see — Aldo is set for a tough defense against Chad Mendes first — but maybe we do.
And that's saying something for Swanson, who had a climb back to contender respectability so steep that he probably could have used some crampons and a Sherpa. Maybe we shouldn't be surprised; the dude did a couple years in juvenile detention before figuring out life. Maybe it took him some extra time to figure out his fight career, too. It's a career comeback worthy of a title shot.