DraftKings fantasy MMA daily picks: UFN 100 quick picks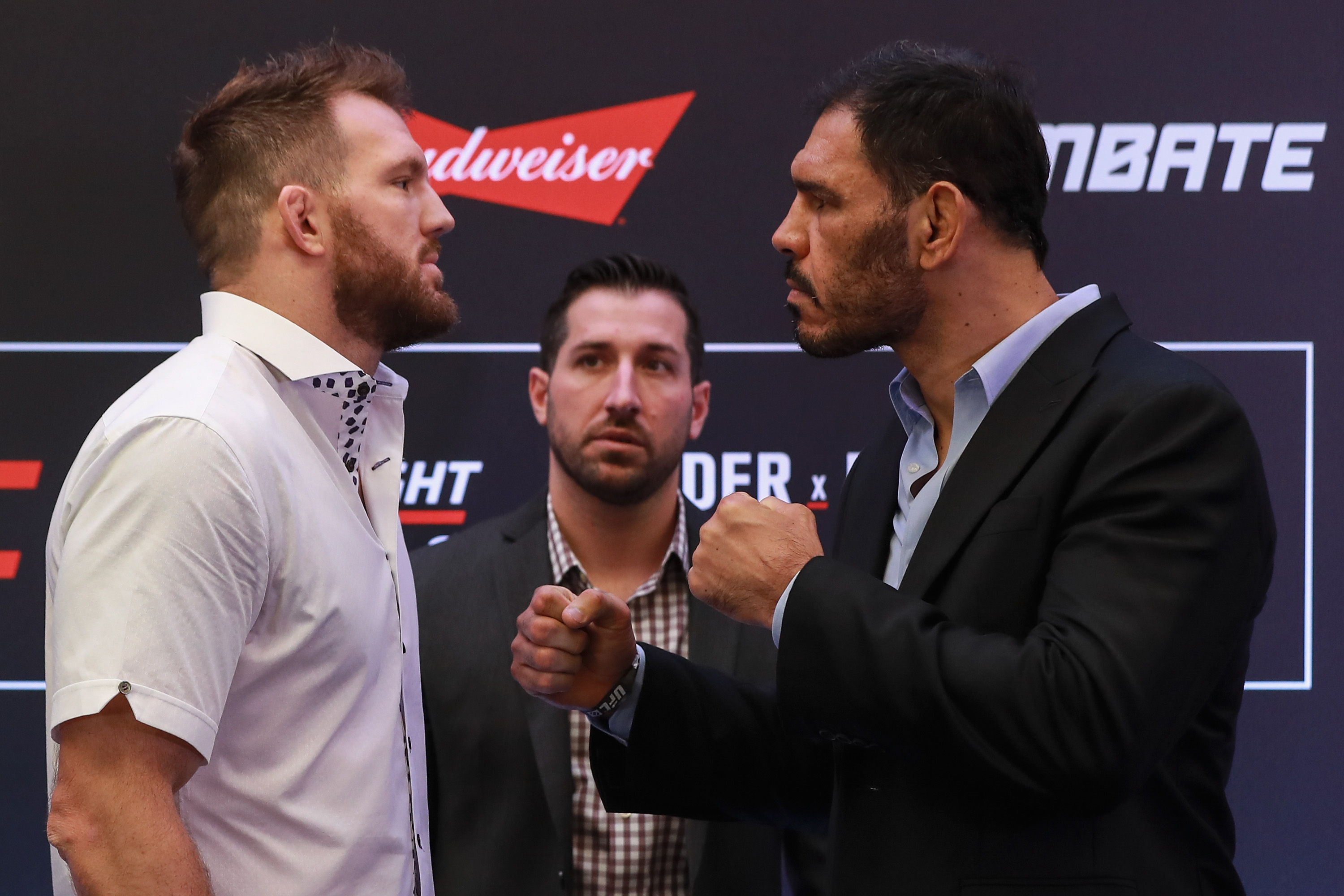 Here are some quick picks for UFC Fight Night 100: Bader vs. Nogueira 2 on DraftKings. These are some of the best options for your lineup.
In the main event of UFC Fight Night 100, Ryan Bader will face off against Antonio Rogerio Nogueira in a rematch. In the first matchup, Bader won pretty handily. Lil Nog will be looking to get revenge, while Bader will be looking to improve and put on an even better performance.
In the co-main event, bantamweight prospect Thomas Almeida will face Albert Morales. Both fighters have tons of promise in their young careers. A win either fighter will do wonders for them.
We usually do a full breakdown for each fight. But, in this breakdown for DraftKings, we'll be doing quick picks. This breakdown will highlight who are the absolute best options for your lineup.
To get an idea of how DraftKings works, visit the MMA rules page.
Feel free to comment down below to ask any questions. You can also contact me directly via Twitter.
High Salary plays
Thomas Almeida ($9,700)
Almeida (80.9 FPPG) is the most expensive fighter on the card. But, it's with good reason. His opponent (Albert Morales) is tough, but he has yet to face a high-level opponent like Almeida.
Almeida is hungry for the win here. Coming off of a devastating first round knockout to Cody Garbrandt, expect him to go for it here. He's an extremely technical striker, has power in his hands, and can attack with a variety of strikes. He gets the finish here, making him a great high salary play.
Pick: Thomas Almeida by TKO in the second round
Jack Hermansson ($8,900)
Hermansson (82 FPPG) impressed in his UFC debut against Scott Askham. He landed 88 significant strikes and looked very comfortable in there. Not only is he a solid striker, but he's no slouch on the ground either.
He'll be facing Cezar Ferreira. Ferreira is a solid competitor, but he has one glaring weakness: his chin. He's been hurt and finished multiple times. He may have a shot if he can it to the ground, but Hermansson is good enough to fend any attacks from there. Hermansson uses his striking to get the job done and finishes him. Another high salary play.
Pick: Jack Hermansson by TKO in the first round
Johnny Eduardo ($8,600)
Facing Manny Gamburyan, Eduardo (44.3 FPPG) should have this in the bag. Gamburyan is a solid judo practitioner, but he's not very good at implementing his game-plan, especially at the top level.
Eduardo has faced much better MMA grapplers than Gamburyan. He should be able to stuff the takedown attempts and keep it on the feet. He'll tag the "not so durable" Gamburyan and finish him. His chances of finishing early are pretty high, making him another high salary play.
Pick: Johnny Eduardo by knockout in the first round
High Value plays
Krzysztof Jotko ($7,900)
Jotko (65.1 FPPG) has improved tremendously throughout his UFC run. After getting submitted by Magnus Cedenblad, he has refined his skills. He's currently on a four-fight win streak and holds two impressive wins over Bradley Scott and Tamdan McCrory.
Facing Thales Leites, both fighters are very well-rounded. They excel with their grappling skills, but they can strike with the best of them. Leites may have the advantage on the ground, but Jotko has the edge with his ever-improving standup. He should be able to keep it there and pick up the decision.
Prior to his knockout win, he's been very active with his striking, averaging 57 significant strikes in three fights.
Pick: Krzysztof Jotko by decision
Gadzhimurad Antigulov ($7,700)
Making his UFC debut, Antigulov is a prospect in the light heavyweight division. Marcos Rogerio de Lima is no slouch, but Antigulov has all the tools to beat him and beat him impressively.
He's currently on a 12-fight win streak and only one of those fights has gone the distance. He's a very powerful striker on the feet, but he's also very talented on the ground (13 out of 18 wins by submission). Lima will cause trouble, but Antigulov will prove that he's too much for him. He finishes him in the second.
Pick: Gadzhimurad Antigulov by TKO or submission in the second round
Chris Colombo ($7,200)
Colombo was robbed in his last fight against Jarjis Danho. The fight was declared a draw, but he should have won. Expect him to pick up a win against Luis Henrique.
Colombo has shown pure toughness throughout his career. He's very active on the feet, landing 76 significant strikes against Danho. He also stuffed many takedowns and ate all that Danho threw at him.
Henrique is tough, though. He's a solid striker and grappler. It won't be easy and this fight will be a competitive one, but Colombo comes out on top, scoring a solid amount of fantasy points in the process.
Pick: Chris Colombo by decision
Suggested Lineup
Thomas Almeida ($9,700)
Jack Hermansson ($8,900)
Johnny Eduardo ($8,600)
Krzysztof Jotko ($7,900)
Gadzhimurad Antigulov ($7,700)
Chris Colombo ($7,200)
Good luck putting together your MMA lineup.
More from FanSided
This article originally appeared on