DraftKings fantasy MMA daily picks: UFC 205 – Alvarez vs. McGregor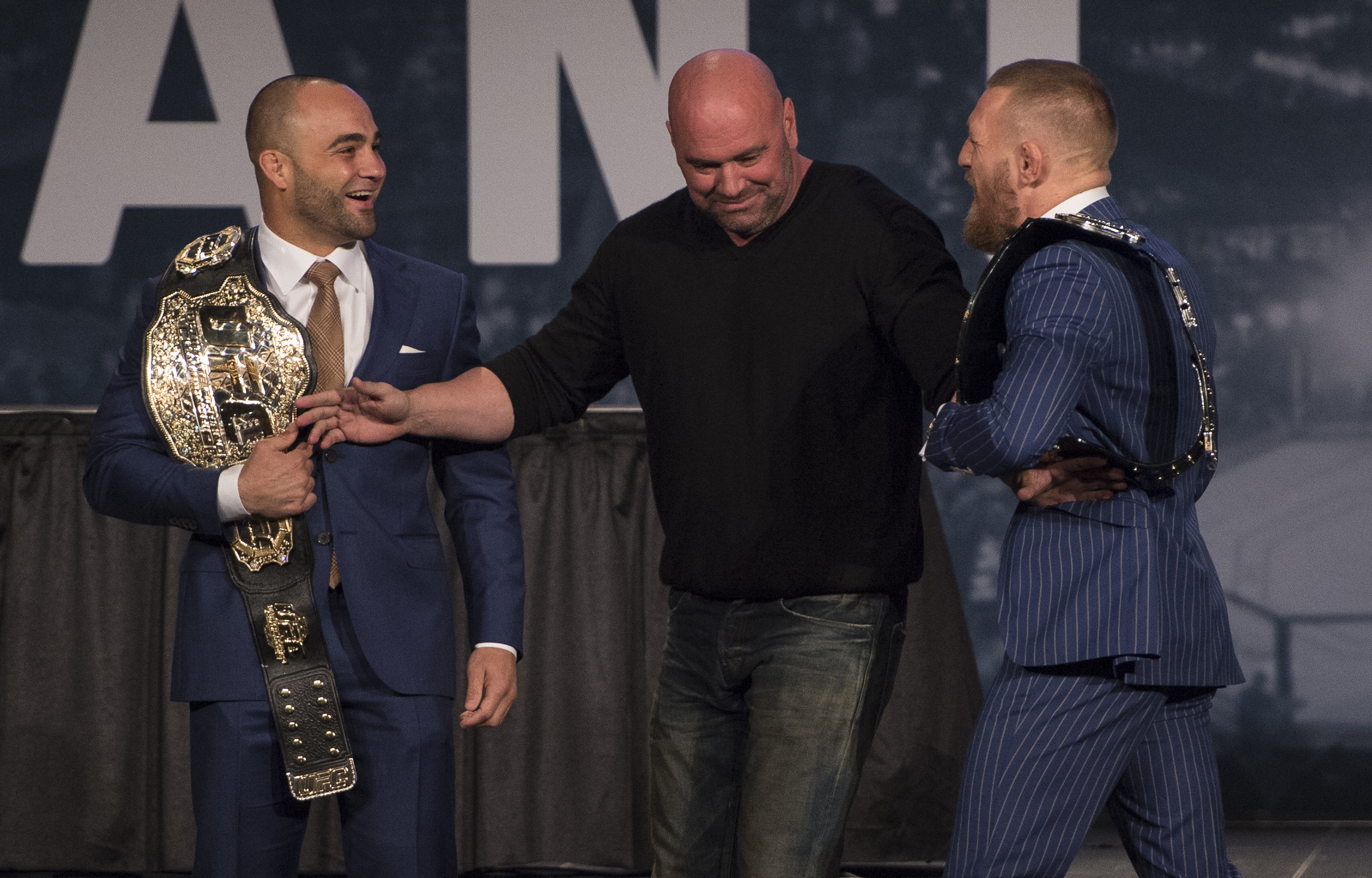 Here's a DraftKings breakdown for UFC 205: Alvarez vs. McGregor, but what are the best options for your fantasy lineup.
On Saturday, the sport of MMA will make history. For years now, the UFC and many other organizations have been trying to legalize MMA in New York. Earlier this year, it was made official. Now, we have the greatest card in UFC history with UFC 205.
With three titles fights, this is an absolutely stacked card. In the main event, Eddie Alvarez will defend his lightweight belt against Conor McGregor. In the co-main event, Tyron Woodley will face Stephen Thompson in a welterweight title fight. Lastly, women's strawweight champion Joanna Jedrzejczyk will face Karolina Kowalkiewicz.
There's always money to be made on DraftKings and UFC 205 is no different. To get a better idea of how it works, visit the Daily Fantasy MMA League Rules page.
Feel free to comment down below to discuss the fights. Also, hit me up on Twitter.
UFC Fight Pass early prelims
Jim Miller ($7,800) vs. Thiago Alves ($8,400)
It seems like Miller has caught a second wind in his career. After a recent inconsistent run, he's won two-straight and is looking to continue. He's averaged 64.2 FPPG (fantasy points per game) in the UFC.
He'll be facing Alves, who's making his lightweight debut. Alves is coming off of a loss and hasn't fought in most than a year. He's looking for a much needed victory. He's averaged 70.8 FPPG.
Although Miller has looked much better in his last two fights, it's hard to see how he beats Alves. Alves is going to be a huge lightweight. The only problem is the weight cut.
It's going to be interesting to see if he can successfully make the cut down to 155. He always had trouble making 170, so that's probably the only thing going against him.
Still, he's been working at this for awhile. We fully expect him to have a great weight cut and perform on Saturday night. Miller is tough, but Alves is bigger and will have a huge striking advantage. An early finish is likely.
Pick: Thiago Alves by TKO in the first round
Liz Carmouche ($8,000) vs. Katlyn Chookagian ($8,200)
Carmouche (52.9 FPPG) hasn't fought in more than a year. She's currently 2-3 in the promotion. On the other hand, her opponent Chookagian (52.5 FPPG) has a lot of promise.
In her UFC debut, she showed off crisp striking and was able to land 45 significant strikes against Lauren Murphy. She should have an advantage in this fight with her striking.
There's no doubt that Carmouche has faced the better competition. She's also the much better grappler. But, Chookagian is good enough everywhere to cause a lot of trouble for Carmouche. Look for her to try and keep this fight on the feet and pick her apart.
Carmouche has struggled with strikers in the past, such as Sarah Kaufman and Alexis Davis. It should be no different in this matchup.
Pick: Katlyn Chookagian by decision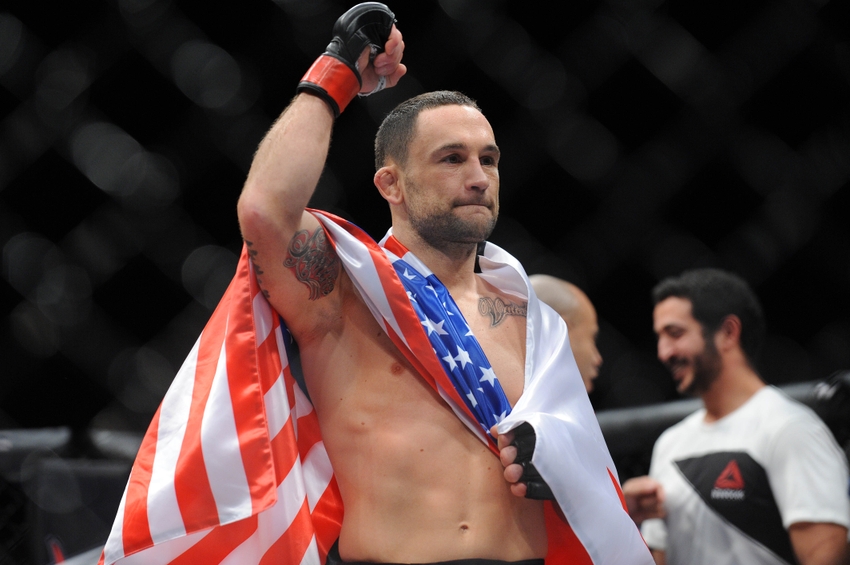 FOX Sports 1 prelims
Frankie Edgar ($9,200) vs. Jeremy Stephens ($7,000)
Edgar (86 FPPG) is coming off of a unanimous decision loss to Jose Aldo. He's looking to bounce back against the hard hitting Stephens  on Saturday night.
Right off the bat, there's no doubt that Edgar is the more well-rounded fighter. He has better footwork, more technical striking, and a much better wrestler.
The big factor here is Stephens' power. If he lands one good shot on Edgar, he could very well finish him. Based on that, some minor exposure to Stephens is welcome. But, we've seen Edgar get rocked before and he recovers extremely well. It'll be no different here.
Edgar is extremely active. He'll weather the storm, use his high volume striking to score points, and he'll secure takedowns. Prior to the Aldo fight, he averaged 123.5 fantasy points in four fights, which is spectacular. He's a great high salary play.
Pick: Frankie Edgar by decision
Khabib Nurmagomedov ($9,000) vs. Michael Johnson ($7,200)
For many, Nurmagomedov (107 FPPG) is one of the best lightweights in the world. He's undefeated in his career and has beat some of the best, including former lightweight champion, Rafael dos Anjos.
Johnson (62.5 FPPG) has had his ups and downs, but he's a top contender. He has extremely fast hands and vicious knockout power.
In this fight, Johnson has a striking edge. But, it's not like Nurmagomedov is a terrible striker either. If Johnson can get his striking going, he'll find some success.
Unfortunately for him, Nurmagomedov is just to good at what he does. Nurmagomedov is one of the best grapplers in the UFC. In the past, Johnson has struggled with grapplers, like Myles Jury and Reza Madadi.
Nurmagomedov is levels ahead of both of those. Nurmagomedov should be able to have his way with Johnson in the grappling realm. A decision is the most likely scenario, but a submission wouldn't be surprising.
It's also worth noting that grapplers score more points on DraftKings now. In his fight against Abel Trujillo, he landed 21 takedowns, scoring 156 fantasy points. It's doubtful that he'll replicate that, but his grappling will lead to a high amount of points.
Pick: Khabib Nurmagomedov by decision
Rafael Natal ($8,100) vs. Tim Boetsch ($8,100)
Natal (64.5 FPPG) has had a very inconsistent run in the UFC. At one point, he goes on a solid streak. Then, he loses a fight and goes back to the drawing board. Whenever he faces someone at the top level, he loses.
The same thing can be said for Boetsch (52.5 FPPG). Boetsch is a great wrestler with vicious power. In some fights, he's been able to utilize those skills. But, he can't seem to get it going at the top level.
In this matchup, Natal is definitely more well-rounded. He's the better striker and he's not a bad grappler. But, as stated before, Boetsch has a lot of power and that can be a game changer.
If Natal can stay off of his back and use his striking, he can win. But, if Boetsch drags him to the ground and starts using that ground and pound, it he can also get the victory.
Both fighters may very well be fighting for their jobs here. Some exposure to either one will be smart since it's a toss-up. But, Natal has more tools and should get the decision.
Pick: Rafael Natal by decision
Vicente Luque ($7,900) vs. Belal Muhammad ($8,300)
Since his stint on The Ultimate Fighter, Luque (82.5 FPPG) has been on an absolute tear. He faces Muhammad (78.3 FPPG) on short notice, who is a welterweight prospect to look out for.
Muhammad is good in every area. He's very technical on the feet, but he can also grapple with his opponents. For Luque, he's a physically strong fighter. He throws vicious bombs on the feet and his ground game is always improving.
The slight edge goes to Muhammad due to his overall skill-set. But, at his price, Luque is a great value play. Muhammad didn't show the best chin against Alan Jouban. If Luque is able to catch him, he can hurt him and possibly finish him.
His ground game has looked better in every fight. He should be able to fend off any ground attacks and have the power advantage on the feet. He's a great value play here.
Pick: Vicente Luque by TKO in the second round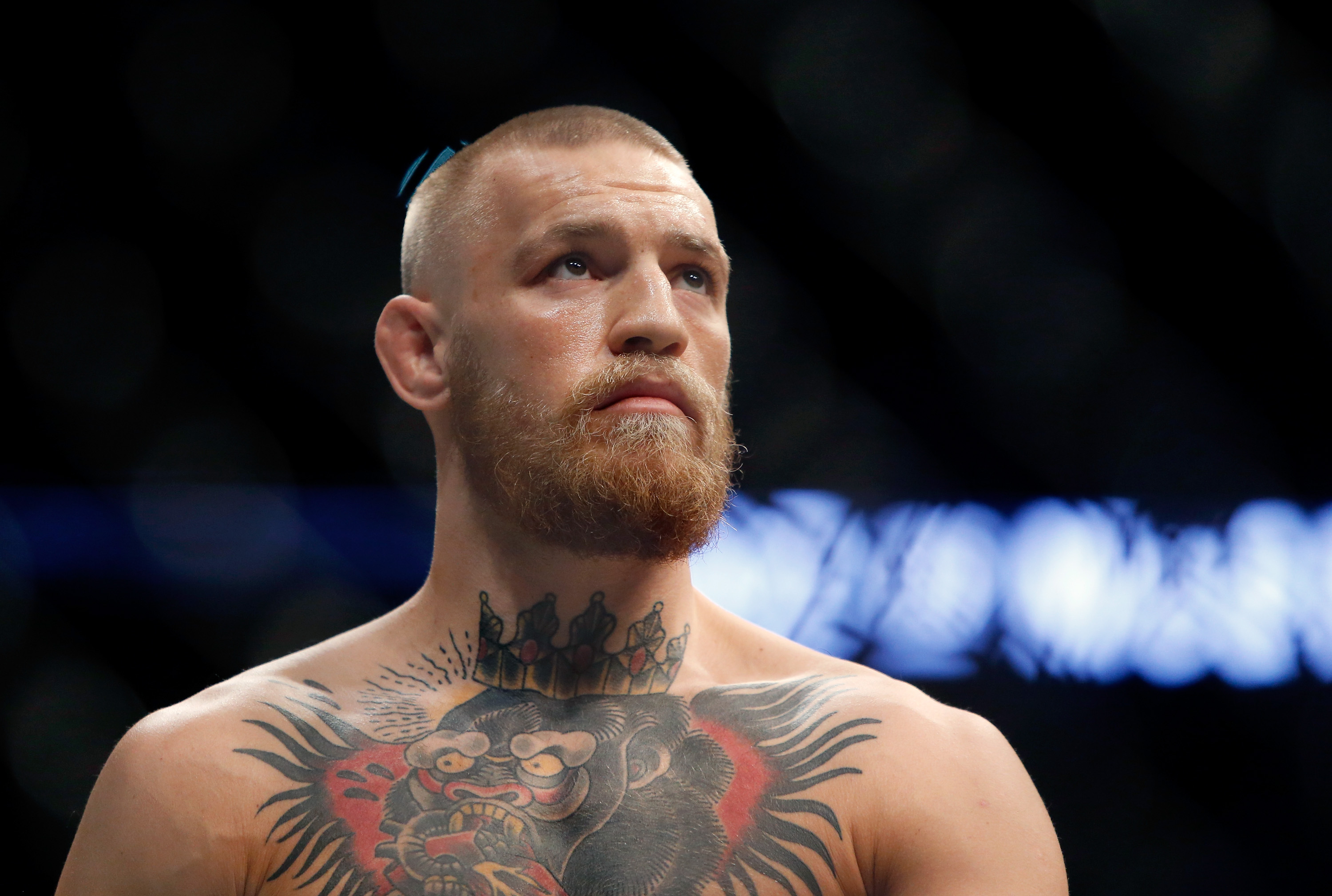 Main Card
Eddie Alvarez ($7,600) vs. Conor McGregor ($8,400)
McGregor (102.7 FPPG) will be looking to make history at UFC 205. Being the featherweight champion, if he beats Alvarez (72.3 FPPG), he'll also be the lightweight champion.
Alvarez is a tough competitor and will cause trouble for McGregor. He has solid boxing with knockout power, and he's a solid wrestler. That being said, it's hard to see how he beats McGregor.
McGregor has faced similar styles in the past. Mendes found some success against him early on with his wrestling. He also landed some of his best power shots, but McGregor was unfazed by them. This fight is looking like it will be very similar.
Alvarez will have his moments, but ultimately, McGregor comes out on top. Alvarez gets tagged way to often and with someone like McGregor, who's a great counter puncher, it won't end well for Alvarez.
Look for McGregor to lure Alvarez in. He'll counter him with his left hand and hurt him. He'll be tough to finish, but McGregor will find a way. He predicted a first round knockout, but he gets it done in the second.
He's also one of the best options for your lineup. In almost all of his UFC wins, he's produced 100+ fantasy points. He'll give you DraftKings lineup that much needed boost.
Pick: Conor McGregor by knockout in the second round
Tyron Woodley ($7,400) vs. Stephen Thompson ($8,800)
Woodley (78.4 FPPG) knocked Robbie Lawler out in impressive fashion to become the UFC's welterweight champion. He'll be defending his title for the first time against Thompson (95.7 FPPG).
This match will come down to who can implement their game plan better. For Woodley, he'll have to close the distance. Thompson is a master at maintaining his range and keeping his opponents at the end of his kicks and punches.
If Woodley is able to get in range and put the pressure on, he can definitely win. He has the wrestling to take him down. He also has the power to hurt him and possibly knock him out.
That being said, Thompson has the edge here. He may get taken down a few times, but his grappling has improved tremendously. He also has a significant advantage on the feet. If he's able to avoid the early storm, he's got this in the bag.
Look for him to use his kicks to keep Woodley at bay. Eventually, he'll catch him and finish the fight.
Some exposure to Woodley would be a smart move because of his finishing capabilities, though.
Pick: Stephen Thompson by TKO in the third round
Joanna Jedrzejczyk ($9,300) vs. Karolina Kowalkiewicz ($6,900)
Joanna Champion (95.8 FPPG) is arguably the best women's MMA fighter in the world right now. With three title defenses, she's looking for her fourth straight against Kowalkiewicz (79.8 FPPG).
Let it be known that Kowalkiewicz is a very talented fighter. She's a great striker and is undefeated in her career. She knows how to win. That being said, she hasn't look very dominant in most of her fights. She has won, but not very convincingly.
That being said, Joanna is an even better striker. In every single one of her fights, she goes for the kill. Her strikes have more power and she's faster than Kowalkiewicz.
She's a high volume striker and will produce a ton of fantasy points. She's averaged 174 significant strikes in her last three fights, which is amazing.
She should have no problem winning this matchup. Kowalkiewicz is tough, but Joanna finishes her.
Pick: Joanna Jedrzejczyk by TKO in the fourth round
Chris Weidman ($8,500) vs. Yoel Romero ($7,700)
This matchup is, perhaps, one of the biggest ones to decide on. Both are very evenly matched and have similar styles.
For Weidman (96.6 FPPG), he's a wrestler who's striking has come a long way. The same thing can be said about Romero (84.7 FPPG). With Olympic level wrestling, he's transitioned very well into MMA.
In this matchup, it comes down to who can impose their will. Both fighters can very well take each other down. They can also strike with each other.
One thing that stands out is Romero's flashiness. He's very explosive with his entire game. He'll throw risky strikes that sometimes pay off, but he can definitely pay for it with someone like Weidman.
Weidman should take this fight. He's the superior boxer, he's more durable, and he has better cardio. But, definitely consider picking up Romero in some other lineups. He has a solid chance to pick up the victory as well.
Pick: Chris Weidman by decision
Kelvin Gastelum ($7,300) vs. Donald Cerrone ($8,900)
Gastelum (82 FPPG) got the biggest win of his career in his last fight against former welterweight champion, Johny Hendricks. He's a talented wrestler who's also a great striker.
Since moving up to the welterweight divison, Cerrone (85.2 FPPG) has been on an absolute tear. We truly hope he never goes back down to lightweight. He looks faster, more powerful, and sharper at 170.
On paper, Gastelum has the perfect style to beat Cerrone: a wrestler who pours on the pressure.  Unfortunately, we said that about Patrick Cote and Rick Story, and we know how that turned out.
Gastelum will have his moments, but Cerrone has way to many tools. From his crafty submission game, to his versatile striking, he can do it all. Cerrone will find his groove and may even secure a submission win late in the fight.
Averaging 113 fantasy points in his last three fights, he's a great choice. Look for him to continue his hot streak at 170.
Pick: Donald Cerrone by submission in the third round
Meisha Tate ($9,100) vs. Raquel Pennington ($7,100)
Tate (69.7 FPPG) wants to be back on top. Being the former women's bantamweight champion, she'll stop at nothing to get there.
Pennington (69.7 FPPG) is a tough customer, though. Since her stint on The Ultimate Fighter, she has drastically improved. Her ground game has developed nicely along with her brawling style of striking.
In order for Tate to win, she'll need to get this fight to the ground. She doesn't want to strike with Pennington. We've seen Tate struggle with strikers before and a brawl with Pennington definitely isn't smart.
If she's able to secure the takedown, she can get the win. But, Pennington is very tempting at her price. She has looked very impressive in her last three fights and a win over Tate will make her a top contender.
She's hungry and is always improving. Tate is tough, but she's definitely beatable. Pennington is a great value play and will score a ton of points throughout the course of three rounds.
Pick: Raquel Pennington by decision
High Salary plays
Joanna Jedrzejczyk ($9,300): Kowalkiewicz is tough, but Joanna is just better. She'll out-strike her and finish her in the championship rounds.
Khabib Nurmagomedov ($9,000): With Johnson's weakness against grapplers, Nurmagomedov should have a great performance. His ground game will produce quite a few fantasy points.
Donald Cerrone ($8,900): With his recent run at welterweight, Cerrone has been on fire. He'll continue that with an impressive win on Saturday night.
Conor McGregor ($8,600): McGregor will use Alvarez's aggressiveness against him. Counter-punching will be the key for McGregor in this fight.
High Value plays
Thiago Alves ($8,400): Although he's not the most valuable fighter, his price is low enough for that status. His striking will be the deciding factor here and he'll get the finish.
Vicente Luque ($7,900): Luque has more power, is more durable, and has an improving ground game. He has all the tools to take this fight.
Raquel Pennington ($7,100): Tate isn't the kind of fighter who will cause much trouble. Pennington will bring the fight to her with her striking and brawling style.
Suggested Lineup
Khabib Nurmagomedov ($9,000)
Donald Cerrone ($8,900)
Conor McGregor ($8,600)
Thiago Alves ($8,400)
Vicente Luque ($7,900)
Raquel Pennington ($7,100)
This article originally appeared on