Dana White on MMAAA: Bjorn Rebney Is a Piece of Sh*t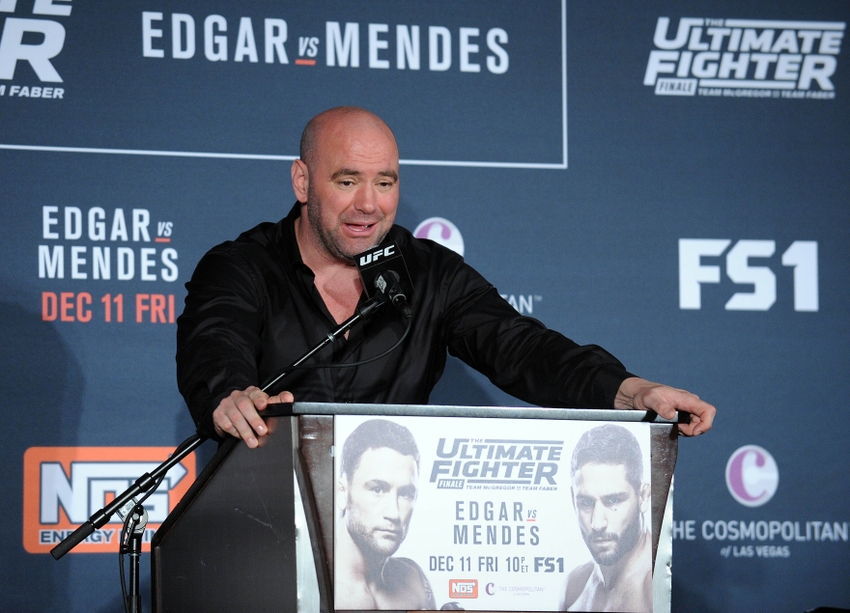 The old rivalry between former Bellator CEO Bjorn Rebney and UFC president Dana White has been re-ignited and is seemingly burning as hot as ever.
Last week we welcomed the arrival of the Mixed Martial Arts Athletes Association (MMAAA) which thanks to Georges St-Pierre, Cain Velasquez, Tim Kennedy, TJ Dillashaw and Donald Cerrone is here to try to help bring better pay to all fighters in the UFC.
The one name missing from that list…. Bjorn Rebney.
The former Bellator CEO has teamed up with MMAAA and will help spear head the operation alongside the five mentioned above. While the shock announcement garnered a lot of attention it was the announcement of Rebney's involvement that made the biggest splash.
Almost as soon as we heard Rebney was to be involved in the association the mixed martial arts world was waiting, with bated breathe, for the reaction from UFC president Dana White. Just when it seemed as if we wouldn't get any word from the boss he appeared on Tuesday's episode of the UFC Unfiltered podcast to address the situation and his old rival 'Bjork'.
Want your voice heard? Join the Cage Pages team!
Listen, I don't know enough about it to really speak on it. The only thing I need to know is the biggest scumbag in the history of combat sports — Bjork — is involved in this thing. And if you're a fighter — listen, there's three unions out there battling against each other. And if you're a fighter, these guys are looking to get in your pocket. It's another business, it's business where guys are going to make money. And if you're a fighter and this is what you wanna do, you've got to figure out who's hand you want in your pocket.

And i guarantee you, you don't want Bjork's hand in your pocket. You know what i mean?
White and Rebney go back years thanks to respective years as competitive promoters in two of the worlds best MMA promotions. The so called 'beef' had died down since Rebney was fired by the Viacom owned promotion but is now well an truly back on now that he has the UFC in cross hairs once again.
Get the FanSided App
The one thing that I do know that came out of this thing, is that this scumbag — who knows nothing about our business — he says, 'yeah, they only pay the fighters eight percent of the revenue.' I hope you're talking about Conor Mcgregor. Okay? We're paying eight percent of the revenue, you must mean Conor Mcgregor, right Bjork, you stupid motherf*cker.

Listen, if you're going to have a guy in your pocket, and you're a fighter, you might want to go out and ask some other fighters what their opinion is of this f*cking scumbag.
If you have not watched or heard the heated interview, check it out right here.
If the fire is burning this hot just a week after the announcement who knows what will happen between these two men. One thing is for certain, it will be super entertaining thanks to the very real hatred they have for one another.
This article originally appeared on