Dana White: Chael is 'done,' commission will 'bury' Wanderlei Silva
Sonnen's decision to retire from mixed martial arts came just hours after he appeared on FOX Sports 1 on Tuesday to address a positive drug test result released by the NSAC earlier in the day.
Sonnen tested positive for two estrogen blocking agents, which he says he was using to adjust his body to life after testosterone replacement therapy (TRT). The treatment was banned by the commission earlier this year, which forced Sonnen to adjust his regimen, and he claimed those drugs were helping his body get used to not having synthetic testosterone any longer.
Sonnen went on the show to address the positive test and give his side of the story, and after the interview wrapped he called White and said that this was the end of the road for him.
"We did that interview and he called me that night when I was on my way home and said 'I'm done, I'm hanging them up,'" White said at Thursday's media session. "You know how he felt about it, the thing (TRT) was legal then it's not, and he's just at a different stage of his life. He's older and I've said it before, if you have to take that stuff, you're probably too old to be fighting. You should probably retire."
For the past few years, Sonnen has shot to super stardom with his outspoken interviews and over-the-top way of promoting fights. He's also become the poster boy for accepting fights or offering to take fights at any time. Despite Sonnen's competitive spirit and belief in himself, White thinks after everything that's happened this week, the 17-year MMA veteran really is retired for good.
"I think he's done," White said. "Chael isn't going to be looking for work any time soon; he's going to do just fine."
Wanderlei Silva is in serious trouble
While Sonnen retired in the wake of a positive drug test this week, his former UFC 175 opponent-to-be Wanderlei Silva might be in even hotter water and he didn't even take a drug test! Silva allegedly skipped out on a random drug test the same day Sonnen received his in Las Vegas.
Refusing to take a drug test is as good as failing in the eyes of the commission, and White believes when Silva appears before it this Tuesday, he is going to have the hammer dropped on him.
"There's no loose ends with Wanderlei. I think the Wanderlei story is not going to end well," White said. "You know how this commission is right now — when you get caught taking performance-enhancing drugs you're gone for a year or whatever the suspension is; it's not good. I honestly know nothing about what's going to happen, but I would have to say they're going to make a serious example out of Wanderlei.
"When the commission shows up to drug test you, it is what it is. You're doing something wrong, you're going to get caught. Running from it just makes you guilty."
White has no inside knowledge about the commission's plan for Silva, but he thinks there's no chance Silva's getting off light. In other words, expect Silva to receive a lengthy suspension and hefty fine.
"There is no way in hell they're letting him off. No way in hell. They are going to bury Wanderlei Silva in my humble opinion," White said. "They're going to bury him."
Anderson Silva vs. Nick Diaz could become a reality
Anderson Silva is expected to return to action either later this year or in 2015 and he would like to face Nick Diaz in his return bout. The word out of his camp lately has been that the former pound-for-pound king likes the prospects of facing Diaz very much, and it could be just the fight for his return to action after suffering a gruesome leg injury in his last bout against Chris Weidman at the close of 2013.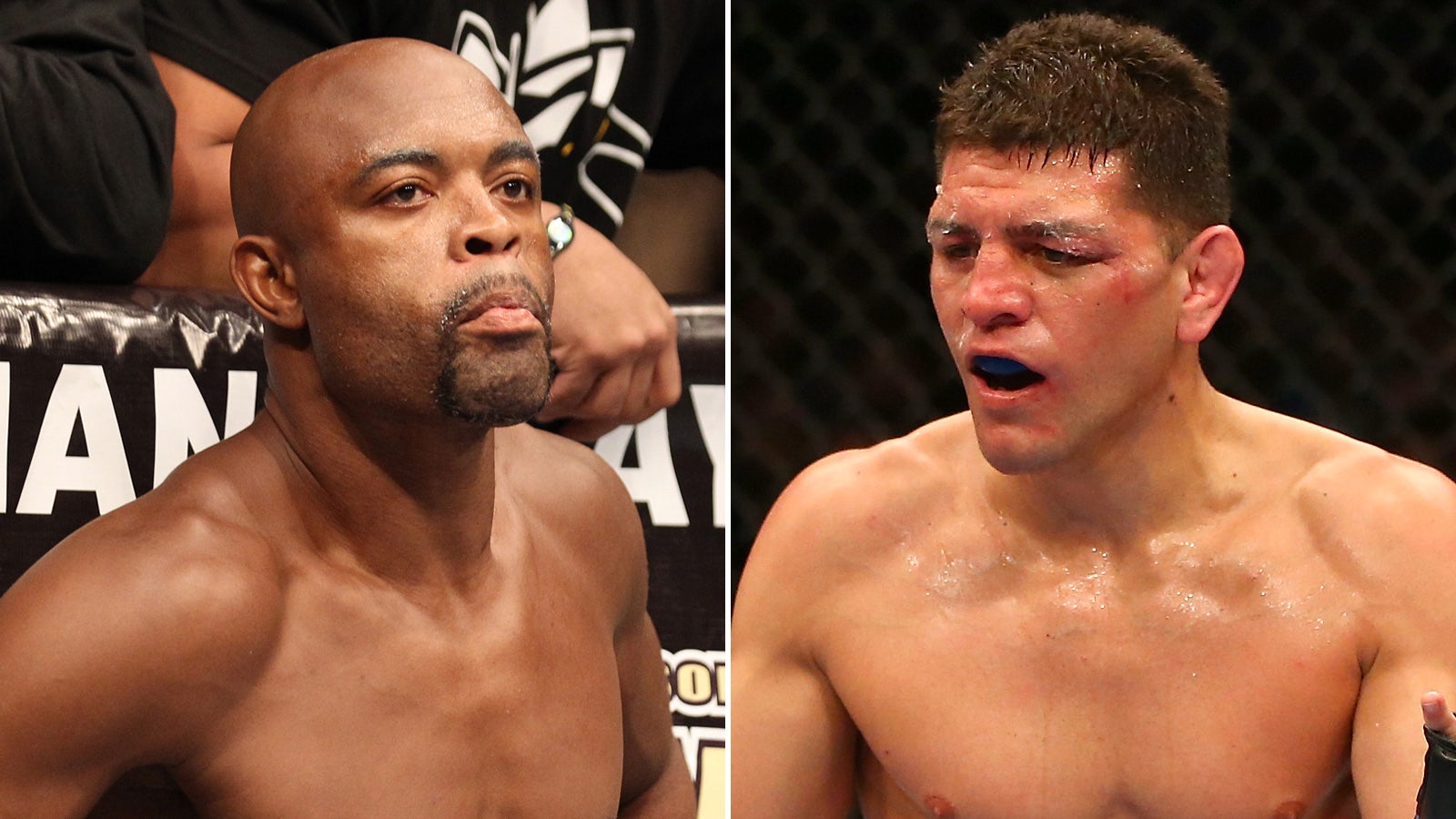 As for Diaz, he's been happily retired for more than a year now while turning away every offer the UFC had for him as a potential return to the sport. One fight that Diaz always has been interested in, however, is a showdown with Silva.
With Silva and Diaz both seemingly on board, what about White?
"If that's what it will take to get Nick to fight again. I mean I know they want it," White said. "I think that's a very interesting fight, so we'll see what happens."
White stated that they won't have any kind of discussion about the fight becoming a reality for some time considering Silva's expected return date hasn't been officially determined and at the earliest the promotion would be looking at the end of the year in 2014 or the beginning of 2015, so no reason to dive into it now.
Still, the last thing he's going to do is stand in the way of Silva and Diaz if they want to fight each other. It would be one of the biggest fights in UFC history.
"If Anderson wants to fight Nick and Nick wants to fight Anderson, why would I say no?" White said.
Jason High receives a lifetime ban from the UFC
Last Saturday night in Albuquerque, an upset and frustrated Jason High got up from the mat after the conclusion of his stoppage loss to Rafael dos Anjos and proceeded to shove the referee in the chest before turning and walking away in anger.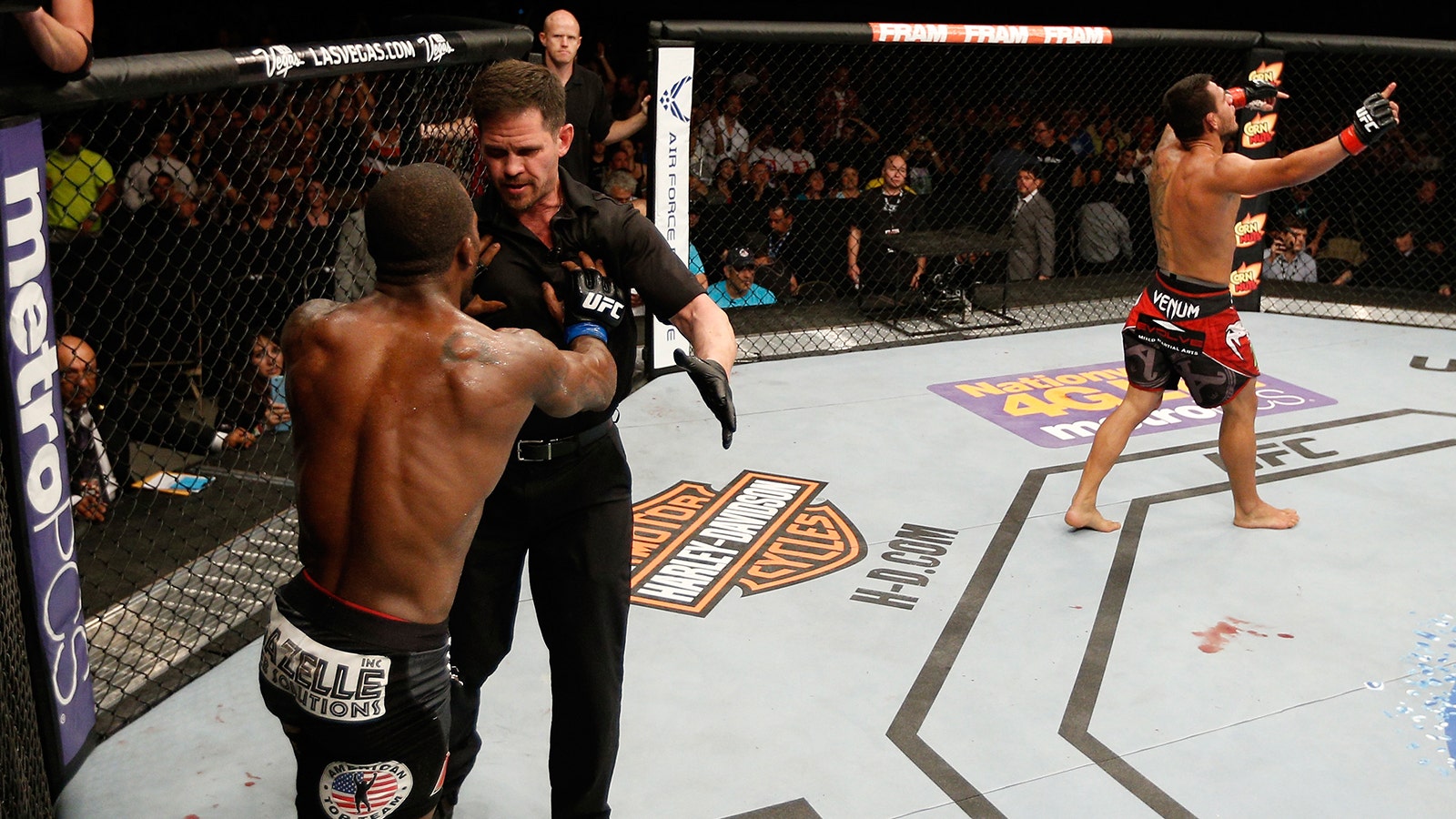 The altercation was sure to land High a suspension and fine from the New Mexico Athletic Commission, but it also ended up costing him his job when he was released from the UFC earlier this week.
White wasn't present in Albuquerque nor did he watch the live show after having an allergy attack while on vacation with his family in Maine, which resulted in him taking Benadryl and sleeping for an entire day after the drug kicked in.
The moment he heard about what High did on Saturday, White decided to release him. There was no conversation or even a chance to go back and review the video. High put his hands on a referee and that was all White needed to know to put him on the chopping block.
"I didn't even see it, I heard that he put his hands on the referee. Done," White said. "I didn't think about it, I didn't ask anybody, as soon as I heard he put his hands on a referee, he's done."
As far as High somehow redeeming himself down the road and finding a home back with the UFC, White said that ship sailed as well. White believes what High did was even worse than when Paul Daley punched Josh Koscheck after the final horn sounded. Daley got dropped from the promotion as well, but White says what High did was much worse.
"I don't have to look at it. You touched the referee, you're done. Over," White said. "That's actually worse than what Daley did to Koscheck and he punched him in the face, but they're fighters. You don't put your hands on the referee ever. I don't care how mad you are, how upset you are. What this kid did, you don't touch a referee ever. Unforgivable. Never come back. Ever."
News and Notes from Around the Octagon:
TUF 19 fights the worst ever?
TUF 19 definitely won't go down as one of Dana White's favorite seasons — as a matter of fact he believes it's the worst of the worst. The fighters on the cast who win the finale in July will get contracts as promised, but nobody else from the season is guaranteed anything.
"Absolutely (most disappointing season)," White said. "It was without a doubt the worst season and the least motivated the fighters have ever been, but I can say this, the fights pick up at the end."
"You can't blame the coaches, you blame the guys and how bad they really wanted it. That's my opinion. We'll find out in the finale who shows up and what they do. I was not impressed."
Gina Carano update
Former Strikeforce star Gina Carano is still in negotiations with the UFC, and it's to the stage now where the fighter's attorney is in conversation with the legal team at the promotion, but there's still no deal. However, White is confident it will get done.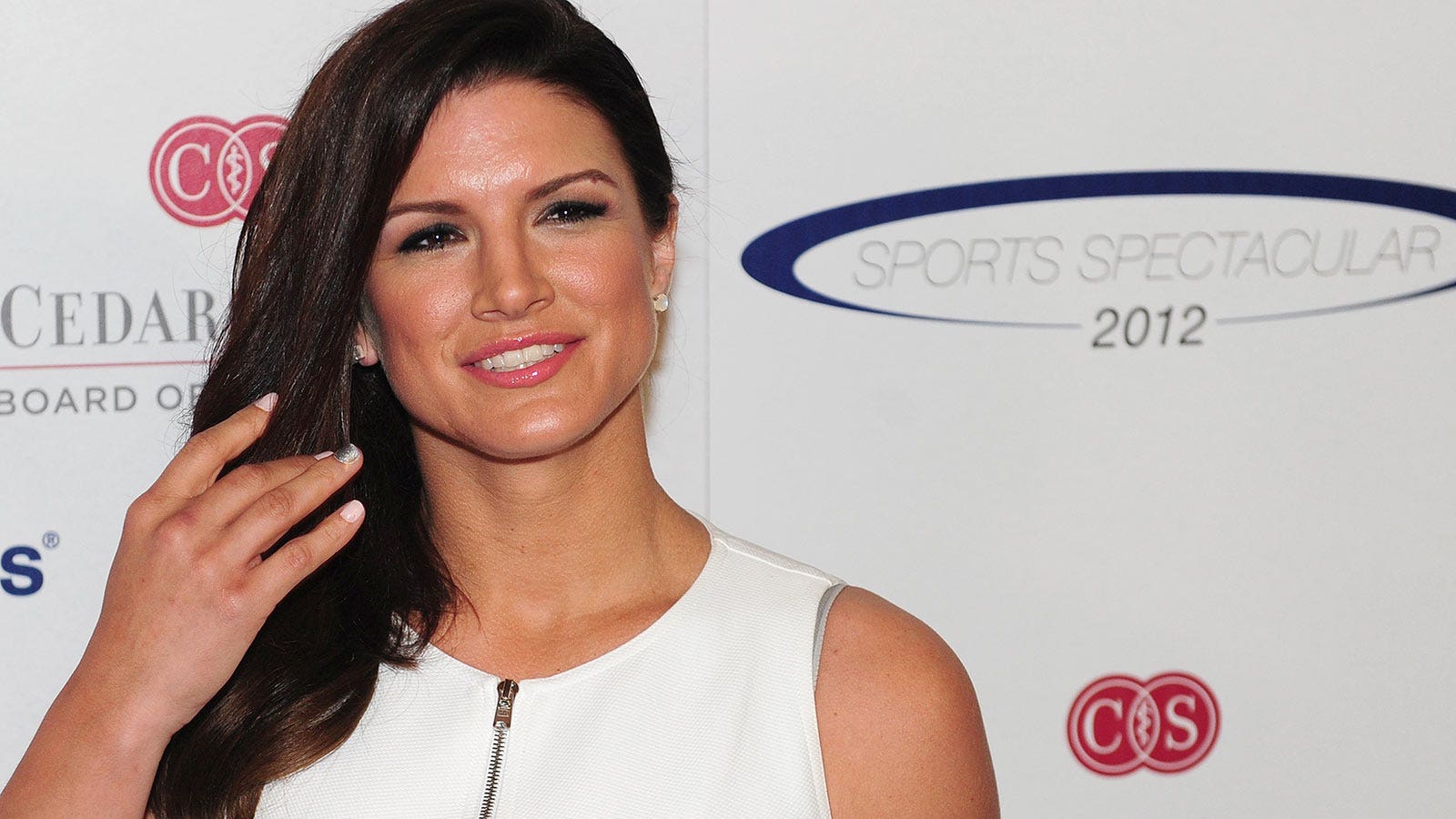 "Her lawyers and our lawyers are talking. It's moving along. It should (happen)," White said. "I mean this guy is a Hollywood lawyer and these guys are always a pain in the ass to deal with. The s–t that he calls back and says everyday is literally comical."
Ross Pearson gets paid
The entire world saw Ross Pearson beat Diego Sanchez on Saturday, except somehow two judges in New Mexico got it wrong. So instead of leaving the show with his win bonus and a victory, Pearson left with half his paycheck and a loss.
Well, the UFC stepped up this week and made sure Pearson got the money he deserved.
"It ends up costing us a lot of money because Diego wins his win (money) and then of course what am I going to do? I don't have to pay Ross, but it's kind of what we do," White confirmed.
Jones-Gustafsson II location
Jon Jones and Alexander Gustafsson will rematch on Sept. 27, but what we don't know yet is where this fight will happen. Originally, the fight was scheduled for Toronto, but now that plan is up in the air.
White says they are working on a location and should have an announcement soon.
"It's a massive, massive fight," White said. "We're looking at Vegas, Sweden and Toronto."
The other guys
Was it strategic planning or coincidence that the UFC scheduled a show in September that will run on the same day and time as an upcoming Bellator card taking place about 10 miles down the road in a Connecticut casino?
White can't help but laugh if you think this was in some way a shot at Bellator, or if they are even any kind of threat to the UFC.
"I could give a s–t when Bellator goes. What night, what day, whatever. It's not like Bellator is out there killing it and we're going to go take some of it. It's stupid to even think that. We end up on the same night as many sporting events," White explained.
"I literally don't think of Bellator, I don't give a s–t what Bellator's doing or what's going on with them. It's not like Bellator is some organization you have to look out for. Seriously look at the cards they put on and what they are doing. The difference is, is that they're Viacom. They're on a channel right in the middle of everything where you land on there and you watch. Nobody's going out of their way — 'Oh, a big Bellator event's on tonight!' You know what I mean?"
And as far as the recent reports that Bellator's inaugural pay-per-view offering did 100,000 buys? White chuckled again when talking about Bellator CEO Bjorn Rebney's statements on how well the promotion did for the pay-per-view.
"It shocked me because no it didn't," White said about the number. "Did he ever find out what the gate was? Did anybody ever get back to him with that number? He doesn't know what his gate is but he knows they did 100,000 buys? The guy is a clown."