Conor McGregor wants equal ownership stake in UFC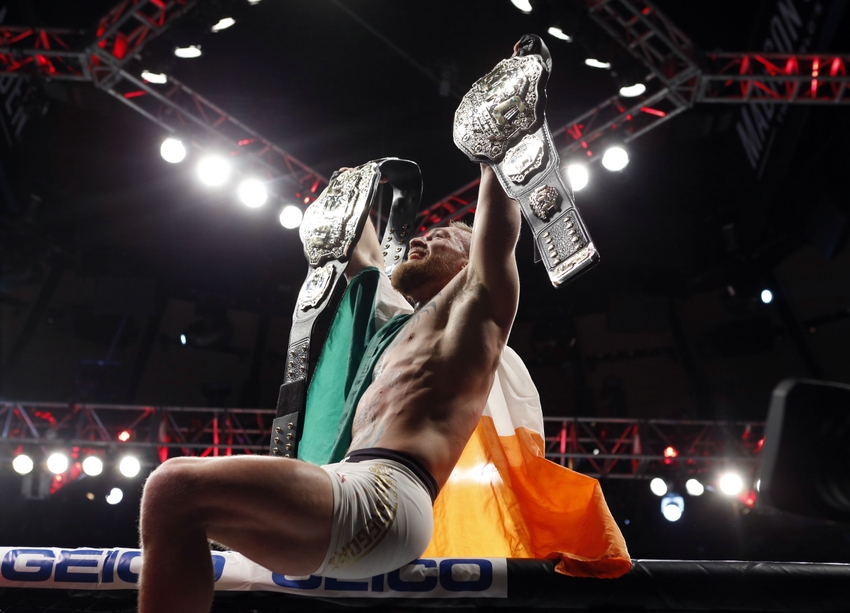 UFC lightweight and featherweight champion, Conor McGregor, let the world know that he wants a stake of ownership within the promotion after a dominant win at UFC 205.
Conor McGregor set out on a mission to become a two-division champion and that mission was completed at UFC 205. His masterful display of striking left Eddie Alvarez helpless from the very start of the fight, up until the finish in the second round. McGregor raised the stakes becoming a two-division champion and his words during the post-fight pressor epitomize his moves that have continued to change the sport. McGregor spoke about the opportunity to become a partial owner in the UFC based on what he's done for the organization.
"No one has talked to me since the sale has happened," McGregor said. "I've earned something. Who owns the company now? People have shares in the company. Conan O'Brien owns the UFC nowadays. Where's my share? Where's my equity? They've gotta come talk to me now."
McGregor is speaking about the fact that the UFC sold for a hefty price tag of $4 billion dollars earlier this year. Since that transaction, it's been revealed that many celebrities now hold shares in the company purchased by the group led by WME-IMG. The list of 23 celebrities now partial owners of the UFC include Carolina Panthers QB, Cam Newton, Michael Bay, Tom Brady, Venus Williams and Tyler Perry. McGregor wants to add his name to that list.
"I'm the one that's bringing this," McGregor said. "I've got both belts. I've shown them the money. I have a family on the way. If you want me to stick around, keep doing what I've doing, let's talk – but I want ownership now, I want equal share. I want what I've earned."
What McGregor is saying is unprecedented territory for the independent contractors signed to the UFC. He's been a trail blazer in resting control away from the promotion and pushed himself into a powerhouse that's earned millions of dollars. At UFC 202 he made $3 million dollars; trumping his earlier record at UFC 196 of $1 million. His purse from UFC 205 is expected to surpass even that.
"Whoever runs this whole [expletive] has to come to me and give me the real slice," McGregor said. "That's what I've earned. I've earned this. You want me to stick around and continue pushing the country, bring me on board. I need to be set for life, as owner, with an equity stake in this company."
Leadership within the UFC has yet to respond to McGregor's comments, but this will certainly be one of the biggest stories to watch in the time after this event. With a child on the way, McGregor may take some time to step away from the sport, but either way he's building himself into the biggest star in mixed martial arts history and now he's asking for the stake in ownership to boot.
More from FanSided
This article originally appeared on