Conor McGregor uninterested in facing undefeated Khabib Nurmagomedov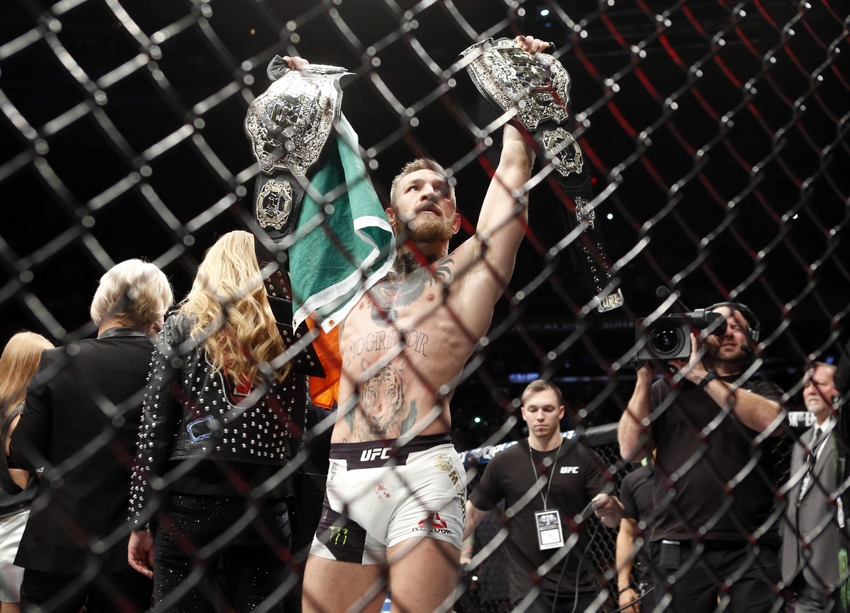 Despite Khabib Nurmagomedov's dominant win at UFC 205, feather and lightweight UFC champion Conor McGregor appears uninterested in facing the highly touted, undefeated Russian fighter.
At UFC 205, Conor McGregor (21-3) completely out classed Eddie Alvarez, knocking him out in the second round, and wresting away his championship belt to become the UFC's first fighter to ever hold two titles in two separate weight classes simultaneously (featherweight and lightweight).
Although impressive and record-breaking, following the matchup, McGregor expressed little to no interest in facing the 155-pound division's top contender in Khabib Nurmagomedov.
At the post-fight conference, the Irishman pointed to Nurmagomedov's lack of activity and injury record as reasons for his lack of interest in that fight. Per Bloody Elbow, McGregor stated:
"Look, he's fought once in eight years. He ain't fight too frequent for my liking. For me to commit to something like that, I need solid proof that people are going to show up. And he's a consistent pull-out merchant."
However, Nurmagomedov was seething and adamant about receiving a shot at McGregor's lightweight title immediately after his dramatic and dominant win over Michael Johnson. Per MMA Junkie, Nurmagomedov exclaimed:
"… I talked with Dana White (UFC President) in between every round. I said, 'Don't send me any more of your fake contracts. I need a real contract… You know I deserve this. After this fight, send a real contract.' After I finished the fight,… I'm waiting for my agreement. Maybe Brooklyn on February 11 for UFC 209. (UFC 210) in Las Vegas. Anywhere. It doesn't matter. Russia. Ireland. I can fight with him (McGregor) anywhere."
To McGregor's point, however, Nurmagomedov has only fought twice since 2014, due to injury. Also, the only name opponents the Russian has faced are Michael Johnson and former lightweight champion Rafael dos Anjos.
Conversely, McGregor has only fought two high-level fighters as well (Alvarez and the interim featherweight champion Jose Aldo). In addition, Nurmagomedov is the only undefeated fighter in the lightweight division's top 10 and is arguably the most complete fighter on the roster. He possesses a record of 24-0 with eight knockouts, eight submissions, and eight decision victories.
More than that, Nurmagomedov's heavy grappling style would most likely prove problematic for McGregor, who has not yet demonstrated proficiency on the ground. The Russian has dominated all his opponents on the ground, and despite McGregor's heavy left hand, it is difficult to imagine Nurmagomedov not reigning victorious in such a matchup.
This article originally appeared on