Conor McGregor tries to throw chair at Eddie Alvarez during heated UFC 205 press conference (Video)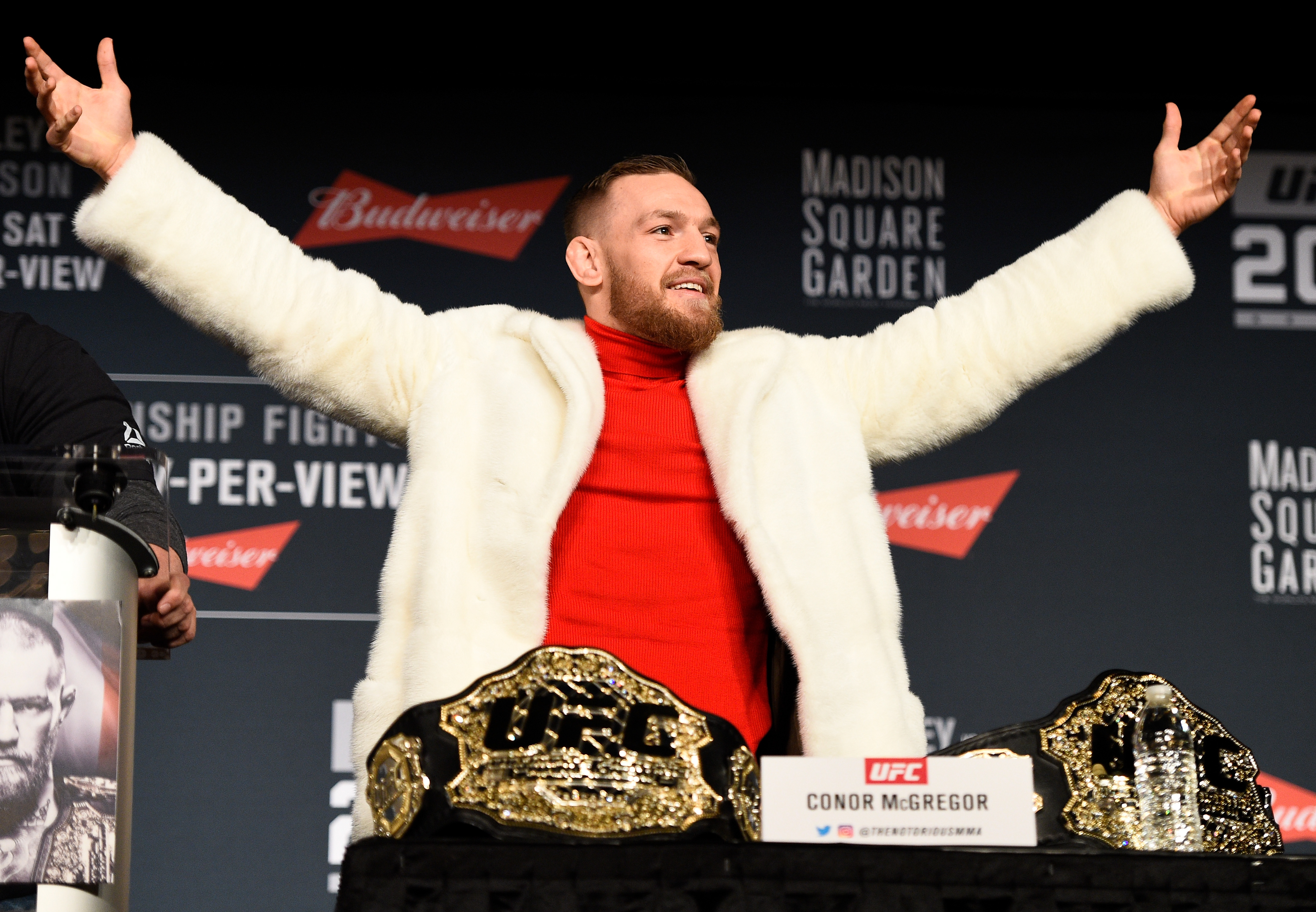 Watch a heated exchange between Conor McGregor and his opponent Eddie Alvarez at the UFC 205 pre-fight press conference in New York City
Tensions were running high during a heated exchange between lightweight champion Eddie Alvarez and featherweight champion Conor McGregor at Friday's UFC 205 pre-fight press conference.
Right out of the gate, McGregor, who has never been one to work off someone else's clock, arrived on the scene  several minutes late. A visibly frustrated Alvarez had already walked off the state declaring "I don't even have an opponent. When he comes give me a call."
McGregor would eventually show up, decked out in a white Gucci mink coat as the Irish fans voice their approval of their champion. But what came next can only be described as one of the most surreal moments in recent UFC history as McGregor walked over to Alvarez's vacant chair, picked up the lightweight belt and set it down in front of his own microphone.
A visibly infuriated Alvarez immediately came storming back onto the state, snatching up his belt and exchanging words with his Irish counterpart. After a verbal tirade from both men, McGregor had to be restrained by UFC President Dana White and a body guard on the scene as he attempted to pick up the folding chair and hurl it at the amused Alvarez.
Both McGregor and Alvarez will look to settle their difference in the main event of the historic UFC 205 card on Saturday.
McGregor (20-3) was last seen avenging his previous loss to Nate Diaz at UFC 202 in August. So with his business with his Diaz taken care of for the time being, McGregor's head coach, John Kavanagh and White revealed they were hoping the featherweight champ would drop back down to lightweight and challenge Alvarez.
However, McGregor initially revealed he wasn't impressed enough with Alvarez's win over former champion Rafael dos Anjos to warrant a match-up. However these plans seemed to have changed. McGregor will enter this contest with 18 career (T)KOs, including six under the UFC banner and a record 13-second knockout over former champion Jose Aldo at UFC 194.
Alvarez (28-4), also a former Bellator, Bodog and MFC champion, was crowned the lightweight champion after finishing dos Anjos with strikes in the first round of their title fight at UFC Fight Night 90 in July. Not long after, Alvarez made it known he was seeking  a fight against the winner of the McGregor and Diaz.
Well mission accomplished.
It should also be noted both fighters closed out the press conference with a much more subdued staredown.
Featuring three title fights and a six fight main card, UFC 205 will go down at Madison Square Garden and mark the promotion's first even in the State of New York. If McGregor emerges victorious he will be the first fighter to hold two belts in two separate weight classes.
The full fight card and lineup for the historic event can be found below.
UFC 205 Main Event | Pay-Per-View
155 lbs.: (c) Eddie Alvarez vs. (c) Conor McGregor – For UFC lightweight title
UFC 205 Co-Main Event | Pay-Per-View |10pm ET
170 lbs.: (c) Tyron Woodley vs. Stephen Thompson – For UFC wetlerweight title
UFC 205 Main Card | Pay-Per-View
115 lbs.: (c) Joanna Jedrzejczyk vs. Karolina Kowalkiewicz – For UFC strawweight title
185 lbs.: Chris Weidman vs. Yoel Romero
155 lbs.: Donald Cerrone vs. Kelvin Gastelum
135 lbs.: Miesha Tate vs. Raquel Pennington
UFC 205 Preliminary Card | FOX Sports 1 | 8pm ET
145 lbs.: Frankie Edgar vs. Jeremy Stephens
155 lbs.: Khabib Nurmagomedov vs. Michael Johnson
170 lbs.: Belal Muhammad vs. Vincente Luque
UFC 205 Preliminary Card | UFC Fight Pass | 6:30pm ET
155 lbs.: Jim Miller vs. Thiago  Alves
185 lbs.: Tim Boetsch vs. Rafael Natal
135 lbs.: Liz Carmouche vs. Katlyn Chookagian
(c) – Champion
This article originally appeared on