Conor McGregor says he will 'toy' with Nate Diaz in rematch at UFC 202
A loss to Nate Diaz back in March taught UFC featherweight champion Conor McGregor some valuable lessons, but it certainly didn't dampen his confidence.
The outspoken Irishman appeared at an event to help promote his coach John Kavanagh's new book "Win or Learn" and while he was there he spoke at length about his upcoming rematch with Diaz.
McGregor has said time and time again that he was beating Diaz handily through the first eight minutes of their fight before he got caught with a stiff punch, his conditioning failed him and disaster was waiting just around the corner.
With the necessary adjustments made since then, McGregor knows he can rectify those mistakes and make good on his promise to dispatch Diaz in impressive fashion when they meet again on August 20.
I'm feeling very confident in myself and I'm going to toy with this man.
— Conor McGregor
"For seven or eight minutes of the last fight, I was going to win but that fade away left hand he caught with — my senses were still there and it was almost like a fatigue thing," McGregor said via The Mirror.
"My balance wasn't gone and I always look back now and I question what would have just happened if I weathered the storm? He was one or two shots from being done I feel. When that left hand hit he got this burst of energy, you could see it in his corner they went insane, they acted like they'd just won the lotto. I took a couple more shots, I shot and then ended up in a guillotine and it was just all downhill from there."
McGregor questions his decision to look for that ill fated takedown that precipitated the end of the fight where Diaz sprawled and then reversed positions before taking the back and locking up the fight ending rear naked choke.
Looking back now, McGregor wonders if he would have just stayed on the feet with Diaz if he could have given himself a moment to recover before firing back to finish the fight.
"I wonder what would've happened if I just kept circling and took the smacks and survived? Eventually, all the energy he gained from that left-hand shot would've dipped again and then round three would've begun," McGregor said.
"I think there's a lot of stuff I can improve upon next time and I'm going in there confident I will get this rematch back."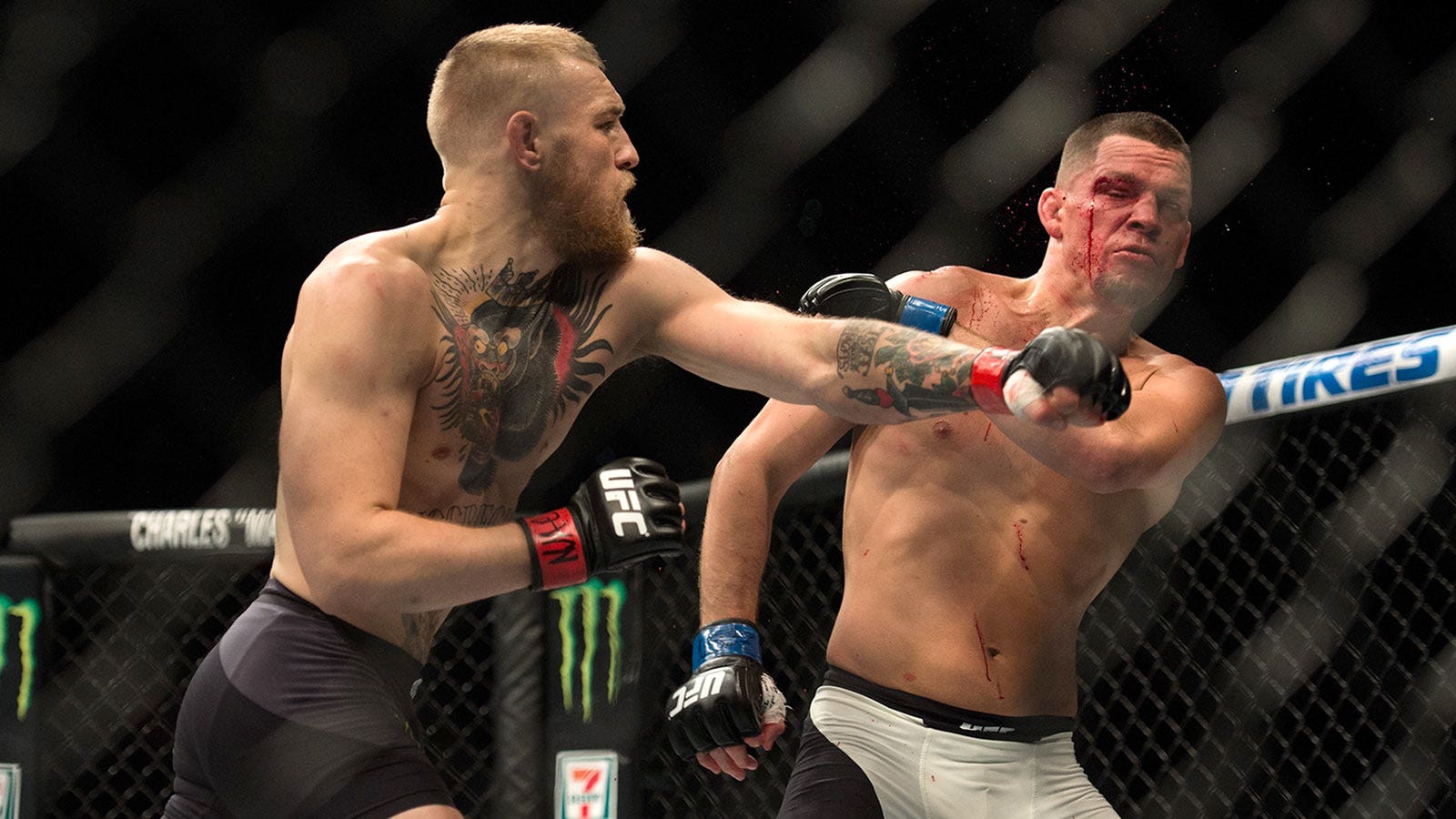 The loss inside the Octagon back in March was really an amalgamation of a lot of mistakes McGregor says he made in the days leading up to that fight with Diaz.
The first issue came with his diet as McGregor beefed up to originally fight lightweight champion Rafael dos Anjos and then he essentially ballooned up even bigger to face Diaz at 170 pounds on short notice.
McGregor's diet wasn't built for a world champion and he found that out the hard way once he stepped into the Octagon with arguably one of the most well conditioned athletes in the sport in Diaz.
"My body almost went into shock because I was stuffing my face eating everything," McGregor said. "Usually, when I cut to featherweight it's very taxing on me and I normally put myself in bubble wrap, but this time, because I didn't have to cut weight, I was still training all week long and we were doing six to eight hour sessions and swinging on gymnastics rings.
"Looking back it wasn't the best idea and it bit me in the ass. I was a little heavy around the midsection and I was over trained, my diet wasn't great and it came back and bit me in the ass so as the coach says 'you win or your learn' and I learned. This time, I'm staying on my nutrition and I'm very fight orientated and I'm not swinging on gymnastic rings too much anymore."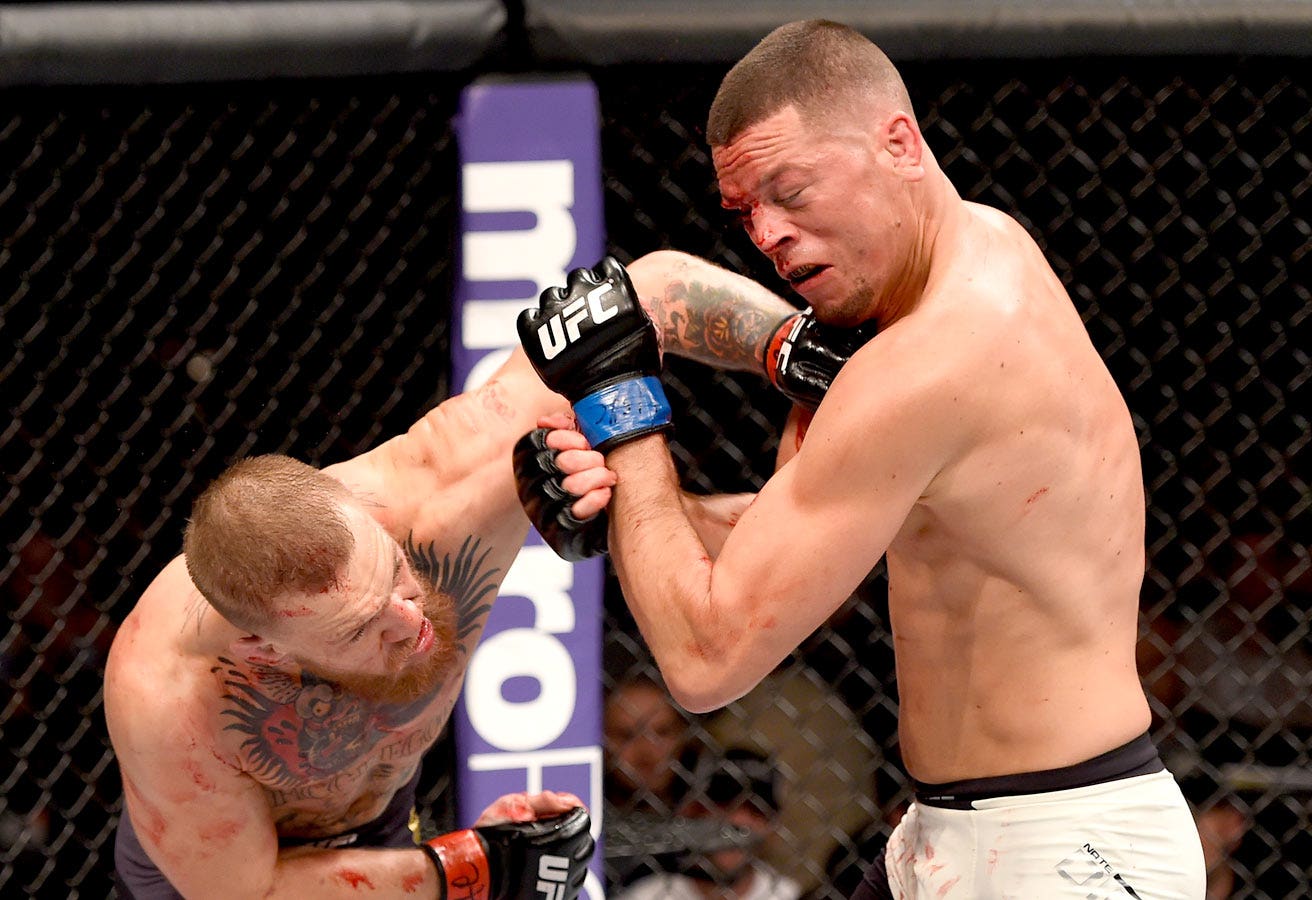 McGregor also points at his preparation leading up to the fight as a key factor in losing to Diaz after he allowed his own hubris to get in the way as he trained to fight a southpaw and failed to bring in a single left-handed fighter to help him in camp.
The way McGregor saw it, every fighter he's scheduled to face ends up pulling out of the contest anyways, so why make special preparations if the bout is going to change at the last minute.
"For the last fight I was preparing for Dos Anjos for the lightweight belt and he was a small stocky southpaw but I didn't actually bring in any southpaws – not one" McGregor said. "The reason we don't really care about that the opponent is doing is because they always pull out, every time.
"This time though, I know Nate is going to show up. I'm going to be facing a tall lanky southpaw with a decent lead hand so this time, I've brought in tall lanky southpaws with a good lead hands and solid jiu-jitsu."
McGregor has certainly upped his training while working with a high level Brazilian jiu-jitsu practitioner like Dillon Danis and even bringing in Olympic boxers with similar range and style to Diaz.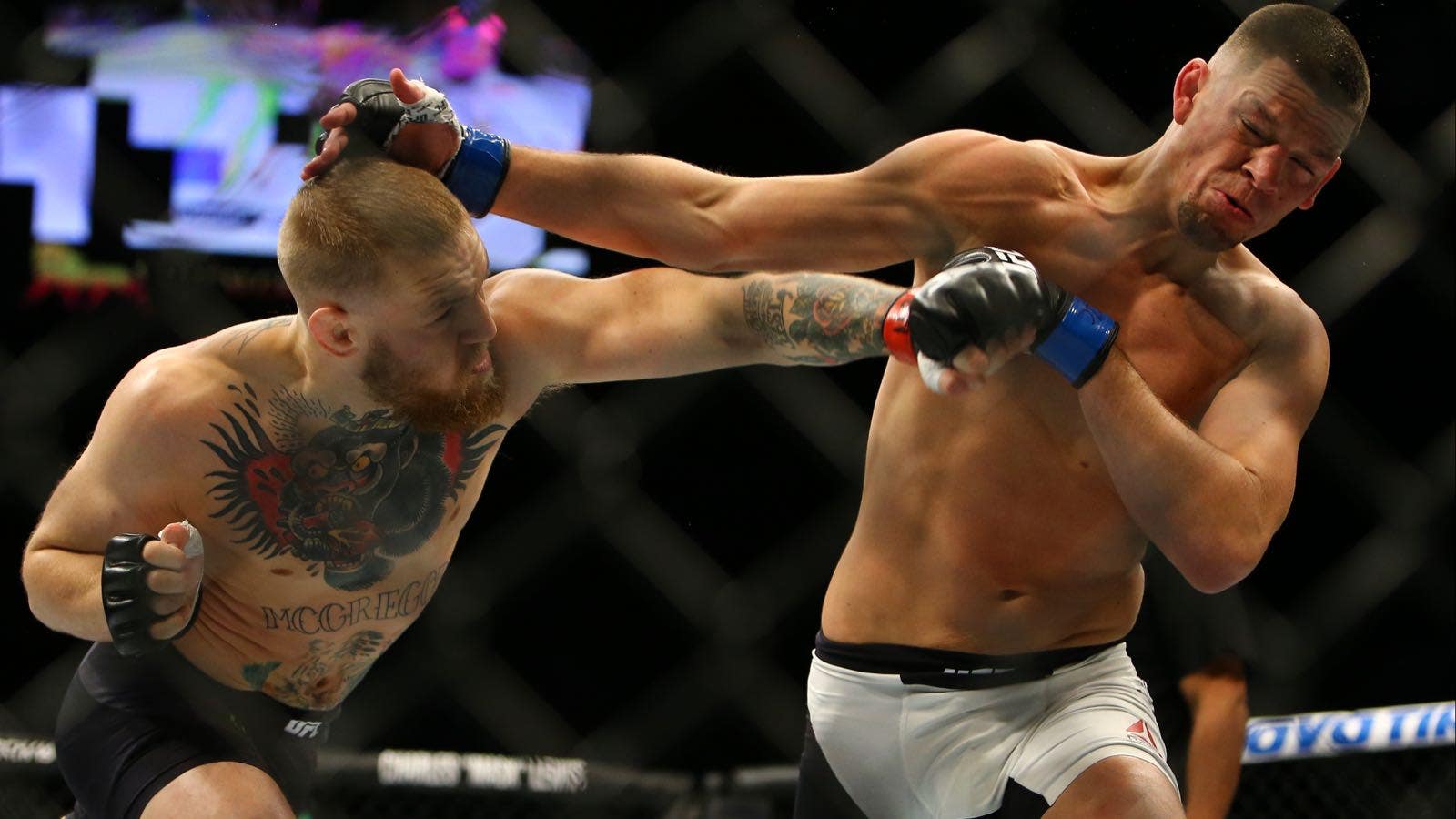 He's also made sure that his conditioning would never back fire on him again and McGregor has paid special attention to his diet and body so that he's in peak physical shape ahead of his second fight at 170 pounds.
It all combines into what McGregor believes will be a dominant victory over Diaz at UFC 2
"John [Kavanagh] is overlooking every session and I've also upped my cardiovascular stuff," McGregor said. "I kind of left that behind with my last injury and I wasn't clocking up all the miles like I used to in my amateur days. I've now hit the road, got back on the bike and got back on the treadmill and I've built up my cardio that way."
McGregor will attempt to gain his revenge on August 20 as he faces Diaz from Las Vegas at the new T-Mobile Arena in the welterweight main event on the card.