Conor McGregor's coach John Kavanagh unhappy with title removal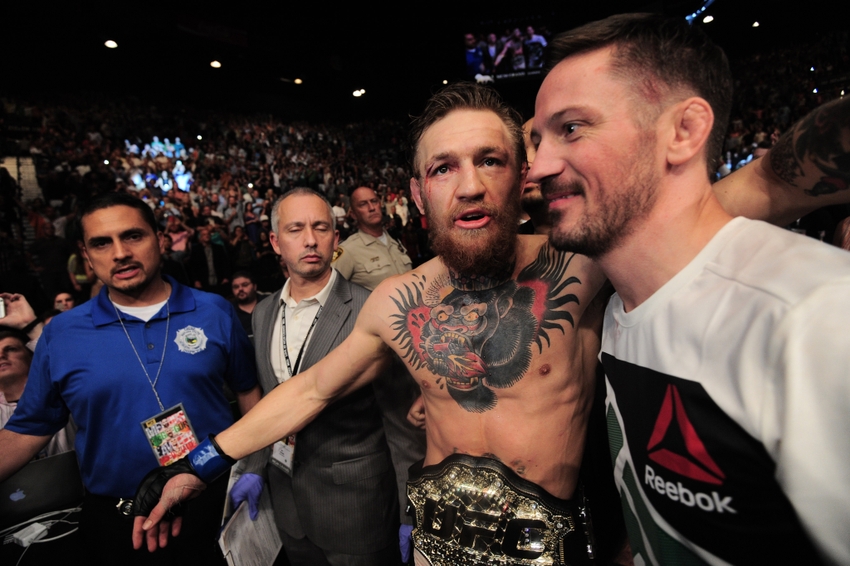 Conor McGregor's coach John Kavanagh was a guest on an Irish radio show where he expresses his disappointment with the UFC after the events of removing McGregor's featherweight title over the weekend.
Since last Saturday night when the UFC announced that the featherweight and lightweight champion Conor McGregor "relinquished" his featherweight belt, the world has been waiting to hear his side of the story.  Conor has been silent regarding this topic in the news and on social media.  Until now, no one from McGregor's camp has spoken out. Today, though, John Kavanagh spoke to The KC show of Red FM in Ireland to discuss his star fighter.
Kavanagh, who has been McGregor's head coach since "The Notorious" got his start, was not shy in expressing his feelings toward the UFC following these events.  He was adamant that, "It was more the UFC" who made this decision, and not, in fact, McGregor as the UFC made it out to be.
Kavanagh went on to say he was, "Very disappointed with how they went about doing it.  (It was a) very messy set of circumstances that lead to doing it."  He spoke about the need to create a second interim belt and "haphazardly" make Jose Aldo the champion which he described as "ridiculous"
Some have stressed the fact that Conor McGregor was not defended that 145-pound belt since winning it last December.  To this fact, Kavanagh said, "Conor's only 11 months since he won that title and there have been many, many examples of fighters who have waited 15 months, 18 months before defending it.  He's 11 months and they stripped him of it. I thought it was very short-sighted by the UFC and how they went about doing it, so that's that situation."
More from FanSided
This article originally appeared on