Conor McGregor's agent says fighter is 'willing to entertain' offer from WWE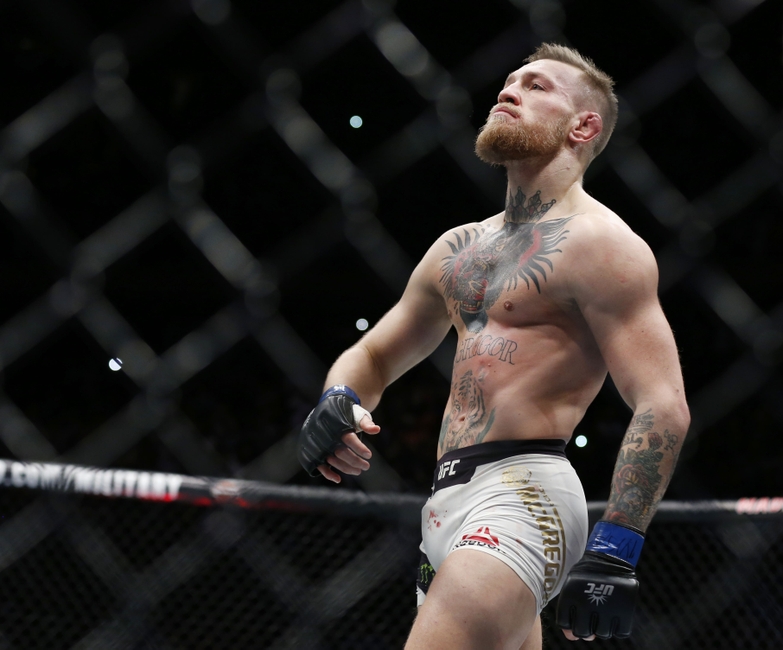 Conor McGregor's future in the WWE made actually become a reality
Whether it's his fellow UFC fighters, other professional boxers or professional wrestling personalities, the UFC's most popular star, Conor McGregor, is a wanted man.
McGregor (21-3) most recently made history by claiming his second UFC title after dismantling then-lightweight champion Eddie Alvarez halfway through the second round of their main event fight of UFC 205 in New York. This victory not marked McGregor's 18th career knockout victory but also made him the first UFC fighter to hold two belts in two different weight classes at the same time.
So with history following him wherever he goes, the question on everyone's mind is simple: what's next for the man they call 'Notorious'?
According to McGregor, he's planning on taking a break from competition to be there for the birth of his first child. While there's more than a multitude of worthy challengers awaiting the Irishman's return, one option most aren't talking about doesn't lie within a UFC Octagon.
Appearing on ESPN's 5ive Rounds podcast, McGregor's agent, Audie Attar, revealed his fighter was actually willing to entertain a conversation with the WWE ahead of WrestleMania 33 in April.
"I think it's all about business, man," said Attar. "If [WWE] is going to come with an offer, we are willing to entertain it. We are here. Have their people call his people — which is me. We can have a conversation."
This may not come to a surprise as WWE superstar Triple H, real name Paul Levesque, recently revealed the McGregor had all the tools to succeed in the world of professional wrestling.
"He could come over, he's got it all, man," Levesque told the Daily Telegraph. "He's got the personality, the skills, the talk. He's an entertainer, for sure."
Levesque, who was in attendance for UFC 205,  pointed to boxing champion Floyd Mayweather Jr. and former UFC champion Ronda Rousey's past appearances at the WWE"s biggest event as other reasons McGregor's participation would succeed
"I think it's phenomenal that a guy like Triple H was at the fights," said Attar. "I heard he said some positive things, which is always good to hear."
However, one thing that may hold these negotiations back is McGregor's past comments in April where fans heard him call out former UFC champion and WWE wrestler Brock Lesnar for being "juiced up to his f—ing eyeballs," referring to the current WWE locker room as "p—ies" and calling the face of the wrestling promotion, John Cena, a "a big fat 40 year old failed Mr. Olympian."
But according to Attar, his fighter understands when to make the proper business decision when the money is right.
"It's ultimately like, look — I think Conor had his say via social media at times, but he also is someone that appreciates people that sacrifice and train and are dedicated to their craft, whatever it may be," said Attar. "Again, I think ultimately Conor will say, 'Let me talk to my friend Benjamin [Franklin] to see how many of his friends he's bringing with him before we talk about what the obligations are."
This article originally appeared on