Conor McGregor: Promotion, Timing, and Matchups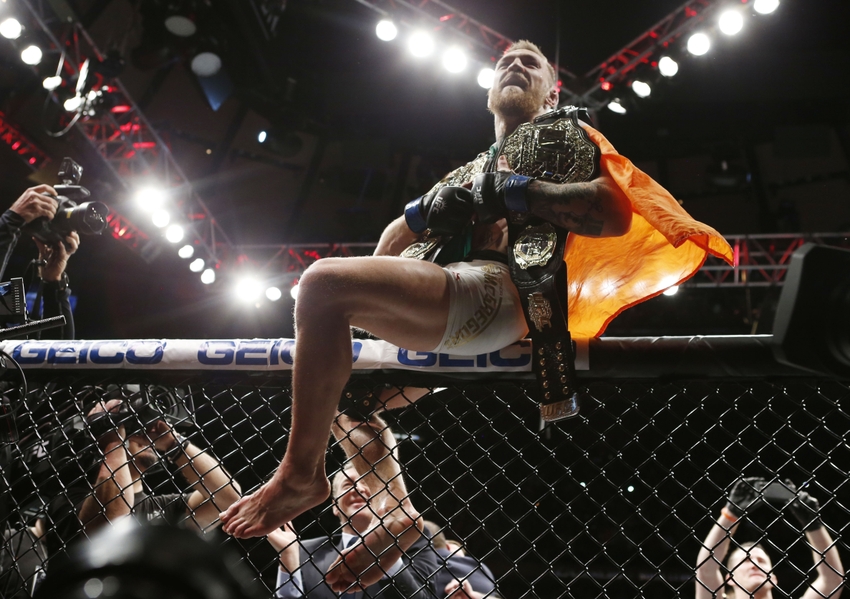 We analyze how Conor McGregor's rise to fame is a result of self promotion, timing, and match ups. And how the UFC's past and present promotion decisions have possibly created a monster that they can't control.
2013 is one of the most important years in the history of MMA. The era of the celebrity fighter would begin in February that year with Ronda Rousey having her first UFC bout. Conor McGregor would make his UFC debut against Marcus Brimage in April on a FUEL TV card. Anderson Silva's aura of invincibility was destroyed by a vicious KO in July. And he  would lose to Weidman again in December of that year.  And in November, Georges St. Pierre would announce his retirement after defending his title for ninth consecutive time.
One UFC legend lost his marketability while another completely walked away from the game. The UFC became very dependent on Rousey to bring in the PPV buys. Rousey would fight twice in 2013, twice in 2014, and three times in 2015. This time period exposed one glaring flaw that the UFC has always had. They've never been good at promoting or building multiple stars, which is something you need in a league.
It's no secret that the UFC took many tips from WWE, especially in the pre TUF era. Vince McMahon was even in the position to buy the promotion but passed because of the difficulty in building a star when you can't control the outcome. During the beginning of the TUF-era, Dana White essentially became the star of the company. He's the one constant throughout the show's history. As the series brought more viewers to the sport; fighters like Anderson Silva, Randy Couture, Matt Serra, and GSP became household names. Despite all of this, Dana would still often make himself the center of attention.
Before 2013, the top PPV draws were GSP, Anderson Silva, Chael Sonnen, Jon Jones, and Rashad Evans. Out of the five, only two were any good at promoting a fight. The other three brought in fans because of their exceptional skills. The UFC merely provided a platform. None of them received the type promotion associated with Ronda or Conor McGregor.
With Ronda being the first women's champion in the promotion's history, it made sense for the company to spend millions on promoting her. Putting her in every commercial possible. Even the new owners are part of her management team. She's used the MMA platform to increase overall celebrity.
However, Conor's situation is very similar to GSP's. GSP was often followed by droves of Canadians. At one point, Canada was the biggest MMA market in North America. Conor McGregor has been followed by legions of loyal Irish fans since he set foot in the Octagon. That coupled with the persona he has created, has made him the most powerful man in the company.
The McGregor hype machine is a thing of beauty. Conor McGregor has  told fans on numerous occasions that it's essentially all a show for the cameras. Even Jose Aldo has gone on record about how friendly they are. And yet he sells the character so well that MMA fans and media continually eat it up. McGregor is able to continually turn what should be an away game, into a home turf affair.
Want your voice heard? Join the Cage Pages team!
People still buy into the character despite two poor performances against Nate Diaz and the fact that we know he avoided a fight with Donald Cerrone. That's how you measure the strength of a brand. This brand is so strong that it's forced the UFC to capitulate to huge yet reasonable demands. No one can deny the fact that he's earned the money he request. When Conor McGregor gets paid, everyone gets paid. He's made it the norm to request more money in contract negotiations. Chris Weidman is one of the benefactors of the McGregor-era negotiation tactics.
Recently, the UFC has tried (and failed) to manufacture some superstars. They tried forcing  Paige VanZant and Sage Northcutt on MMA fans. Not only did MMA fans reject this, the roster turned on them as well. The details about their contracts and various sponsorships tied to the UFC did not sit well with anyone. Both Sage and Paige were also mismatched with fighters which resulted poor performances.
You would think the company would get behind reliable and dominant fighters like Demetrious Johnson or Dominick Cruz. Dominick Cruz is also known to fans for his excellent ability to break down fights. He's seen on YouTube or live broadcast by fans on a regular basis. Demetrious Johnson is one of the top pound-for-pound fighters in the world and has following in the gaming community. That's more than I can say for Sage or Paige.
The fighters and managers do share some of the blame in this. MMA managers have either made poor or no attempt to raise the profile of their fighters in order get the big match ups. Mickey Gall is the best example of an up-and-coming fighter who gets it. He put himself in the fight with CM Punk and afterwards talked himself into a fight with Dana's new golden boy, Sage Northcutt. Out of a roster of 500 or so fighters, only a small handful seem to actually get it, and the UFC is letting it happen.
Get the FanSided App
But now the UFC is in a predicament. Conor McGregor made UFC history last week when he became the first fighter in the promotions history to hold two belts simultaneously. Conor broke several records that weekend. And with news that Conor McGregor alone outperformed an entire year's worth of PPVs by a large margin, he has essentially become bigger than the company.
You typically don't want the talent to eclipse the promotion. Otherwise you may end up with a Hulk Hogan situation. Sometimes it can be a good thing, and you end up with The Rock. But the lack of superstars in the promotion due to the UFC always seeking short term gains, has forced the UFC to give up a lot of control whether they realize it or not.
Their best play to retain some kind of control would be to agree to GSP's demands. Going to court makes his contract public knowledge, and that's the kind of drama they can't afford right now. 2017 will be very important for the company and how they proceed may set some long term precedents.
This article originally appeared on