Conor McGregor Out for 10 Months, per Dana White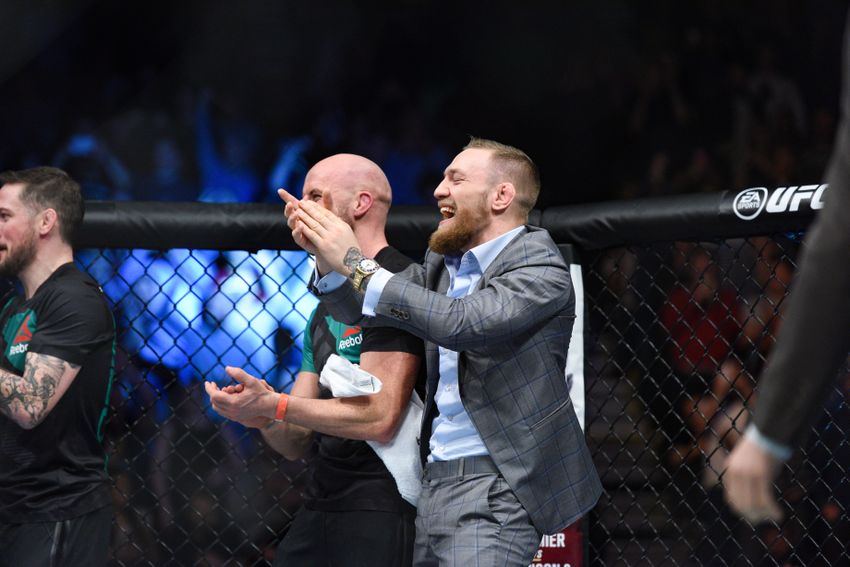 UFC President Dana White announced on Tuesday that Conor McGregor will not be fighting for the next 10 months.
On December 6, Dana White announced on Fox Sports Live that current UFC lightweight champion Conor McGregor would be out of the Octagon for 10 months.  The news comes roughly a month after McGregor made history by becoming the first two-division champion in UFC history at UFC 205.
Conor McGregor competed three times in 2016, with each event pulling in huge numbers for the UFC in terms of gate and pay-per-view.  McGregor was originally scheduled to fight for the lightweight title in March, but after an injury was sustained by Rafael dos Anjos he made an unprecedented move in facing replacement Nate Diaz in a welterweight bout.  "The Notorious" lost in stunning fashion to Diaz before winning the rematch in August.
Following his lightweight title victory over Eddie Alvarez in November, McGregor announced that he would be taking time off to welcome the birth of his child in May.  Unexpectedly, the time-frame given by White would mean that McGregor is out until at least September of next year.  Originally, it was thought that the Irishman would be returning on Fourth of July weekend to defend one of his world titles.
Recently, Conor McGregor was stripped of the featherweight title that he won in December.  Interim champion José Aldo was promoted to undisputed champion and this Saturday's bout between Max Holloway and Anthony Pettis is now for an interim title.
The move was seen as confusing by many considering the effort the UFC just made to promote McGregor's attempt to hold two titles simultaneously.  Although not announced, it was assumed that the winner of Saturday's main event will face Aldo sometime in the first half of next year and the winner of that bout will face McGregor in the latter half of 2017.
Want your voice heard? Join the Cage Pages team!
The news raises question as to what will happen with the lightweight title in McGregor's absence.  Top-contenders Khabib Nurmagomedov and Tony Ferguson are on impressive win-streaks in the lightweight division and have both made impressive cases for a title shot.  If McGregor doesn't return until late next year then it can be assumed that the two would face each other, possibly for another interim title, and the winner would face "The Notorious" at a later date.
The obvious dilemma: With such a long layoff, what happens to the division that McGregor chooses not to return to in 2017?  If he does return in September, it is a matter of health if he can compete twice before the end of the calendar year, not a safe gamble considering his level of opposition.
Assuming he defends the lightweight title that he still holds, then there will have been three title fights in the featherweight division since McGregor first won the belt in December of 2015, none of those fights featuring McGregor.  While there would be anticipation of his possible return, there could be fall-out in the popularity of whomever comes out on top at 145 in the Irishman's absence.  Similar to Daniel Cormier, there will be a large shadow cast over the champion considering they did not go through McGregor on the way to becoming champion.
As unusual as the situation is, the decision to keep the lightweight title could be more intriguing in the long run for all involved.  McGregor holds dominant victories over both Aldo and Holloway.  Assuming either of the two come out on top after next year, the buzz for those rematches might not be high enough to get McGregor down to featherweight again.
While 2016 has been the year of "The Notorious," his absence could have fans clamoring for his return to see if he can still continue his run of dominance after all that transpires while he's away.
This article originally appeared on