Conor McGregor Is Still a Two-Weight Champion According to Dana White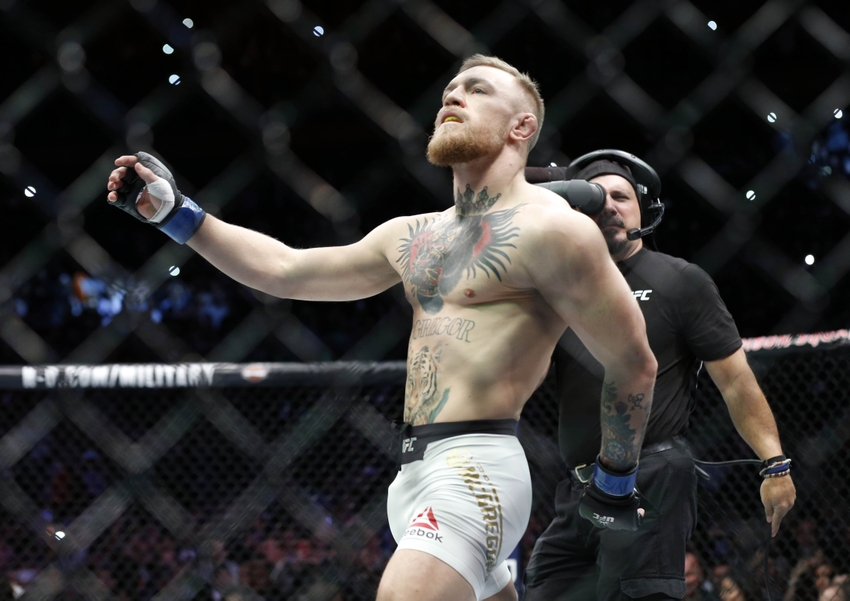 UFC President Dana White has stated that Conor McGregor is still a two-weight champion, just with out the 145-pound belt.
A few short weeks after Conor McGregor made history at UFC 205 by becoming the first fighter in promotional history to hold two world titles in two different weight classes at the same time, the promotion stripped the Irish megastar of the featherweight title and in doing so made a lot of fans very angry.
McGregor knocked Eddie Alvarez out in the second round of their main even in New York City last month. The event was a huge success for both McGregor and promotion.
Since the stripping fans and media have been waiting for reaction from either side and it was the promotions president who spoke up first. Dana White appeared on the UFC unfiltered podcast with former Welterweight champion Matt Serra and Jim Norton where he spoke about the decision to take the 145-pound strap away from McGregor.
Get the FanSided App
I didn't strip him of anything you know what I mean? I said everyday leading up to that fight at UFC 205, that McGregor had to give up one of the belts if he won the lightweight title in New York but that doesn't take away from anything. he says he is still a two-weight world champion and he's damn right he is.

He is a two-weight world champion. It doesn't take away from anything that he achieved and when it comes to the featherweight title, he didn't lose it, he is the man at 145-pounds.
While the reasoning for the stripping was pretty clear to all, White did go onto clarify why the title was taken and how it will help all the fighters in the featherweight division.
Look, I let Conor fight [Nate] Diaz and then I let him fight Diaz again. Then there was this whole 155-pound thing I let him do. But at the end of the day, him doing that tied up the division for a whole year. There's a logjam there and a lot of guys were angry. This was my way to fix the logjam. I wanted Aldo to fight Holloway for the belt, but he (Aldo) needed more time. So, I looked at it and said, 'well, it makes sense to make Aldo the champion and have Holloway fight Pettis for the interim title, and when Jose's ready, baring any crazy injuries, the winner can fight him.'
Does this clear things up? Well, not really.
As of right now the UFC's lightweight champion is still adamant that he has been stripped of absolutely nothing and is still the "champ, champ". Something that White refutes as he says that this whole stripping of the featherweight title was all down to McGregor himself.
If indeed the decision to let go of the 145-pound title was indeed McGregor's he is doing a mighty fine job of promoting himself and this whole debacle beautifully. The UFC lightweight King is expected to be away from the sport until after May next year as he is expecting his first child so he may just be keeping himself in the headlines.
This article originally appeared on