Conor McGregor: 'I'm going to knock out Eddie Alvarez inside of one round'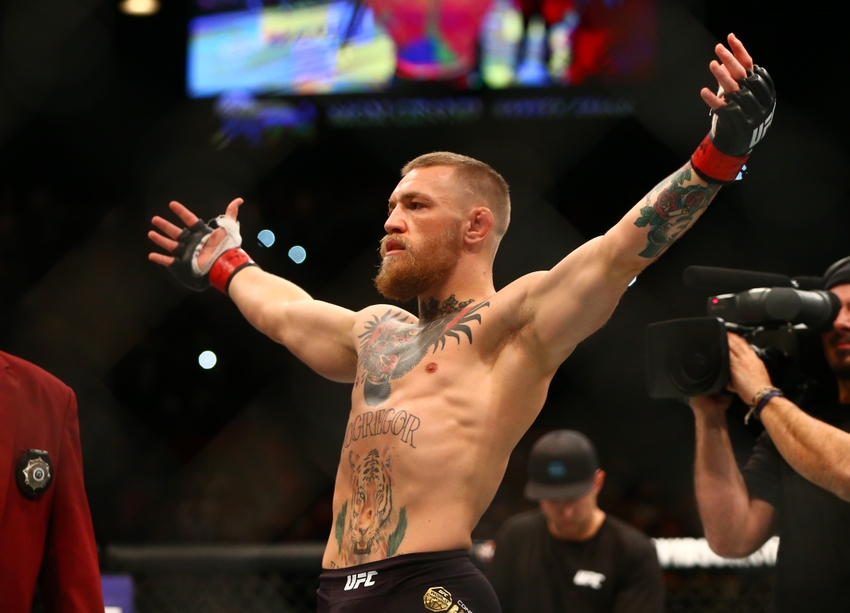 Conor McGregor knows exactly how he's going to defeat Eddie Alvarez at UFC 205 in November
Conor McGregor is back and in rare form once again.
On Tuesday afternoon, during the UFC 205 press conference in Madison Square Garden, the reigning UFC featherweight champion showcased his now legendary "Mystic Mac" persona during a heated exchange with his next opponent, lightweight champion Eddie Alvarez.
"Shut your f***ing mouth," McGregor told Alvarez. "I love New York. I run this whole s**t. And Mystic Mac predicts I'm going to KO you inside of one round.
McGregor (20-3) famously predicted several of post UFC victories, often coming within the first two rounds. In his most recent contest the man known as 'Notorious' avenged his loss to rival Nate Diaz in their welterweight main event bout at UFC 202 in August.
Following the bout, it was widely speculated McGregor would drops back down and defend his 145-pound title or challenge Alvarez for a new belt.
However, McGregor initially revealed he wasn't impressed enough with the lightweight champion to warrant a match-up. However these plans seemed to have changed.
"I'm very happy with the 155-pound weight limit," said McGregor. :I feel like with all the divisions I ran around and ran through, 155 I feel will be the one where I take over the most."
McGregor will enter this contest with 18 career (T)KOs, including six under the UFC banner and a record 13-second knockout over former champion Jose Aldo at UFC 194.
Alvarez (28-4), also a former Bellator, Bodog and MFC champion, was crowned the lightweight champion after finishing dos Anjos with strikes in the first round of their title fight at UFC Fight Night 90 in July. Not long after, Alvarez made it known he was seeking  a fight against the winner of the rematch between McGregor and Diaz.
"This guys is easy money," Alvarez said to McGregor. "You've ain't got a shot. You're coach knows you ain't got a shot and anyone who knows anything about fighting knows you ain't got a f**cking shot. You're here because you're the easiest guy in the division."
The Philadelphia native previously earned his shot at the belt with back-to-back decision wins over former Strikeforce champ Gilbert Melendez and former UFC champ Anthony Pettis. He will enter this title fight 22 career stoppage wins, including 15 by way of (T)KO.
UFC 205 will go down on November 12 at Madison Square Garden in New York City. This historic event will mark the UFC's first event in New York.
More from FanSided
This article originally appeared on