Conor Mcgregor and Eddie Alvarez Nearly Come To Blows At UFC 205 Presser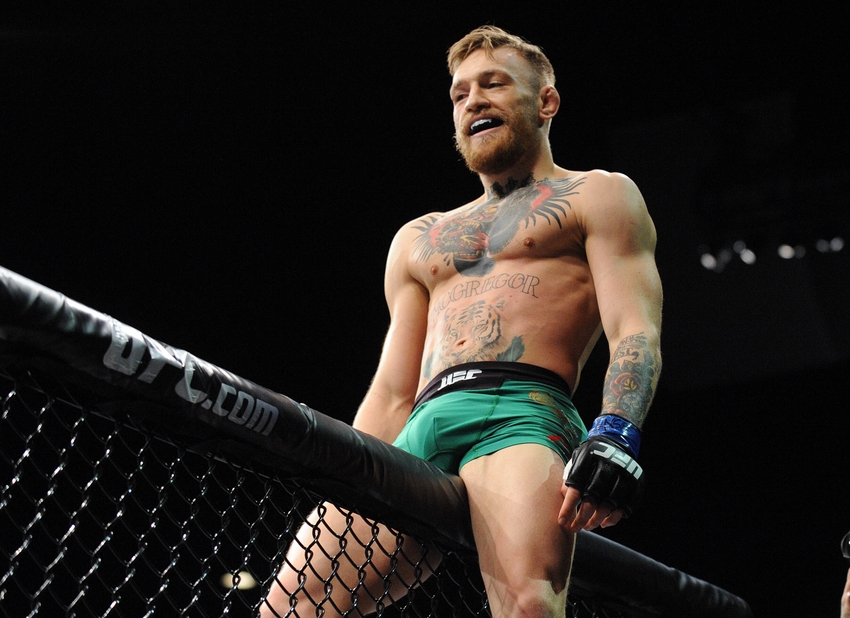 If it's not water bottles or energy drink cans being thrown around, UFC featherweight champion Conor McGregor will find the next best thing.
In this case it was a chair… Yup McGregor did try to throw a chair at his UFC 205 opponent Eddie Alvarez. Even if it was a half-hearted effort.
McGregor grabbed the chair in which he was sat on moments earlier. The attempt at throwing it was pretty awful but it all started after Alvarez stood up and grabbed his own chair and dropped it behind the Irishman, a verbal back and forth then ensued.
Just like at the UFC 202 press conference where things got heated between Nate Diaz and Conor McGregor promotional and security officials had to swoop in and prevent any actual physical contact between the two combatants.
Dana White with the bear hug and a security guard with the escort off stage is what was needed for the featherweight King to calm down. Watch the full melee below.
Want your voice heard? Join the Cage Pages team!
Note to self: Don't touch Eddie's belt! #UFC205 #UFCNYC https://t.co/OHRzHVIZJv

— #UFC205 (@ufc) 10 November 2016

The atmosphere prior to the little scuffle was a little tense. Alvarez stormed off the stage at one point visibly angry that, as per usual, McGregor was late. Things went from bad to worse as when McGregor finally arrived at the presser he sauntered onto the stage and proceeded to steal Alvarez's 155-pound title belt and placed it next to his 145-pound title.
This further infuriated Alvarez who made his way onto the stage to tack back his belt and this in turn nearly lead to the chairs being thrown. With just days before they finally are able to get their hands on each other this will most certainly have added a little extra fuel to the fire.
Conor McGregor will look to become the first UFC fighter to win two titles in two different weight classes while Eddie Alvarez will be looking to successfully defend his title for the first time. Either way you look at this contest it is sure gonna be a cracker.
This article originally appeared on