B.J. Penn: Desire to fight 'going with me to the grave'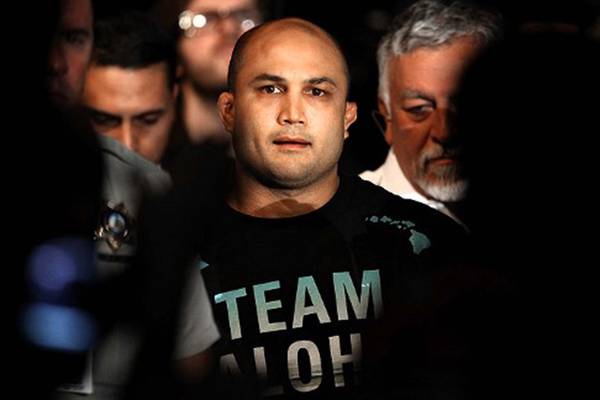 LAS VEGAS — Before there was "The Ultimate Fighter," there was the ultimate fighter.
At a time when mixed martial arts was still mostly a group of single-style specialists, B.J. Penn was the prototype of what it would one day become, a multidisciplinary hybrid who brought an omnipresent element of unpredictability. He could tie you up in knots or send you into a rapid unconsciousness. He was unfiltered. He was fearless. He was dangerous.
Well over a decade later, Penn is something else. He is an elder statesmen, an ambassador, a role model. Some might even say, a cautionary tale.
After beatings at the hands of Rory MacDonald and Nick Diaz, the fight world thought it may have seen the last of Penn in the Octagon. He did, too. Penn stepped one foot through the retirement door, but couldn't quite walk all the way through it. So at 35, and with the desire to fight still burning within him, "The "Prodigy" is back one more time, headlining Sunday's TUF 19 Finale against rival Frankie Edgar in his first career featherweight bout.
Whether it's a new beginning or an end might become more clear then. But for Penn, that almost doesn't matter. The win-or-loss result doesn't matter, either. It's more about the philosophy he's had from the beginning, one he adopted from the noted MMA philosopher David "Tank" Abbott: "You are who you fight."
He's fought Edgar before, obviously. Twice, actually, and the count is squarely in Edgar's favor. Even Penn acknowledges this, despite the fact that to this day he has fans telling him they scored the first fight for him.
But something is very different this time around. In fight No. 1, Penn was a huge favorite. In the rematch, Penn was still a sizable favorite. But in the trilogy bout, the money is heavily on Edgar. In fact, the odds — as much as 5-to-1 for Edgar in some spots — are the most lopsided they've ever been against the former two-division champion. This underdog position? It's uncharted territory.
"That just puts a big smile on my face and lets me know, now you're in the position I was," Penn told FOX Sports. "You've got to win big now, and that's a lot of pressure."
Penn should know about that. The weight of expectation has always hung around his neck along with all of the other labels that came to him with his rapid ascent. For a while, it seemed that he was predestined to be the greatest fighter the sport has ever produced. While still revered for his "Just Scrap" philosophy that took him around the world and all over the scale, Penn's career has been somewhat mercurial. Instead of concentrating on one weight class, he was always searching for some greater challenge, even if it meant putting himself at severe disadvantages.
Within a five-fight span, he beat the then-regarded No. 1 lightweight Takanori Gomi, choked out the UFC welterweight champ Matt Hughes, and fought a 220-pound Lyoto Machida to a decision.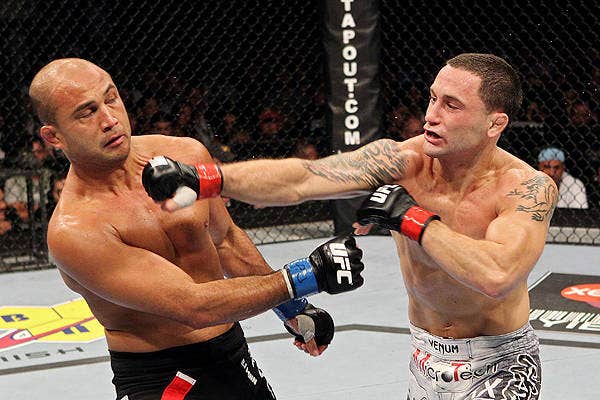 His wandering attention may have sidetracked him from being a dominant champion, but Penn said he rarely if ever looks back, instead focusing forward.
"I don't know what I've learned, but I've had a lot of experiences throughout those times," he said. "I look at the sport as the same as it always was. I think it bothers people more than it bothers me the way my career went. If they want to go to sleep at night better, just know that I'm a happy man and life's good for me."
Then why is he back here? Some people wonder. Is he chasing something? Is it a chance at revenge on Edgar? A run at a title in an unprecedented third weight class? A personal quest?
It's much more simple, more primal than that.
This is who he is. B.J. Penn, fighter.
It's like a pitbull. He doesn't care if he wins or loses, he just wants to fight.
-B.J. Penn
"It's like a pitbull," he said. "He doesn't care if he wins or loses, he just wants to fight."
In the recent documenatry "Mana" about Penn's life, it opens with Penn trying to put this all into words.
"I don't even know what I'm searching for at this point," he says in it. "It's just that birds fly, fish swim, and I do this."
Whether he upsets Edgar or falls to him for a third time, that feeling isn't likely to leave him. He knows he made mistakes in his career. He knows things could have gone so differently. But all of that is superseded by his natural inclinations. Penn has always been drawn to measuring himself against other men, and whether he's 35 or 65, that's something that probably won't ever leave him.
"Within reason, I think so," he agreed. "It's tough to get it out. That's going with me to the grave I think."