Best upset of 2013: Bigfoot KO'€™s 'The Reem'
When Antonio '€œBigfoot' Silva went back to his corner between the second and third rounds of his UFC 156 bout, he badly needed some words of wisdom. To that point, he'€™d been out-struck 71-28, and his opponent, heated rival Alistair Overeem, was outright sneering with contempt at his former Blackzilians teammate. Silva'€™s corner, though, had begun to notice that Overeem was tiring. They told Silva that this was the moment to put Overeem on his back and beat him up.
"€œMy battery charged and I said, '€˜This is my time,'"€ Silva recalled.
This was a very special taste for me because he talked a lot.
But a funny thing happened on the way to the mat. At the same exact time Silva decided he was going to try a takedown, Overeem did, too. A thought immediately struck Silva.
"€œI said to myself, '€˜Strikers never try to put it on the ground. When they do, that means they'€™re in trouble,'€" he said. "€œI said, '€˜Now I'm going to knock him out in standup.'"
That'€™s exactly what happened. Silva, as much as a 4-to-1 underdog on some sports books, clipped Overeem with a right hand and then poured it on with a barrage for the ages, battering Overeem against the fence with a hellacious series of uppercuts and straight rights until crumpling him with a final blow.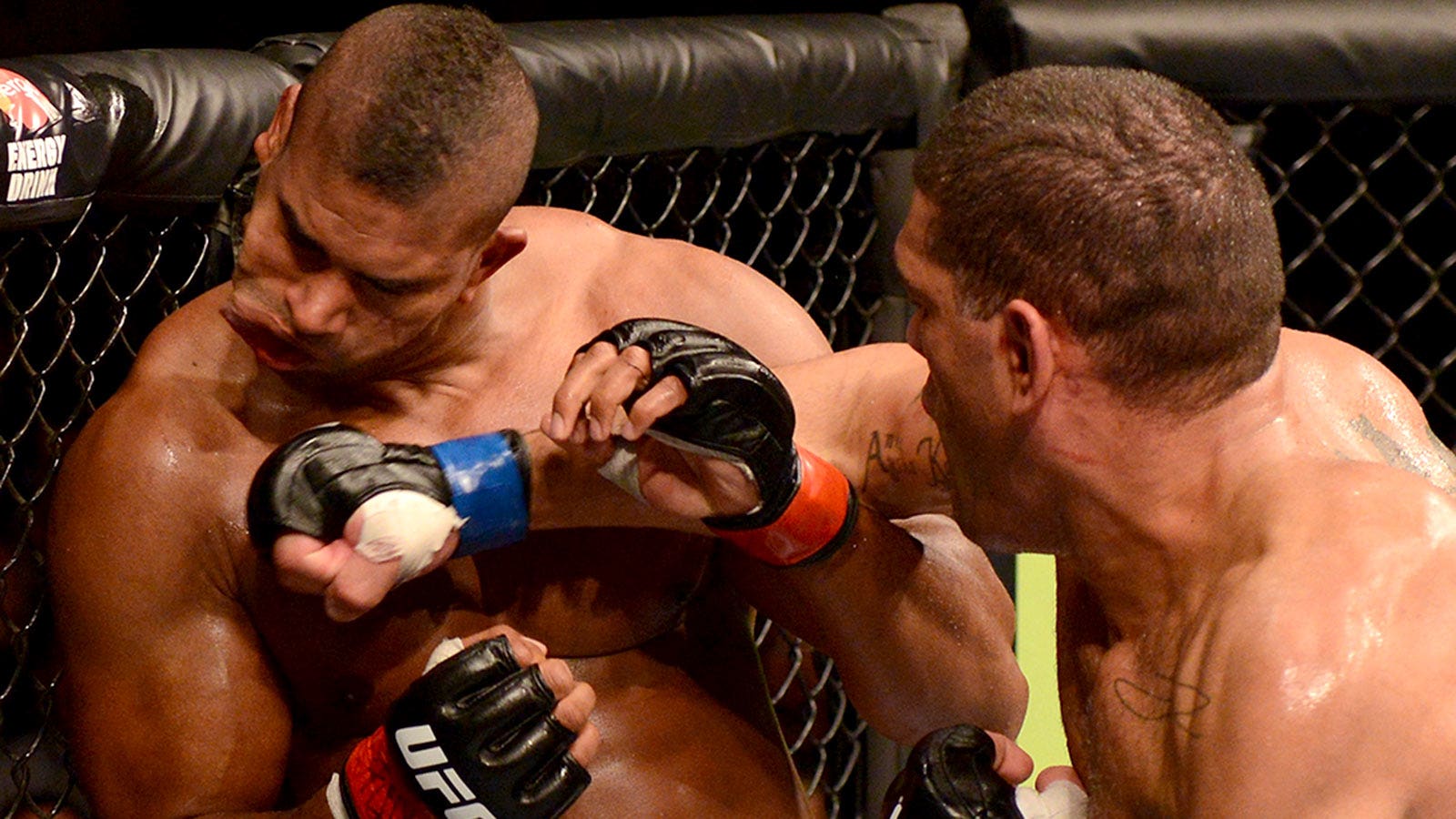 The stunning comeback electrified the Mandalay Bay Events Center crowd, as an emotional Silva stood over his fallen foe and screamed at him in one last moment of catharsis.
"€œIt'€™s not the most important win for me. The most important was Fedor [Emelianenko]," he admitted before smiling and continuing, "€œBut this was a very special taste for me because he talked a lot."
Who is the king of Miami?? Quem e o rei de Miami?? Obg. A todos pela torcida…"Amo todos vcs"…Brasillllll pic.twitter.com/mmLXAdL5

— Antonio Pezao Silva (@BigfootSilva) February 3, 2013
Honorable Mentions:
Chris Weidman vs. Anderson Silva
How is this fight not No. 1, you ask? Well, simply put, Weidman was not a very big underdog, less than 2-to-1 on most books as bettors put their money on the young and hungry challenger to dethrone the long-reigning champ. Still, it was stunning to watch it unfold.
Kelvin Gastelum vs. Uriah Hall
Sure, it was a TUF matchup, but Uriah Hall came off like a killer after two monstrous knockouts on the show. Surely, a 21-year-old grinder would have nothing for him, right? Not exactly. Instead, Gastelum used a mature mix of wrestling and striking to narrowly outpoint the heavy favorite.
Antonio Rogerio Nogueira vs. Rashad Evans
Facing his first top 10 opponent in years, and on the heels of a 13-month injury layoff, Antonio Rogerio Nogueira was supposed to be a rebound fight for Rashad Evans. Instead, Evans was lackluster, and Nogueira'€™s activity carried him to the upset.
Stipe Miocic vs. Roy Nelson
After the world watched Miocic fade away and lose to Stefan Struve, few thought he could handle '€œBig Country'€™s' battle-tested durability. Wrong. Miocic crushed Nelson, out-landing him 129-25 in a one-sided blowout.