Apparel brand will give $5K to first woman who knocks out Ronda Rousey
An MMA apparel company says it will give a cash reward to the first fighter to knock out Ronda Rousey.
The Americana MMA Twitter account announced Saturday that $5,000 will go to the woman who KOs the UFC women's champion after Rousey called fellow women's MMA star Cris Cyborg "an it" in an interview with Yahoo! this week.
Americana will give $5k to the first fighter that knocks out Ronda Rousey.

— Americana (@americanamma) April 19, 2014
Americana MMA owner Peter Giannoulis turned down an interview request from FOX Sports on Sunday. Giannoulis believes Rousey should be suspended or fined for her comments about Cyborg the same way, writing as much on both Twitter and Facebook. Giannoulis cited the UFC's handling of situations regarding derogatory remarks from male fighters Matt Mitrione and Matt Brown. Mitrione was fined and suspended and Brown issued an apology.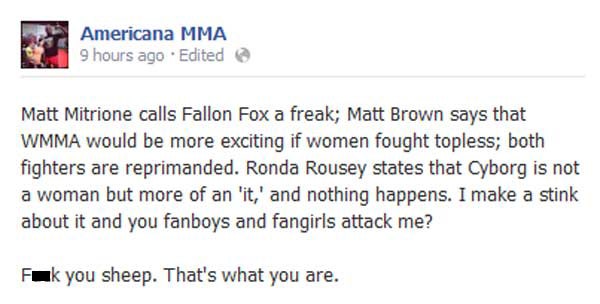 In the interview with Yahoo, Rousey went off on Cyborg and her past failed drug test. Cyborg currently fights under the Invicta FC banner, but is attempting to make Rousey's 135-pound weight class so she can enter the UFC and challenge her.
"I've said before, I don't care if she's injecting horse semen into her eyeballs, I'll fight her, but that's just my personal decision," Rousey said. "But I can't make a decision for the whole division. I can't say it's the right thing. This girl has been on steroids for so long and [has been] injecting herself for so long that she's not even a woman anymore. She's an 'it.' It's not good for the women's division. It's not good at all."
Rousey's next opponent is Alexis Davis at UFC 175 on July 5 in Las Vegas. Giannoulis tweeted Davis on Saturday, reiterating that Americana would give her $5,000 if she beat Rousey via knockout.
Americana MMA, based out of Toronto, sponsors women's fighters Miriam Nakamoto and Zoila Frausto of Invicta. The company has also produced a shirt for UFC women's strawweight fighter Tecia Torres.
I think the @ufc should suspend Ronda Rousey for her remarks about Cyborg. Don't you have a code of conduct for your fighters?

— Americana (@americanamma) April 19, 2014
Mitrione called transgender women's fighter Fallon Fox a "sick, sociopathic, disgusting freak" in an interview with MMA Fighting last year. And Brown said on his podcast in January that if two women are fighting on pay-per-view, they should be doing it topless. The UFC did not penalize him, but Brown did issue an apology.