Anthony Pettis: 'Me and Max Holloway would be a great fight'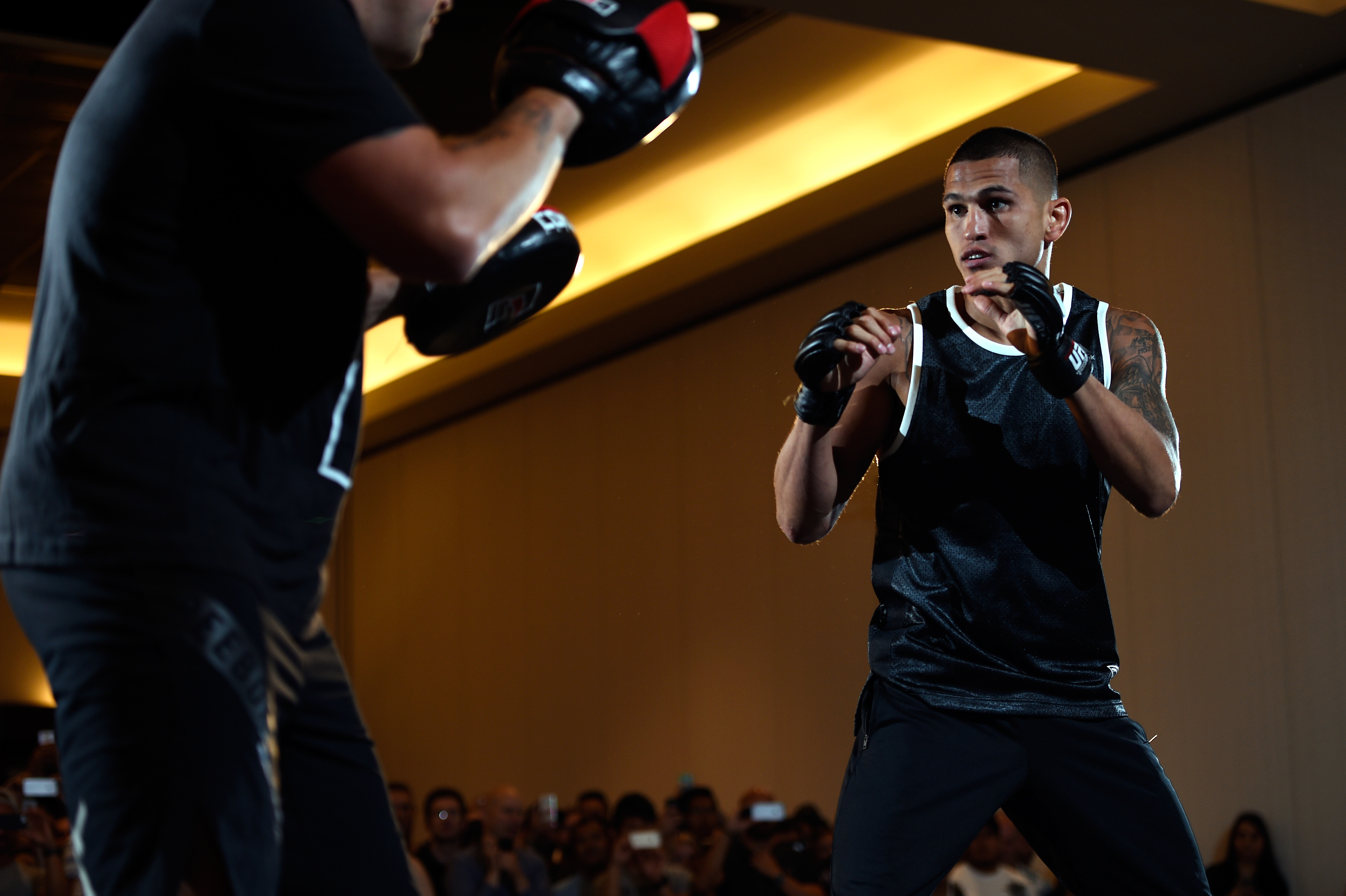 Former champ Anthony Pettis is calling for a matchup against the surging Max Holloway for UFC 205 in New York City
Anthony Pettis on the hunt to reclaim UFC gold.
Pettis (19-4), also a former WEC champion, earned a third round submission win in his featherweight debut over submission specialist Charles Oliveira. Prior to to this performance, Pettis dropped a unanimous decision after being picked apart with leg kicks, courtesy of Edson Barbzona, at UFC 197 in April.
This marked the third straight decision loss for 'Showtime'. He previously suffered a split decision to current champ Eddie Alvarez and unanimous decision to former champ Rafael dos Anjos.
So with the ship righted and his career back n track, Pettis has one man in mind for his next opponent, specifically at UFC 205 on Nov. 12 in New York City.
"I've made my decision," said Pettis during an appearance on The MMA Hour. "I think me and Max Holloway would be a great fight. He's sitting there on the sidelines waiting for a title shot, as well. He's No. 3 in the world at featherweight and that's the guy I would love to see myself fighting at 145 pounds. But then at 155 pounds, there are still good fights for me, too. I just have to sit down and figure it out."
Holloway (16-3) is currently riding an incredible nine fight win streak, the longest a UFC fighter has gone without fighting for a UFC title. In his most recent effort, 'Blessed' earned an impressive decision win over former title Ricardo Lamas at UFC 199 in June.
Prior to this win, the young Hawaiian scored back-to-back stoppage wins over Cub Swanson and Oliveira before earning a decision over Jeremy Stephens. To date his last loss came at the hands of current featherweight champion Conor McGregor.
The 24-year-old Hawaiian has also be calling for a fight against either current interim champ Jose Aldo or former lightweight turned featherweight title contender Franke Edgar.
This article originally appeared on