Alex Caceres' journey from backyard fights to UFC breakthrough a longshot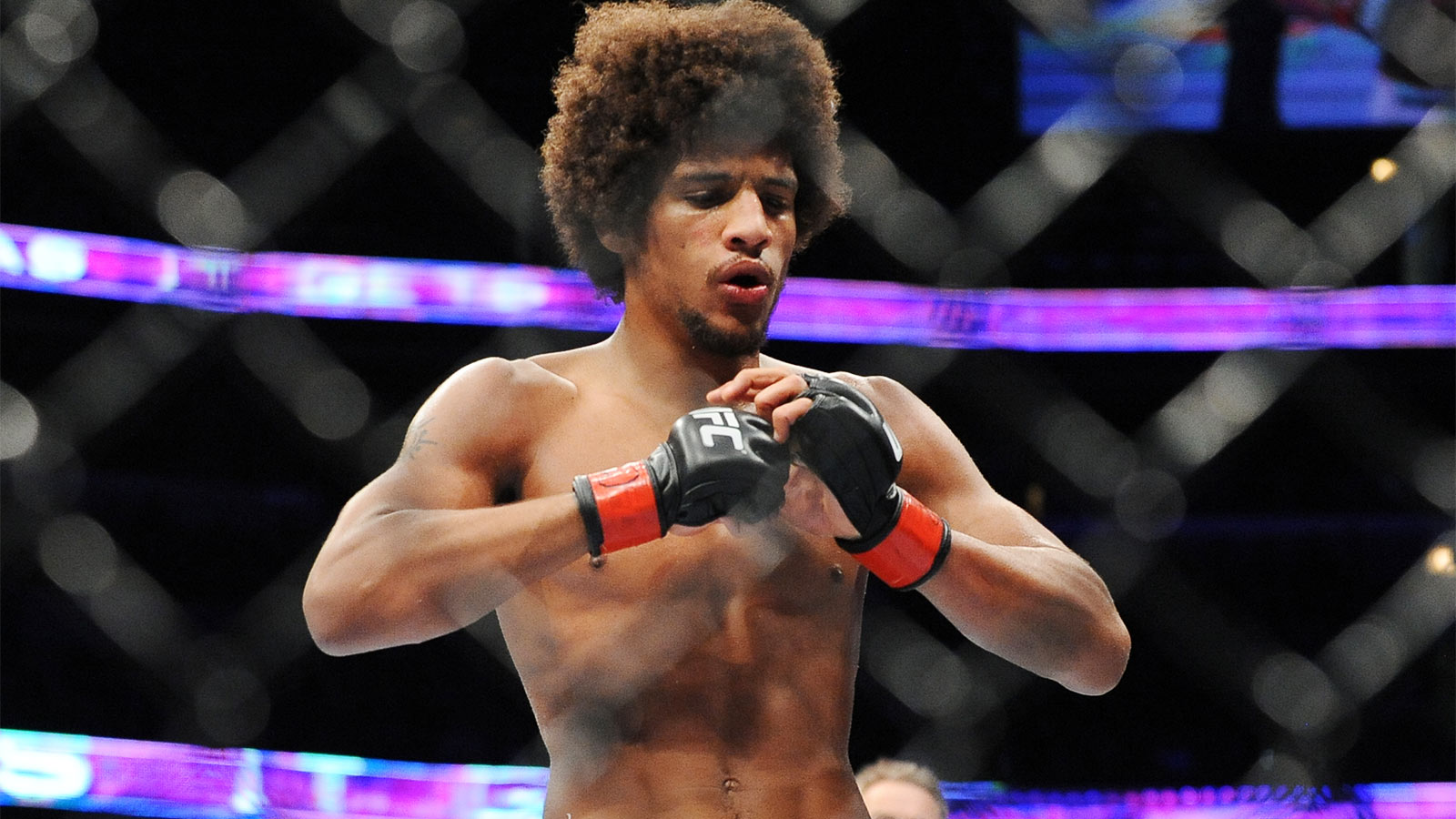 LAS VEGAS — Now that he's here, Alex Caceres can admit that this whole thing was a long shot. He wasn't supposed to get here, maybe at all, but definitely not this fast. Not after starting his fight career in a Florida backyard, a la Kimbo Slice. Not after winning only a single match in season 12 of The Ultimate Fighter. And definitely not after being stopped in both of his first two official trips to the octagon.
Yet here he is, the colorful character/high school dropout/renaissance man, on the precipice of an unforeseen and potentially life-changing opportunity. For years, Urijah Faber has been at the vanguard of the sport's lighter weight classes, and at Saturday's UFC 175, Caceres will stand across from the decorated bantamweight star and find out just where he stands in the divisional hierarchy.
The stakes seem obvious: A loss would be a setback, and a win would be star-making, but Caceres tends to look at things with his own perspective. A high-school dropout — he was expelled after beating up someone who stole a friend's purse and then berating the school principal for fostering an environment that discouraged social justice — Caceres doesn't view his growth in terms of wins and losses. Of course, that's one way of keeping score, but this is part of a greater life quest.
It's a journey routed in the martial arts, and forged in the gym.
"It's a phenomenal feeling to be able to come back every day a different person, brand new," he said. "You're not the same person every time you leave the gym. and the next day you're a little bit better. There's something that you won't do, a mistake that you do less, a habit that you're breaking out of, and good habits that you're creating. It's incredible to see that change. The way I look at it is, if you're able to change who you were from yesterday to today, you were never really that person to begin with. So basically, I guess it's a road to find myself, and if I keep changing, then I haven't found myself yet."
It was only a few years ago when Caceres was fighting in backyards. One of his fights (as Bruce LeeRoy) has over 2 million views on Youtube.
That grainy web footage belied his ambition. Even back then, Caceres had a goal of making it to the UFC, he simply thought it would take a few years. But within months, he was fighting professionally, and by the time he was 21, he'd already been signed to the UFC to appear on TUF.
Part of that he chalks up to his work ethic. He never cared much about going to clubs and partying. He didn't have an appetite for material items. He simply wanted to train.
"That was my vacation," he said. "Being able to ride my bicycle five miles to the gym and just bust my ass, I don't know why I liked it so much, but I do, and I still do. That's just who I am. I can't see a day without hard work labor."
After choking out Sergio Pettis his last time out, the degree of difficulty is about to go up exponentially. Despite Caceres' five-fight unbeaten stretch, Faber is a massive favorite, 10-to-1 and above in some places.
Caceres grew up watching him fight, and admits it's "kind of surreal" to be stepping into a fight with him now. But he's also a searcher, so stepping into a knowledge gap isn't so foreign to him.
Lately, for example, he's read "The Tibetan Book of the Dead," a tome on Buddhism in search of the mind's true nature, along with a book on the "psychogeometry" of life. Did you know that's a thing? Me neither.
Point is, Caceres is clearly not afraid to step out of his comfort zone, whether it's an intellectual curiosity or an athletic pursuit. He's already visualized both winning and losing. And he sees there can be a benefit to either.
"My goal is to get in there and make it three rounds, make it an all-out fight for three rounds," he said. "Just bring it to him completely. And I know thinking that way and performing that way, that is the best possible way to lead me to victory. I'm not going to try to think about finishing the fight early. If it happens I'll take that opportunity, don't get me wrong. I'll jump right on it, just liked I jumped on the opportunity to fight Urijah Faber. But my goal is to be in his face for three rounds, and make him fight harder than he's ever had to fight in his life."
From backyard fighting to the fight capital of the world, Caceres' quest continues. Might as well be in Vegas. After all, what other place fosters such celebration of the long shots?