5 Reasons to Watch: UFC Fight Night: McGregor vs. Siver
The UFC lands in Boston for the third time ever this weekend, as rising featherweight star Conor McGregor looks to take his final step toward a title shot as he faces veteran Dennis Siver.
McGregor has been quite vocal about his plans to reign supreme over every fighter at 145 pounds. The brash Irishman has predicted a knockout in less than two minutes and, needless to say, Siver has not been amused by the pre-fight banter.
In addition, the co-headliner features a huge fight in the lightweight division as former champion Benson Henderson looks to make it 3-for-3 against Donald "Cowboy" Cerrone, who will fight for the second time in two weeks.
With a title eliminator, a pivotal lightweight matchup and so much more this weekend, FOX UFC analyst Jon Anik previews the card and offers five good reasons to tune in to FOX Sports 1 UFC Fight Night: McGregor vs. Siver.
King Conor Ascends the Throne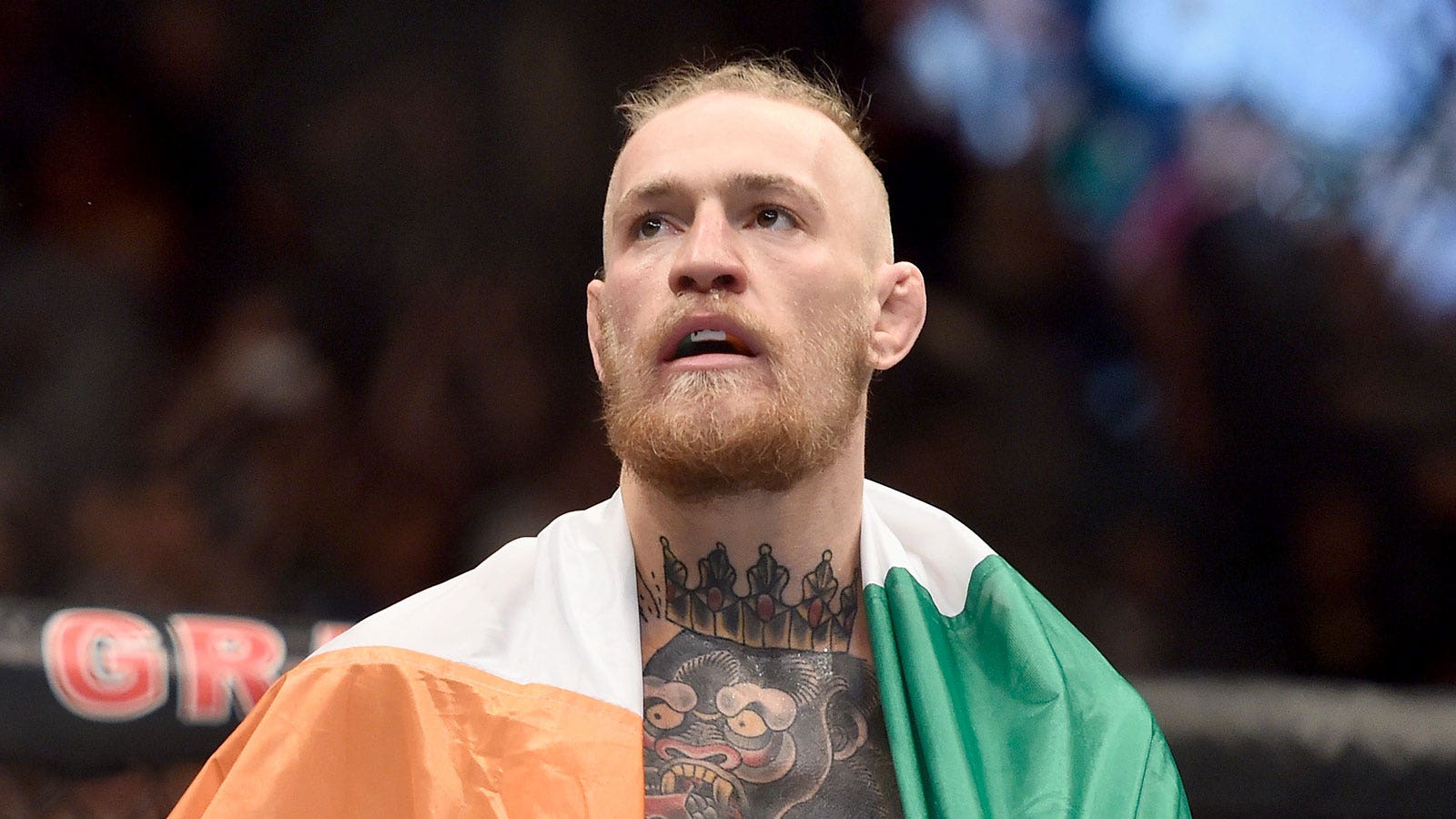 The advertising for this FOX Sports 1 UFC Fight Night certainly seem one-sided, and with good reason. McGregor enters the fight as a huge favorite to beat Siver and punch his ticket to a featherweight title fight against Jose Aldo later this year.
So what's compelling about watching a 10-to-1 favorite trample a huge underdog?
It's the narrative of what happens next. If McGregor wins, he could headline the biggest show in UFC history if the promotion indeed takes a title fight to Ireland and a stadium that could hold upwards of 90,000 fans.
Also, McGregor loves to tout is his ability to pick the round in which he'll finish his opponent. He did it against Dustin Poirier at UFC 178 and now he says he'll take care of Siver inside of two minutes. Who doesn't want to see if he can pull it off?
"If you're somebody like me who believes Conor McGregor is going to be mentioned with the likes of Anthony Pettis or Jose Aldo in the next 18 months or 24 months, if you believe he's as an elite a fighter as I believe him to be, him getting the heavy distinction as a -1000 favorite is anything but outrageous," Anik said.
"I see one guy who is smack dab in the middle of his prime and another guy who turned 36 today. Despite all of Siver's credentials, he'll just be too slow and Conor will pick his round and deliver in that round once again."
One of the Biggest Upsets in History?
One of the greatest moments in sports is watching the impossible come true. The best example of that is the upset.
While upsets are more frequent in the UFC, the biggest underdogs pulling out a victory have become some of the most famous moments inside the Octagon: Matt Serra knocking out Georges St-Pierre and T.J. Dillashaw laying a beatdown on Renan Barao come to mind.
Siver can join that list if he takes out McGregor on Sunday night.
"I would put it in the top 10, maybe even the top five all-time," Anik said. "The only reason I say top 10 and not top five is because I do think highly of Dennis Siver and I do think experience counts for something and I don't think he'll be mentally beaten before they touch gloves.
"I feel like Dennis Siver is going in there thinking he knows something the rest of the world doesn't and he's ready to shock the world."
Is McGregor Ready for This Moment?
No fighter has welcomed the attention of being a main-event draw more than McGregor has since he joined the UFC two years ago. When he first appeared, McGregor already was drawing crowds for his candid talk and uncensored interviews.
Now the hype surrounding his fights is huge. At UFC 178, when McGregor was technically the third fight on the pay-per-view, it was easy to mistake the buzz for a main event. Expect even more this weekend when McGregor descends upon Boston with a shot at the featherweight gold hanging in the balance.
But with so much up for grabs, is McGregor really ready to seize the moment?
"There are few guys who you can say you don't worry about the magnitude of the moment getting to them. Of this roster of 560-plus, the pressure that McGregor puts on himself and the pressure that he receives, most of them wouldn't say they would want that and most of them probably couldn't handle it. Man, is he immune to pressure. He welcomes it all," Anik said.
"He talks about beating guys before ever getting to the Octagon and he uses it to his advantage. As long as he stays healthy, he's on his path to greatness."
'Cowboy Cerrone' Is A Rare Breed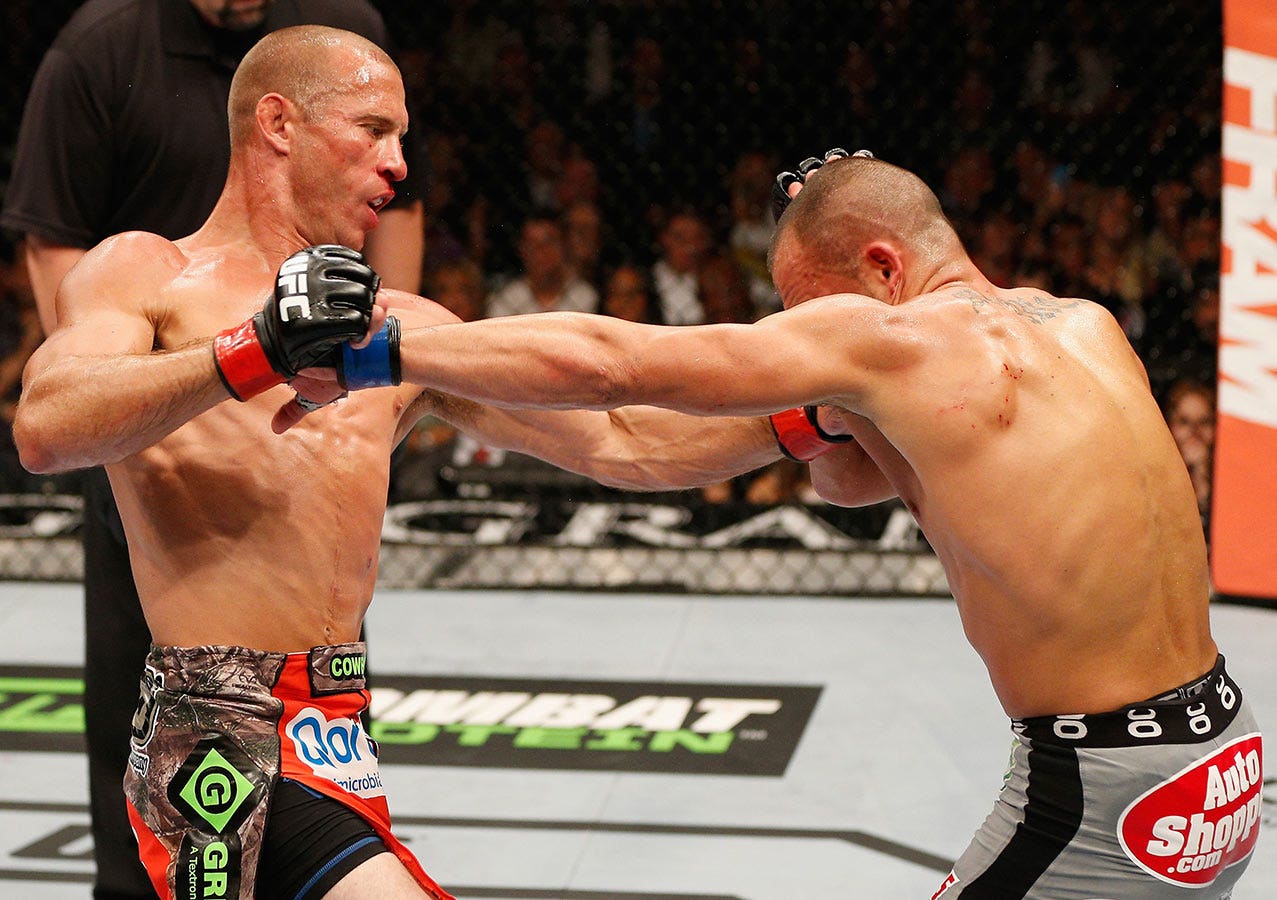 There aren't too many fighters like Cerrone in the UFC. Actually, there may not be anybody else in the UFC like Cerrone, because his talk about being willing to fight anyone, anywhere and anytime is matched only by the fact that he actually does it.
Cerrone fought just two weeks ago and didn't hesitate for a second when the UFC asked him to accept a bout against Henderson for this weekend's card in Boston. Sure, Cerrone easily could have sat out and waited for a higher-ranked opponent, or even asked to get this fight with Henderson after a full training camp — he's lost to Henderson twice before so it would be understandable if he wanted more time to prepare.
Instead, Cerrone just accepted the challenge, as usual.
"You could say nothing and get me excited for this one," Anik said. "Donald Cerrone is just a rare breed. He might just be the last of a dying breed. The fact that he's been in the UFC for just a shade under four years and this will be his 17th UFC fight is just remarkable.
"The fact that Donald Cerrone has taken some of the headlines away from Conor McGregor with his willingness to step into this huge spot is amazing."
The Luck of the Irish
It's a well-known fact that the Irish travel very well to support their home country heroes, and come Sunday night at the TD Garden Arena, there will be plenty of orange, white and green flags flying.
Boston just happens to be the American city with the biggest population of residents claiming Irish heritage, so expect a lot of support for McGregor and the other two competitors hailing from the Emerald Isle who are fighting on Sunday night: Patrick Holohan and Cathal Pendred.
"It's come out in past Boston shows and now it's only going to come out more that Conor McGregor is such a massive star. It's going to come out more now that the masses know that Cathal Pendred was born in Boston. The Bostonians are going to be rooting for the Irish guys overall, but once they get to know these guys it's only going to get more fevered," Anik added. "I mean in that part of town you can't walk 10 feet without running into an Irish bar. It's something that's part of the fabric of that city."
To make sure you don't miss a minute of the action check out our viewing and schedule guide for FOX Sports 1 UFC Fight Night: McGregor vs. Siver