5 Reasons to Watch UFC Fight Night: Henderson vs. Khabilov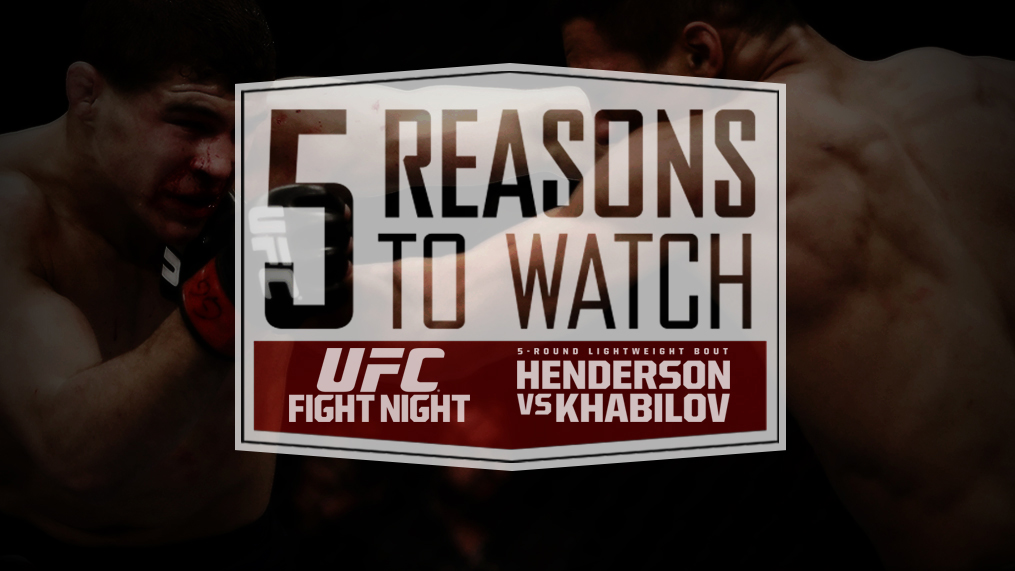 The card taking place in Albuquerque, New Mexico this weekend might just be one of the best UFC Fight Night offerings of all time. Former lightweight champion Benson Henderson takes on upstart Dagestani fighter Rustam Khabilov in the five round main event while the always exciting Diego Sanchez takes on former Ultimate Fighter winner Ross Pearson in a lightweight bout expected to be a slug fest.
Top ranked flyweight contender John Dodson is also back in action against fellow 125-pound title hopeful John Moraga, and a slew of other great fights peppering the UFC's debut card in New Mexico.
There are plenty of good reasons to tune in Saturday night, but we'll give you five good reasons right now to wet your appetite.
The Return of the Old Benson Henderson?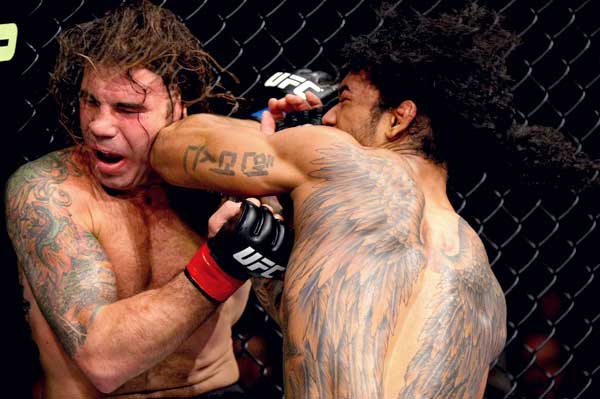 For the biggest part of his MMA career, Benson Henderson has been known as an exciting fighter with an aggressive style while finishing a ton of his fights. In 2012, Henderson won the UFC lightweight title in a razor close decision against former champion Frankie Edgar, and after that moment it seemed something switched inside the Arizona based fighter.
Gone were the days where Henderson would get into crazy exchanges or he would dive on submissions looking to get the finish. Now one could argue a big part of that was the step up in competition since he was the champion, but there's no denying there was a stylistic change in Henderson's approach to fights after he got the gold around his waist.
Now in his second post-championship bout, Henderson has a chance to prove that the old school style he used to finish so many opponents can breathe and thrive in this new age lightweight division. Maybe the pressure of being the champion is gone and Henderson can become himself again.
"Maybe it will take a little pressure off him just because he won't be as much under the microscope," UFC on FOX analyst Gilbert Melendez said when looking at the main event. "Because when he was defending the title as the champ, people were being not so respectful and saying they're not even going to watch it because it's boring. Now this is a free event on cable TV, so if you really want to see a Benson fight, you tune in because you want to. I think it should relieve some pressure."
Rustam Khabilov is the Real Deal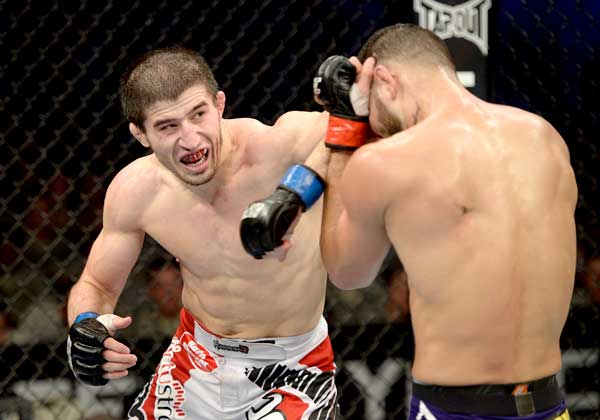 Three fights into his UFC career, Rustam Khabilov has maintained a perfect record while employing a dominant and thrilling style to boot. The Dagestan native loves to toss opponents around the cage like sacks of potatoes and as he displayed in his last fight against Jorge Masvidal when he uncorked a spinning wheel kick, the standup he possesses isn't far behind his wrestling.
Khabilov is the latest in a line of fighters coming from the small country of Dagestan, which seems to be a hot bed of MMA lately with names like Khabib Nurmagomedov and flyweight contender Ali Bagautinov also coming from the same area.
"They have that Sambo style and they've got everything," Melendez said about the Dagestani fighters. "They've got wrestling, striking, grappling, they've got submissions, they've got ground and pound, and they're skill is MMA. They mix their wrestling with their punches, they mix their striking with their wrestling and it's all one. Seems that's the future of our sport. They don't really have a weakness."
Khabilov's style virtually guarantees that his bout with Henderson will end up being a knock down, drag out type affair as both lightweights gun for the top spot in the division over the course of 25 minutes. Melendez does warn Khabilov from his experience not to overexert yourself facing someone like Henderson because it can backfire, but in the long run it should make for a fun fight.
"I think Khabilov is an offensive guy so he is going to pressure him and I think it will make for a good fight," Melendez said. "Benson is good at controlling the fight, he can neutralize an opponent and keep it at his pace. Khabilov may overwork himself trying to push the action, which can be a positive for Benson."
Diego Sanchez at a Crossroad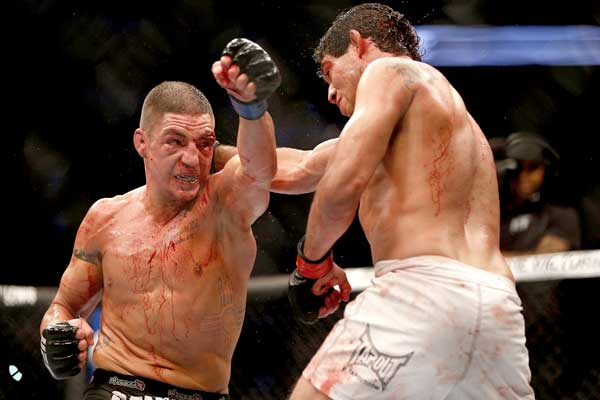 Ever since fans first discovered Diego Sanchez during the debut season of The Ultimate Fighter, everyone has known that watching this guy develop over the years has been an incredibly eye opening ride. Sanchez came into the sport primarily as a wrestler and grappler, but quickly developed his striking to become a 'Fight of the Night' bonus baby year after year after year.
Unfortunately that 'rock em, sock em' style can cost you fights as well and Sanchez walks into his bout against Ross Pearson this weekend off two losses in a row. While a third defeat probably won't signify the end of his UFC career, it certainly would seem to put a stamp on any hopes he has of ever being a real contender in the lightweight division again.
It's make or break time for Sanchez and he has to know that going into Saturday night.
"Especially in his hometown of Albuquerque — if he can't summon the beast and come out and really fired up like he did in my fight and like he did in the past, he might really be at that crossroads," Melendez said about Sanchez. "I think his opponent (Ross Pearson) might be in the same situation, they're both in that do or die moment. That could play in Diego's favor as well.
Chances are Sanchez is ready to put on a show because Albuquerque is his hometown and as one of the original members of the team that made up Greg Jackson and Mike Winkeljohn's gym in town, there's no chance the 'Yes!' army won't be out in full force to support him as he charges towards victory.
John Dodson is the Best Flyweight Not Named Demetrious Johnson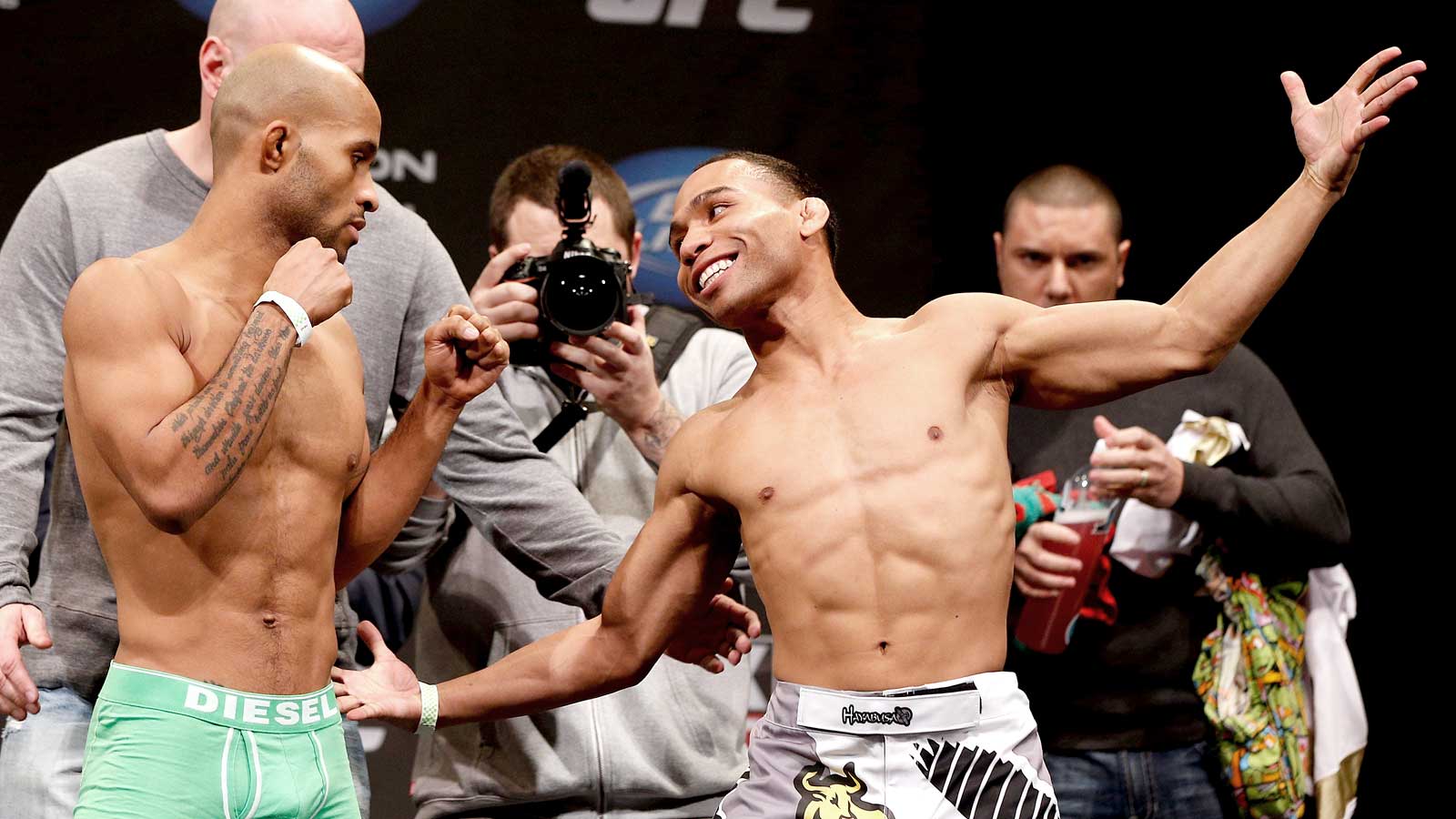 Ultimate Fighter season 14 winner John Dodson returns to action on this card in a pivotal flyweight matchup against fellow title contender John Moraga. When looking at the flyweight division on paper there's no doubt Demetrious Johnson has solidified his place as the best of the best in the weight class, but his closest equal will be fighting on Saturday night.
Dodson fought Johnson last year in a crazy throw down as part of a FOX UFC Saturday card where the incumbent champion had to summon every ounce of toughness he could muster to pull off the win over the challenger. Dodson had Johnson hurt early and it looked like a new champion would be crowed, but the tables turned as the rounds moved forward eventually 'Mighty Mouse' got the victory.
Dodson could potentially earn a rematch with Johnson if he can snuff out Moraga this weekend, and given his tendency to land some of the biggest knockouts in the lighter weight divisions, anything is possible in this one.
"It's such an up and coming division and it's hard to judge, but I think he has what it takes. The guy beat T.J. Dillashaw. I'm sure T.J. hates hearing that, but he did," Melendez said about Dodson. "He has power for a 125er, he's athletic, the kid has fun out there. I really think he is the best 125er outside of Demetrious Johnson."
Under the Radar Fights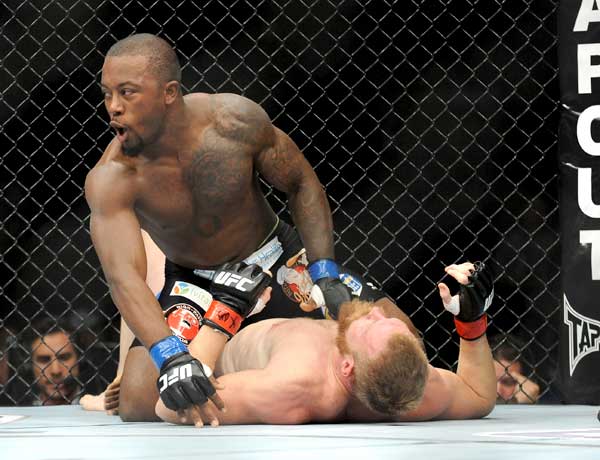 There are always a few undercard fights that aren't headlining a show, but still manage to gain a ground swell of attention in the days or weeks leading up to a card. On this weekend's card, there are two fights in particular to keep an eye on — one of which could end up being a pretty massive upset for a top 10 fighter in the lightweight division.
"I think the grappling and wrestling of Jason High can be real intimidating for (Rafael) Dos Anjos," Melendez said. "Really strong wrestling and good grappling, always offensive, so I think that could be a real entertaining fight. Also, (Erik) 'Goyito' Perez against Bryan Caraway. Both guys had exciting fights with (Takeya) Mizugaki, I think that has a lot of potential as well for a good fight."
Bonus Reason to Watch: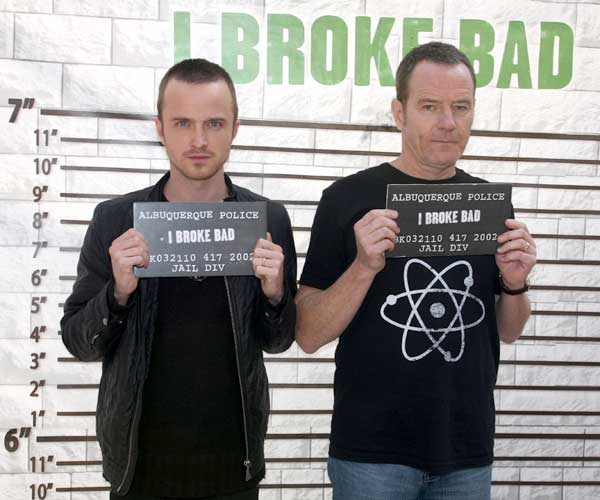 Albuquerque is the town where 'Breaking Bad' was filmed so maybe there's a chance Walter White or Jesse Pinkman show up? Okay, probably not but we can always hope they coming banging on Dana White's door asking for tickets. After all, Walt is the one who knocks.