5 Reasons to Watch: UFC Fight Night: Henderson vs. dos Anjos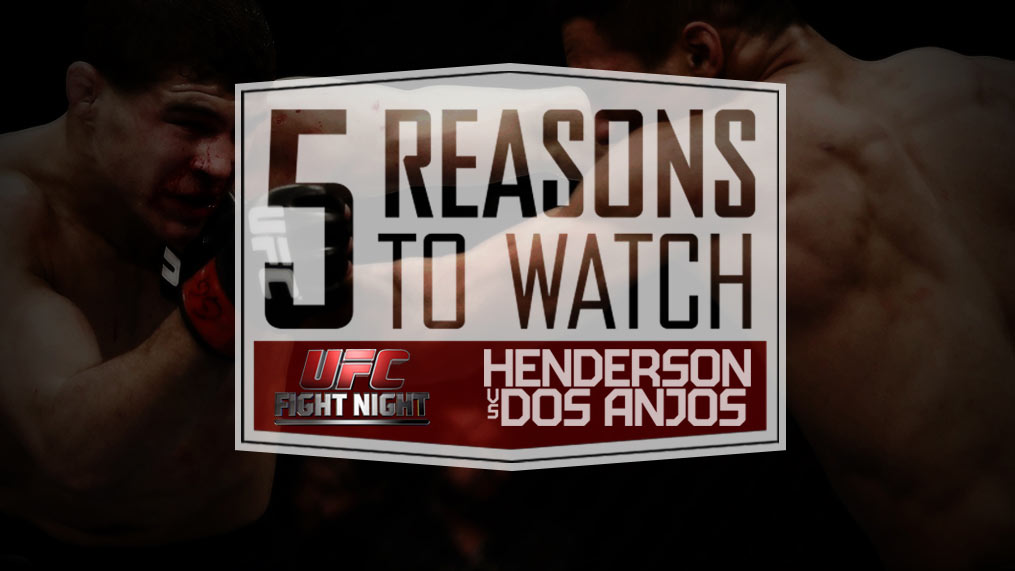 The UFC will head to Tulsa, Oklahoma for the first time ever this weekend with former UFC lightweight champion Benson Henderson looking for his third win in a row when he faces No. 5 ranked Rafael dos Anjos, who would love nothing more than to take out the top ranked contender in the division and make his way towards an eventual title shot.
In addition to the fight between Henderson and dos Anjos, welterweights Mike Pyle and Jordan Mein will do battle in a fight with guaranteed fireworks. Pyle has turned into a knockout machine over his last several fights while Mein is known as one of the most creative and nasty strikers in the division.
With so much to see on this last UFC Fight Night card, UFC on FOX analyst Jake Ellenberger looks forward to all the bouts going down Saturday night from Tulsa and he's going to give you five good reasons to tune into this stacked card headlined by Benson Henderson vs. Rafael dos Anjos.
Benson Henderson Cruising Back Towards Title Shot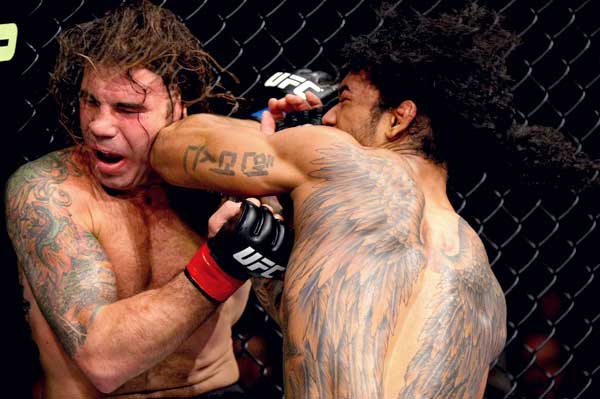 Benson Henderson was a three-time defending lightweight champion before losing his title to Anthony Pettis last year, but since that defeat he has come out guns blazing to win his last two fights in a row including possibly his most impressive performance against Rustam Khabilov back in June.
There seems to be a fire brewing inside Henderson to get back to another title shot and considering he's already ranked No. 1 in the world, if he keeps winning there doesn't seem to be a way to deny him. Henderson will take on No. 5 ranked Rafael dos Anjos in the main event from Tulsa this weekend and with a win he'll prove once again he's not only an elite lightweight but a serious challenger to either Anthony Pettis or Gilbert Melendez.
Could Henderson solidify his No. 1 contender status with a win this weekend?
"Without a doubt. I've trained with Benson before, I know how hard he works. His work ethic really sticks out. The best thing about Benson is he's consistent. One of the hardest things to do in this sport is be consistent. He is one of the most consistent guys when it comes to winning fights," Ellenberger said.
"He's extremely motivated. I don't think there's going to be a mental hurdle for him coming back to fight Pettis. The way to win is to be mistake free and he made a mistake the last time against Anthony Pettis and he paid for it. As a growing martial artist, you really learn how to fight mistake free and I think that's what he's continued to work to achieve. He's still beating the top guys in the world."
Rafael dos Anjos Chance to Prove He Belongs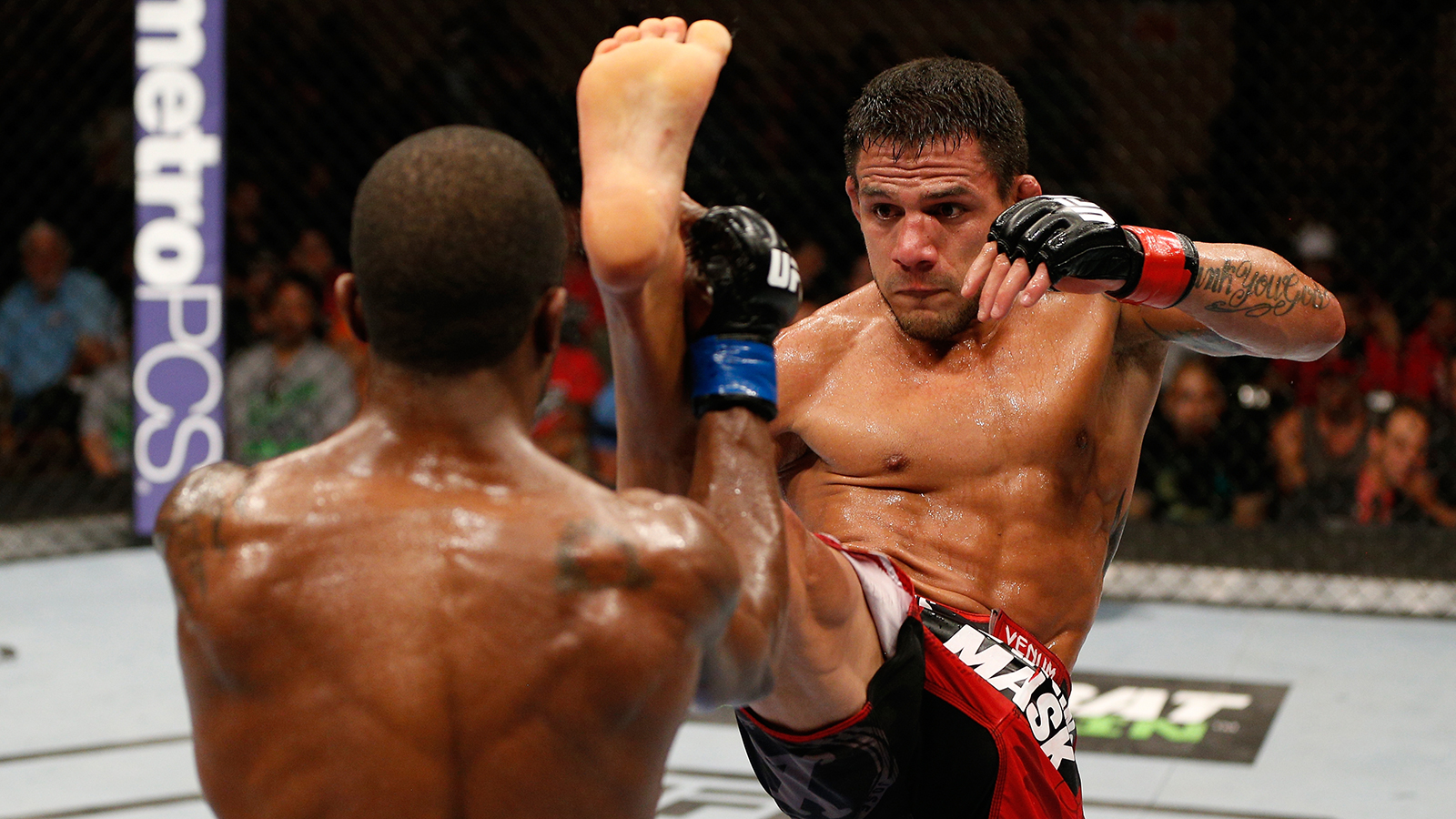 15 fights into his UFC career, 29-year old Brazilian Rafael dos Anjos has started to come into his own winning five out of his last six fights including a victory over Donald 'Cowboy' Cerrone. Dos Anjos suffered his lone defeat during his recent streak in a fight against Khabib Nurmagomedov earlier this year, but came storming back with a TKO victory over Jason High in June.
Dos Anjos has a chance on Saturday night to become only the second fighter in the UFC to beat Henderson (the other is lightweight champion Anthony Pettis) and with a win he could solidify his top spot in the division and put his name back into title contention.
"Look at the guys Benson's beat. Dos Anjos is very opportunistic and he's all about being more well rounded. I've seen him in training and he's working really hard on his wrestling. Phenomenal on the ground, a black belt in Brazilian Jiu-Jitsu and I know from training with him how hard he is to take down," Ellenberger said.
"He's going to have to get a compelling win. Regardless of whether he finishes, he's going to get the round to make it clear (he won). For Rafael, he's really going to have to decisively show he's won with compelling rounds."
Mike Pyle's Best Shot at the Top 10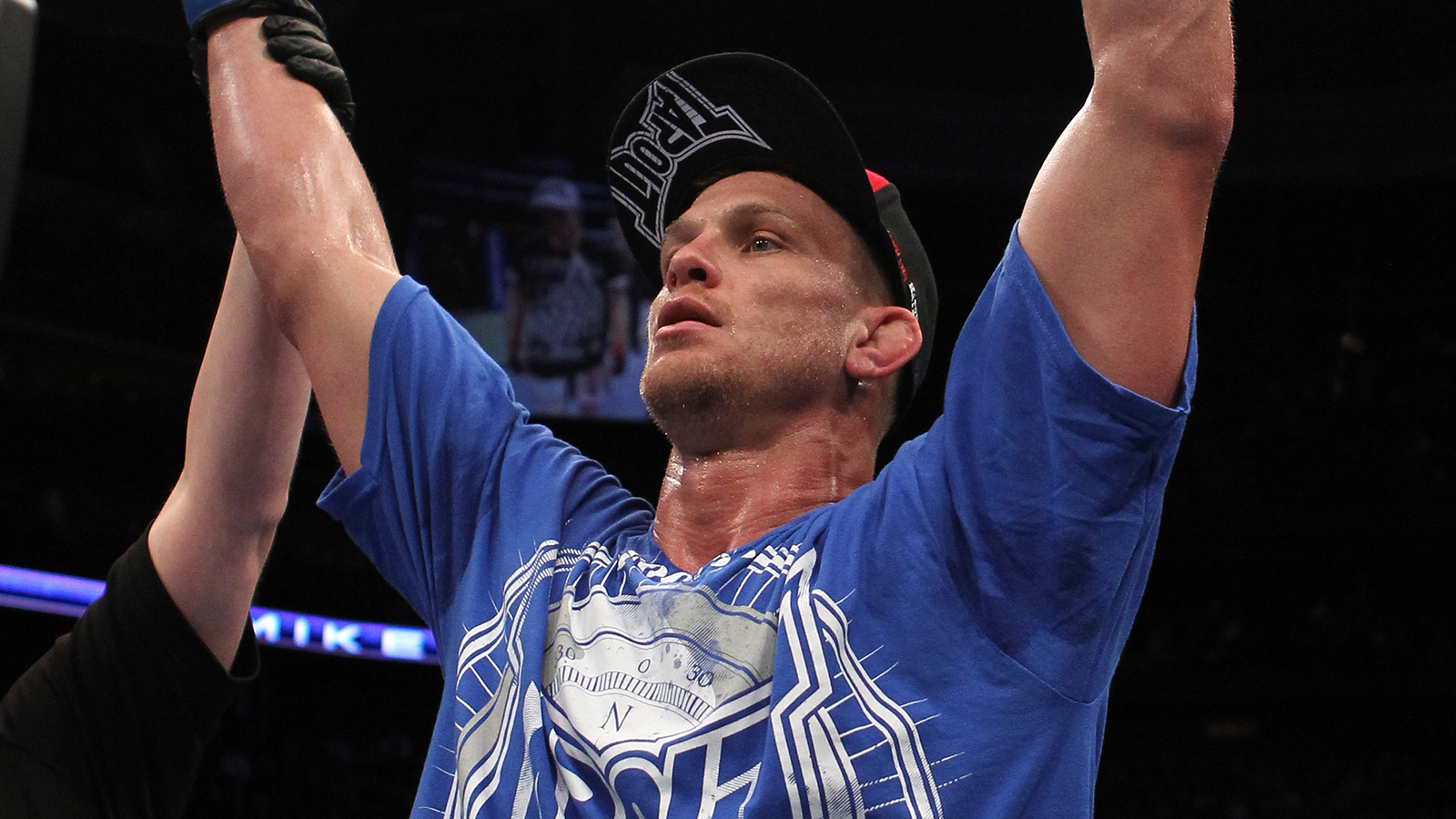 Mike Pyle has been a steady performer for more than a decade, fighting some of the best welterweights in the world in promotions all over the world. Pyle found new life in his recent UFC run while also picking up a slew of knockout or TKO victories along the way.
Pyle's one hiccup during his trip towards the top 15 was a fight against his old friend Matt Brown, who knocked him out in less than one minute in their bout last year. Pyle rebounded with another TKO win over T.J. Waldburger, but as he approaches his fight this weekend against Jordan Mein, the sand in the hourglass for his chance to get into the top 10 seems to be running out.
Pyle is fighting like a younger man, but there's no denying at 39-years old the veteran Las Vegas based competitor will need to make a push starting with this co-main event bout to prove he deserves a high profile fight against a legitimate, top 10 opponent for his next trip to the Octagon.
"Mike is a tremendous fighter. We fought a while ago and I've trained with Mike a lot in Vegas. He's always been an amazing guy in the gym. He's submitted me in the gym, I have no problem admitting that so I know how good Mike is," Ellenberger stated. "For Mike, it's mentally putting himself into the zone and focus.
"If he performs to his potential, I think Mike can beat anybody. His coaches know that and I know that having trained with him so much. It's a big test for Jordan Mein and it's a test for Mike at the same time and he's got to prove he can still compete at this level."
Make or Break for Carmont and Leites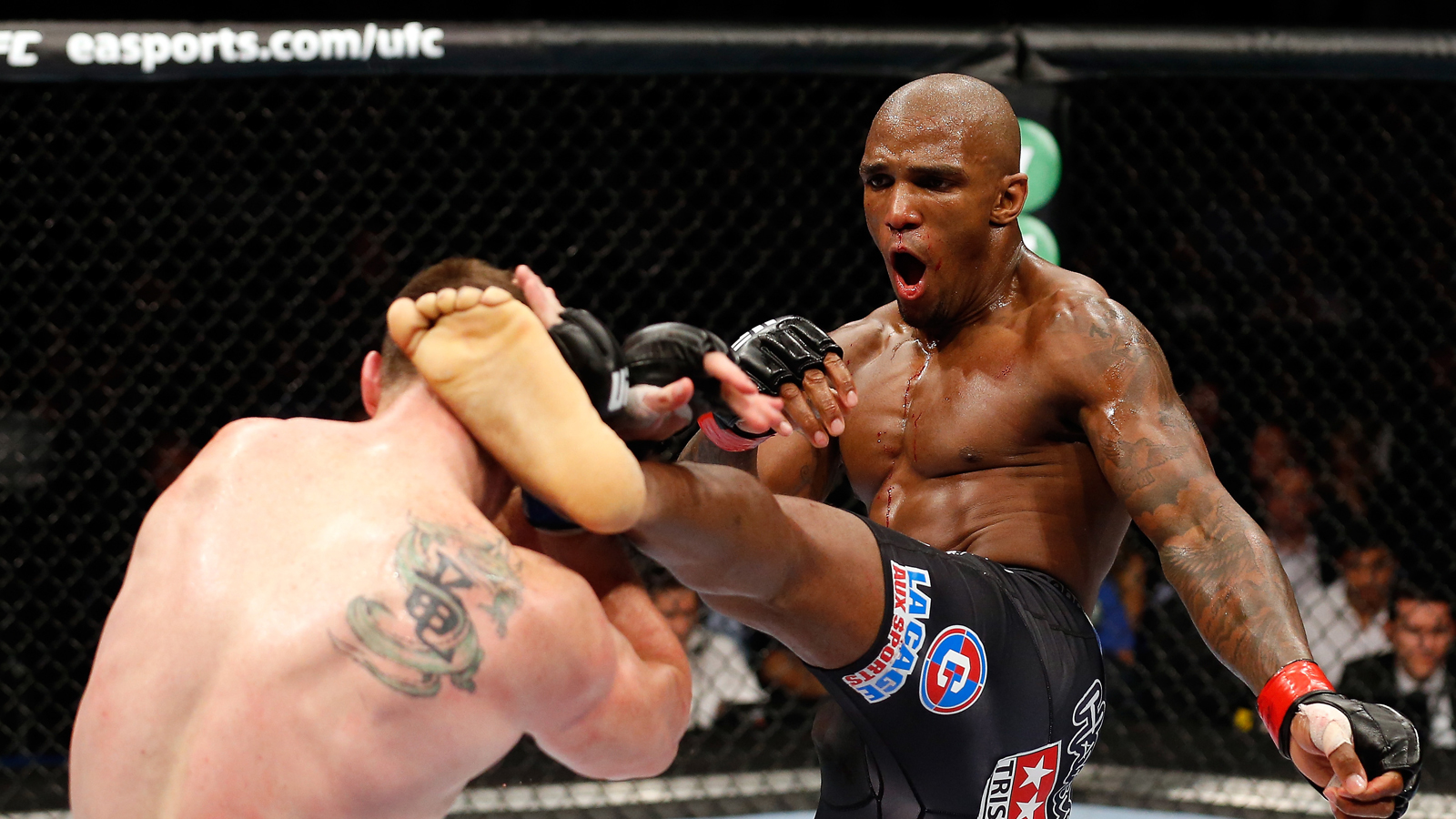 The middleweight division was ruled with an iron fist for years by former champion Anderson Silva, but with his loss to Chris Weidman the weight class got a shake up for the first time in seven years. Weidman has been a great champion thus far, but the contenders list of fighters gunning for the belt has not only gotten deeper but the talent level might be the best it's ever been in the history of the 185-pound division.
Two competitors who would love to get mention amongst the elite fighters in the division are Francis Carmont and Thales Leites with a chance to look impressive this weekend in their bout on the main card from UFC Fight Night on FOX Sports 1 from Tulsa, Oklahoma.
Carmont has shown flashes of brilliance at time, but is currently coming into this fight off two losses in a row. Leities, in the mean time, has found a new life since returning to the UFC, but the room for error in this division is slim to none. The winner of this fight will vault forward towards the top 10. The loser will likely plummet out of the top 15 and for Carmont could mean something as severe as the end of his UFC career.
"Both of these guys have a lot of potential," Ellenberger said. "Carmont, I would say he's a skilled guy and one of the more dangerous guys — when he chooses to be. I've heard the same thing about myself so it kind of hits home. Also we have to see which Leites shows up.
"Obviously, Leites has an advantage on the ground, he's a submission specialist. But if Carmont can let go and show what he's capable of I think he wins this fight."
Under the Radar Fight of the Night
"First off, Neil Magny is fighting Alex Garcia and I think that's going to be a fun fight," Ellenberger said. "Both guys are extremely explosive and they're both down to fight. They're both kind of making their way up and want to be the future of this division. They may not have big names yet, but they will.
"Another guy I'm looking forward to is Beneil Dariush, another guy I've extensively trained with. We've done a lot of grappling and sparring and he's one of the hardest workers I've seen. He literally just looks forward to his next training session. He eats, sleeps and breathes MMA. As far as skills go, he's one of the best guys I've ever trained with."