5 Reasons to Watch UFC 183: Silva vs. Diaz
Following a year away from the UFC dealing with a broken leg suffered in his last fight, Anderson Silva returns to the Octagon on Saturday night to face former welterweight title contender Nick Diaz in the main event of UFC 183 in Las Vegas.
Silva hasn't fought since losing his second fight to middleweight champion Chris Weidman, and after the freak injury nearly cost him his career, the former pound-for-pound king is anxious to get back to business.
Diaz also will be returning to the UFC for the first time in more than a year after he retired following his fight against Georges St-Pierre in 2013. Diaz has been asking for a fight against Silva for years nowand he'll finally get his wish.
With the anticipation for this event at a fever pitch, FOX UFC analyst Michael Bisping helps us break down the card and give you five good reasons to tune in to UFC 183: Silva vs. Diaz on Saturday night.
The Greatest Finisher of All Time
Silva routinely is regarded as the greatest fighter of all time, and what makes him such a joy to watch in the cage is his ability to end a fight at any time, from any range, using any number of weapons.
Silva holds the record for the most finishes in UFC history, the most knockdowns in UFC history and the highest striking accuracy in UFC history — a full 25-percent higher than the UFC average. Silva has devastated a laundry list of former champions including Vitor Belfort, Forrest Griffin and Rich Franklin.
Silva is a black belt in Brazilian Jiu-Jitsu and has finished several fighters on the ground as well, including Chael Sonnen and Dan Henderson, but his striking is the weapon he prefers to use the most. He's deadly with his hands and maybe even more so with his feet. If there's an argument about Silva's standing as the greatest fighter of all time, there's little debate about his status as the best striker who's ever competed in mixed martial arts.
"I just can't wait," Bisping says. "This is the perfect fight for Anderson to come back, put on a great performance, for it to be an exciting fight and for him to really shine."
And now Silva's back.
Don't Be Scared, Homie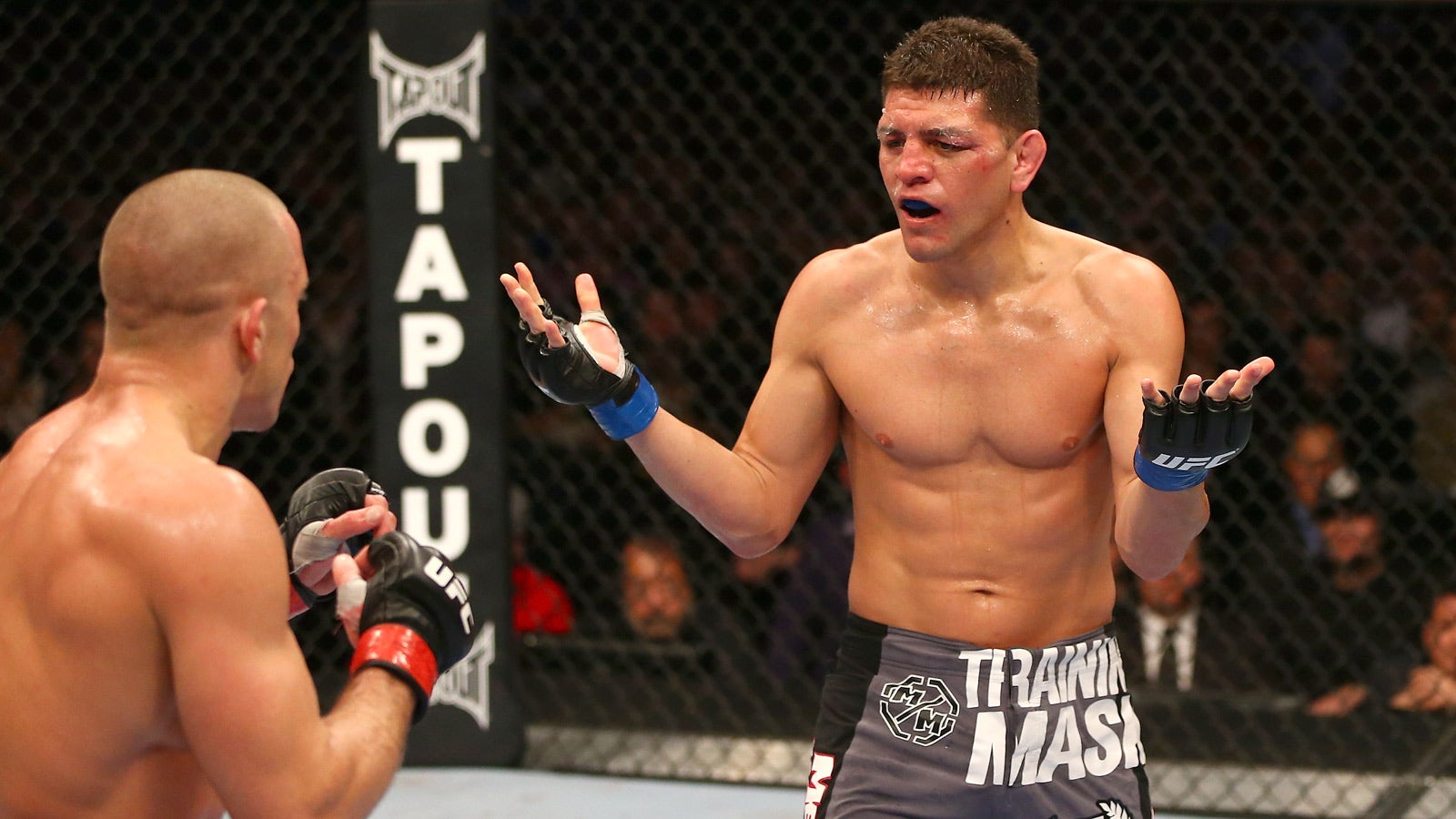 Leading up to this fight, Diaz has been extremely respectful. He's a fan of the former champion and hasn't had a bad word to say about him.
Of course, Diaz carried the same demeanor into his return to the UFC when he faced B.J. Penn in 2011. Diaz admired Penn and didn't say much at all leading into their fight.
All the hand shaking and glad tidings disappeared in a puff of smoke at the weigh-ins as Diaz and Penn had to be separated after a heated stare down. Things only escalated on fight night with Diaz taunting Penn constantly before beating the former welterweight champion by unanimous decision in a rout.
Diaz shows a poker face in the days before the weigh-ins, but chances are when it comes time to stare down Silva on Friday and then get in the cage with him on Saturday, the Northern California bad boy will show up in a big way.
Whether he's dropping his hands and daring Silva to fire back at him or asking him if they are throwing "spinning s–t," Diaz is dangerous and unpredictable and that's why everybody wants to tune in to see what he'll do next.
"At the end of the day we're martial artists, but we're also fighters. Sometimes when I'm fighting an opponent and I've got nothing bad to say about them, but when they get in my face and they want a piece of me and he wants to beat me, that competitive nature comes out," Bisping says. "When they get together and they square off, that's when we're going to see a bit of the old Nick Diaz."
Kelvin Gastelum: Contender or Pretender?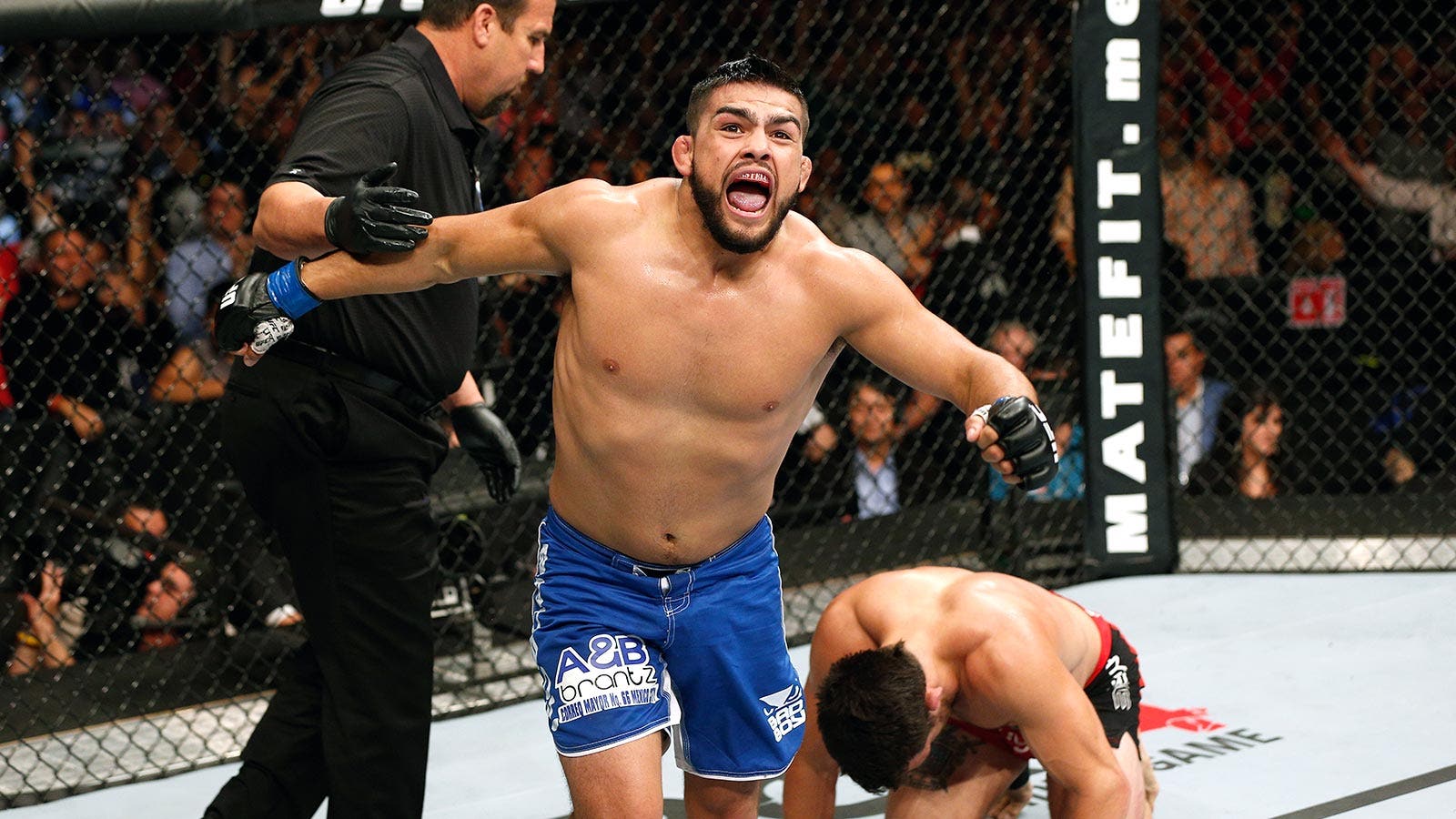 Since winning season 17 of "The Ultimate Fighter," Kelvin Gastelum has been on a tear through the UFC welterweight division. He's undefeated and cracked the top 10 with his last win, over perennial contender Jake Ellenberger, and if Gastelum is a serious threat to the title, we'll find out Saturday night.
Gastelum faces No. 3-ranked welterweight Tyron Woodley at UFC 183 in the co-main event and if he's victorious, the upstart contender could be a serious contender for the gold in 2015.
Gastelum is the new breed of mixed martial artist: good fundamental boxing, outstanding wrestling and slick submission skills. There's no area that Gastelum doesn't excel in, but Woodley will give him everything he can handle and more. Woodley is a powerfully strong wrestler as well as a one-punch knockout artist.
If Gastelum can get past Woodley, even by the narrowest of margins, he's a name to watch this year as a threat to the top of the division and maybe even champion Robbie Lawler.
"Tyron Woodley is No. 3 in the world. If he comes out there and he beats Tyron Woodley, he has to be considered for a shot at the title at some point in the near future," Bisping says. "He's young, he's undefeated, and he's taking people out."
Bonus Baby!
The UFC has given out a lot of post-fight bonuses over the years, but the UFC 183 card will feature the two fighters who have been the biggest recipients of the bonus structure since it was first instituted. As it turns out, the race for the top spot in all-time bonuses might be on the line as well as both Silva and Joe Lauzon compete at UFC 183.
Lauzon is the record holder for the most post-fight bonuses in UFC history with 13, but Silva is nipping at his heels with 12.
Maybe the most intriguing part of this understated "rivalry" is the fact that for all the fights Silva and Lauzon have had in the UFC, they've never competed on a card together before now. So when UFC 183 wraps up, will Silva and Lauzon both get a bonus? Will one steal a bonus away from the other? Will there be a new record holder for bonuses?
All that matters is with bonuses come exciting performances; Silva and Lauzon are both famous for that!
Prelim Spectacular
The preliminary card is always a great way to warm up for the pay-per-view, and this weekend's show might be one of the best ever.
Miesha Tate, the No. 2-ranked fighter in the world at 135 pounds, faces No. 3-ranked Sara McMann in the featured bout on the prelims. Both fighters are clamoring for another shot at champion Ronda Rousey, so this matchup will go a long way for the winner to state their claim at the top spot.
Also on the prelim card, Ian McCall battles John Lineker in a fight that very well may determine the next contender in the flyweight division. Bad blood runs hot in the middleweight feature bout on the prelims as well when Derek Brunson meets Ed Herman. These two have engaged in an ugly Twitter war over the past few months and now they finally will face off in the Octagon.
"Look at the first fight of the FOX prelims: it's Tom Watson versus Rafael Natal," Bisping says. "Stylistically that's a great fight. John Lineker against Ian McCall, that's a great fight. Ed Herman against Derek Brunson — it really is a stacked card from top to bottom. I'm just glad I'm working this one!"
To make sure you catch all of the action from UFC 183: Silva vs. Diaz check out our viewing and schedule guide for everything going down in Las Vegas.