5 Reasons to Watch UFC 174: Johnson vs. Bagautinov
The UFC flyweight title goes up for grabs in the main event of this Saturday night's UFC 174 fight card from Vancouver when incumbent champion Demetrious Johnson looks for his fourth straight defense as he takes on first time challenger, Ali Bagautinov.
Johnson has been on an incredible run lately, but Bagautinov has been nothing short of spectacular in his few fights inside the Octagon. Does he have what it takes to pull off the massive upset?
Also, in the co-main event Canadian Rory MacDonald looks to get into the title hunt in the welterweight division when he faces former Strikeforce contender Tyron Woodley. Both fighters are gunning for a shot at champion Johny Hendricks, so don't expect anything less than a barnburner in this matchup.
With all of the fights going down on Saturday night, we're here to give you five good reasons to tune into UFC 174: Johnson vs. Bagautinov
Watch Greatness in Motion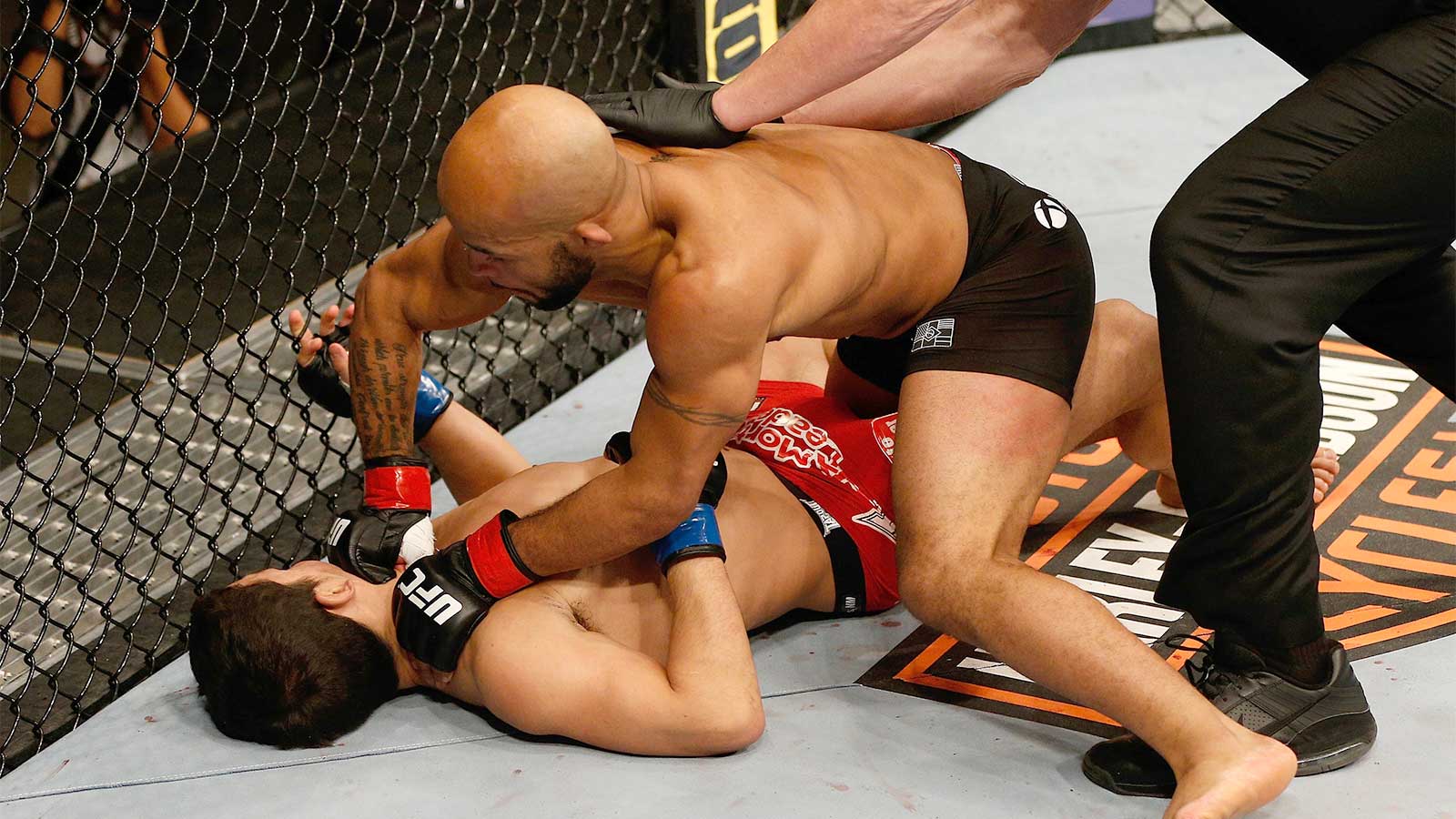 Demetrious Johnson may only stand 5'3" tall, but he's a whole lot of good tucked into a small package. The flyweight king was originally a contender at 135-pounds where he would routinely be outmatched by 20 or 25 pounds by an opponent, not to mention giving up several inches of reach in a fight. Still, Johnson managed to climb the rankings and eventually earn a title shot at the bantamweight gold.
Now in a much more natural weight class for his body, Johnson has been incredible going 5-0-1 in six fights and he only seems to be getting better. Johnson held off John Dodson in a close decision in his first title defense, but since that time he pulled off a fifth round submission to beat John Moragan and then picked up the fastest knockout in UFC flyweight history (2:08 of round one) when he put Joseph Benavidez to sleep at FOX UFC Saturday in Sacramento last December.
The flyweight champ is routinely regarded as the fastest fighter on the planet so you might need your slow motion button to capture some of the great things he does inside the Octagon to truly appreciate just how talented Johnson really is when plying his craft.
Johnson is also currently ranked as the No. 4 pound-for-pound fighter in the sport, and he can continue to build his legacy with a win on Saturday night.
Upsets Brewing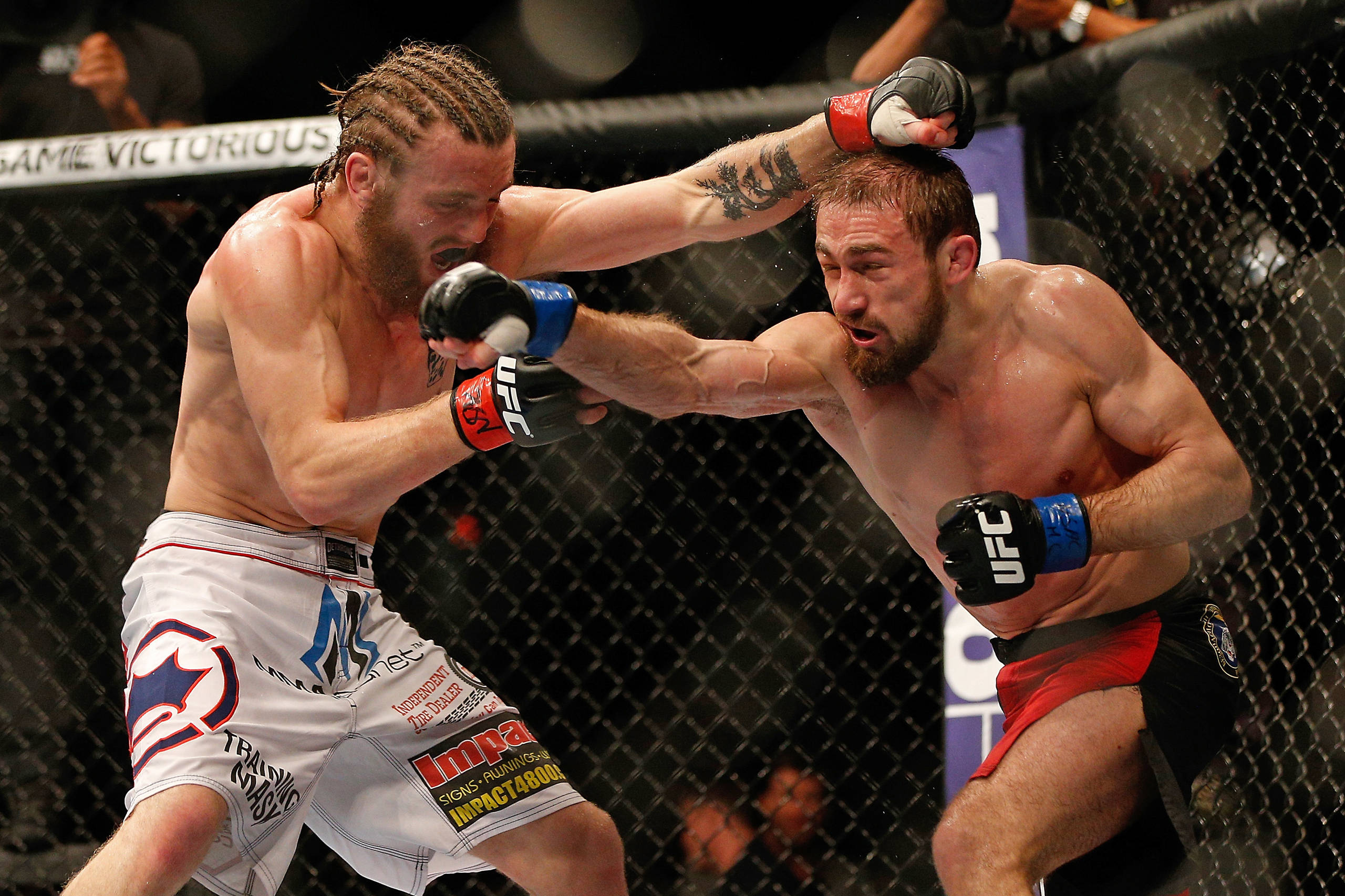 Johnson's ranking at No. 4 in the pound-for-pound list came at the cost Renan Barao's 30-plus fight winning streak coming to an end less than a month ago at UFC 173 when he was dominated by T.J. Dillashaw in their bantamweight title fight. Heading into the night, Barao had monstrous odds on his side with some odds makers instilling him as much as an 8-to-1 favorite. Then Dillashaw proceeded to beat him in every facet of the fight until he finally put a stop to Barao in the fifth round by TKO.
The main event at UFC 173 came just two weeks after Matt Brown pulled off an upset over Erick Silva in a fight where he entered the night as a two-to-one underdog.
In other words, being the favorite lately doesn't ensure victory.
Enter Ali Bagautinov, who will come into Saturday night around a 4-to-1 or 5-to-1 underdog to Johnson. The Dagestani native is currently riding a 10 fight win streak with a perfect 3-0 inside the Octagon. He's also finished nine opponents in his 13 victories, with six of those coming in the first round.
Underdog or not, Bagautinov should not be overlooked as he tries to make it back-to-back events where the champion falls to the challenger.
Striker's Delight
The co-main event in Vancouver features local favorite Rory MacDonald against Tyron Woodley as the No. 2 and No. 3 ranked welterweights look to make a statement with the winner potentially moving in line for a title shot against champion Johny Hendricks.
On paper these are two of the best wrestlers in the UFC, but don't expect a grappling match and here's why.
MacDonald currently possesses a 57.6-percent takedown accuracy rate while Woodley is a former Division I college wrestler from Missouri where he worked alongside greats such as 2008 Olympian Ben Askren. On the other side of the coin, however, both of these guys are impossibly hard to put on the mat.
MacDonald stuffs 88.4-percent of his opponent's takedowns, which accounts for the highest takedown defense in UFC welterweight history. Woodley has amassed an even better number by stopping 94.1-percent of the takedowns attempted against him (combining his UFC and Strikeforce careers).
In the striking realm, Woodley is a powerful fighting landing just over two knockdowns per fight while MacDonald has the fourth highest striking rate in the welterweight division currently. While there's no guarantee these two won't dive for the takedown, everything seems set up for MacDonald and Woodley to bang it out with one of them not stopping until the other is on the floor staring up at the lights.
Somebody's Getting Knocked Out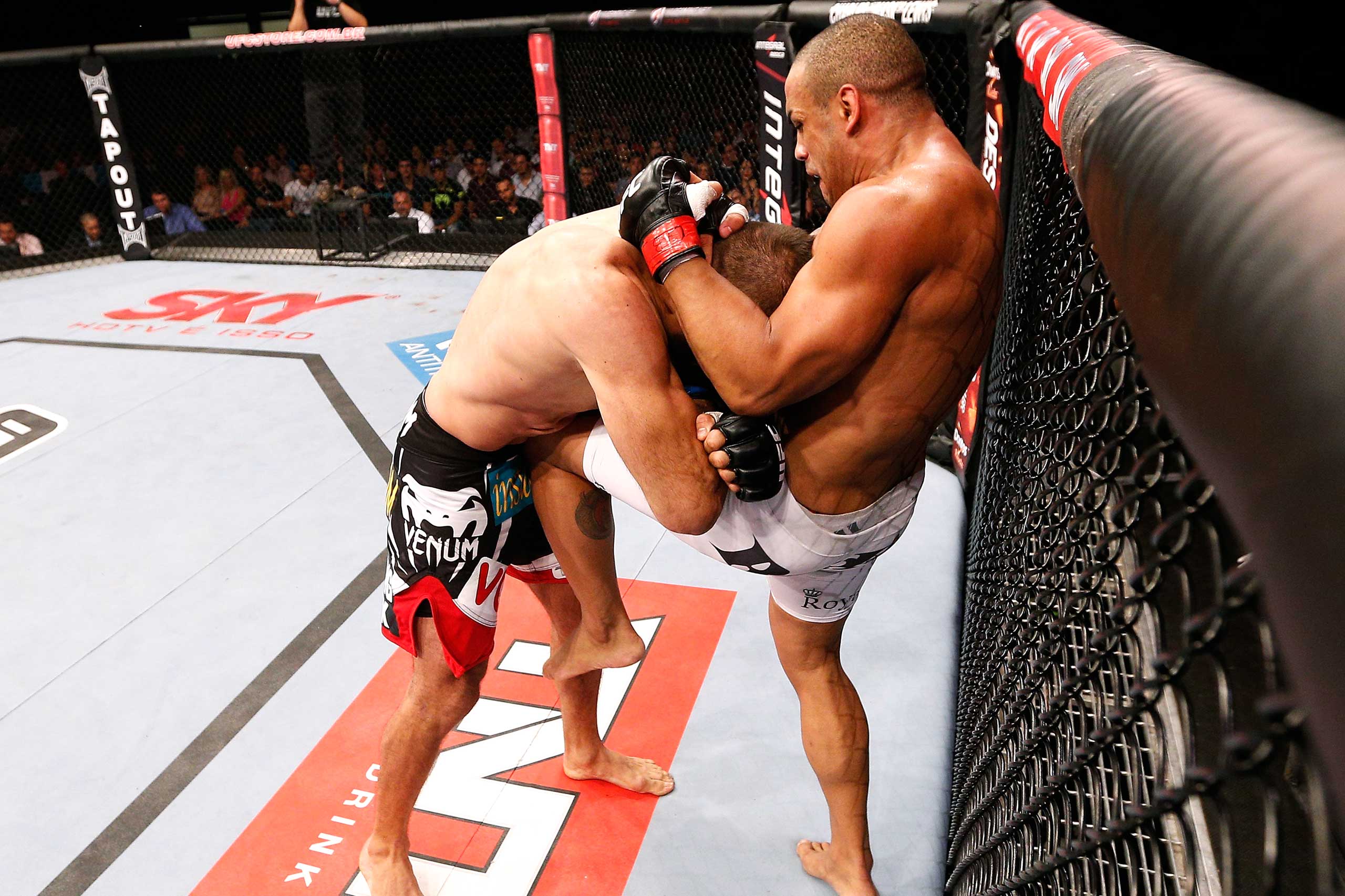 Two of the most powerful punchers in the light heavyweight division square off in the fight between Ryan Bader and Rafael 'Feijao' Cavalcante.
Bader has three knockouts or TKO's to his credit since coming to the UFC, not to mention his last fight against Anthony Perosh where the former Ultimate Fighter winner decimated the Australian with a barrage of punches over the course of their three round fight. The numbers were so lopsided it was absurd with Bader out landing Perosh 156 to 11 in total strikes.
As for Cavalcante, he is a well known knockout artist with a 100-percent finishing rate in all of his 12 career wins. The Brazilian isn't just throwing haymakers either because he lands at 56.5-percent accuracy, which is 14 points higher than the UFC average.
Expect these two to drop bombs early and often until one of them falls over for good.
The Return of the Pitbull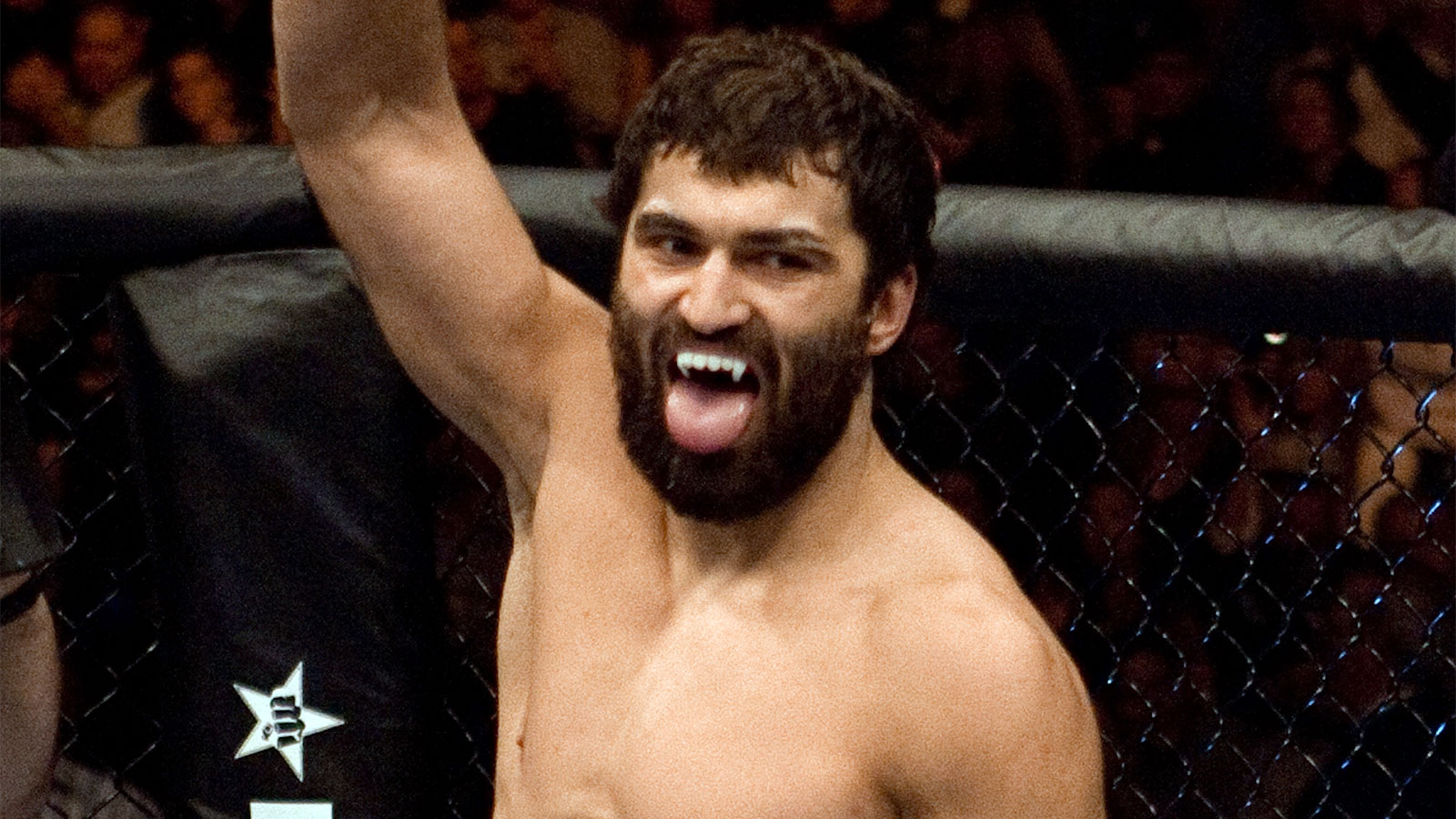 It's been six years since Andrei Arlovski fought in the UFC, but the former heavyweight champion will return to the Octagon at UFC 174 when he faces former Ultimate Fighter finalist Brendan Schaub on the pay-per-view main card.
Arlovski has amassed a 4-1 record in his last five fights to earn his way back to the UFC, but few can forget the dominant run he had as champion several years ago. The Belarus native put together a six-fight win streak and two title defenses as heavyweight champion, and even after he dropped the belt UFC Arlovski still put on a show winning his next five fights in a row.
With wins over names like Roy Nelson, Fabricio Werdum, and Ben Rothwell, Arlovski is still a relevant name to the heavyweight division and it should be fun to see him return to the house he helped build once upon a time.