Worst Tweet of 2013: '€˜Mayhem' Miller'€™s racist slur against Uriah Hall
There'€™s lowbrow. There's tasteless. And then there's just plain racist.
Jason '€œMayhem'€ Miller has had a rough couple of years with being cut by the UFC and getting arrested on two separate occasions. His most embarrassing showing yet might have been calling UFC middleweight Uriah Hall the n-word on Twitter.
The two men got into a scuffle back in October at a regional MMA show in California. Miller dropped the n-word on Hall then and, just to make sure it hit home, said it again on Twitter.
Hall was nothing short of stunned. Miller was someone he looked up to, especially as a host on MTV'€™s '€œBully Beatdown.' Hall, a victim of bullying himself, could relate to the show. He said he was '€œstar struck'€ when he saw Miller at the event.

"€œI thought, 'Holy cow, it'€™s '€˜Mayhem'€™ Miller and he'€™s calling me a racist name,'€™"€ Hall told Fox Sports. "€œIt was so weird."€
Hall that growing up a friend of his grandfather's would explain to him why that word was so bad.
"€œEvery time you say, '€˜What'€™s up, my n-word?'€™ you'€™re actually saying, '€˜What's up my little degraded friend,'€™" Hall said.
Miller and his ex-girlfriend were arguing at the show and girls who train with Hall were gathered around. Hall said he just wanted to see what all the fuss was about. He didn'€™t expect a '€˜Mayhem'€™ meltdown.
A few days later, Miller tweeted him an apology for his '€œghetto behavior'€ and also got Hall's number and sent him a text saying he was sorry, too.
"€œI forgave him,"€ Hall said. "€œHe was probably going through some s**t."
Hall is a nicer guy than most. It's hard to make excuses for Miller'€™s ridiculous actions.
HONORABLE MENTION:
Nate Diaz'€™s racial slur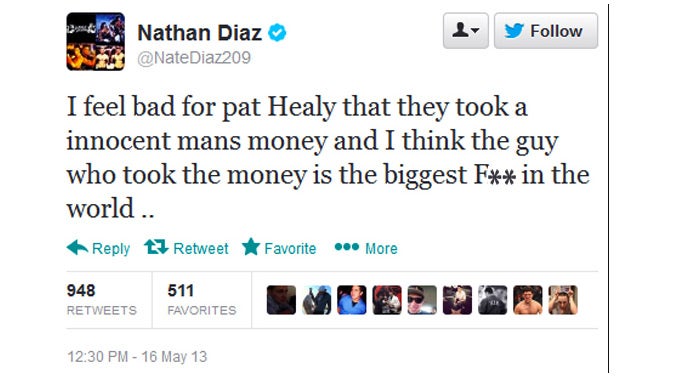 Look, we get it. The Diaz brothers are hard. They're from Stockton. They'€™re raw. You know, 209 and all that stuff.
But Nate Diaz went a little too far when he tweeted that Bryan Caraway '€œthe biggest f** in the world'€ back in May. Pat Healy was suspended after UFC 159 for testing positive for weed and his $65,000 Submission of the Night bonus went to Caraway, who choked out Johnny Bedford with a guillotine on that same card.
Diaz, who is a big supporter of pot like his brother Nick, took umbrage and decided to slur Miesha Tate's boyfriend on Twitter. For his troubles, Diaz was hit with a $130,000 fine. Maybe that'€™ll teach him a lesson – you can call Caraway a b*tch, but stay away from the homophobic s***t.
Conor McGregor'€™s raunchy threesome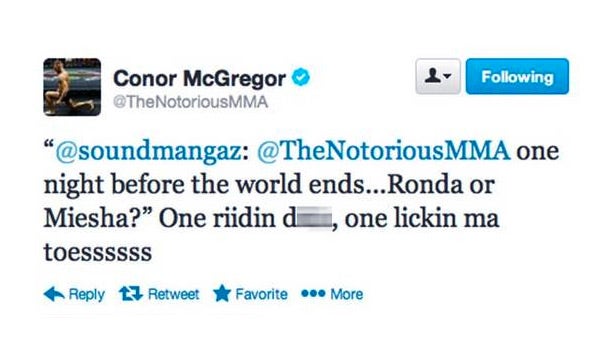 OK, so there probably isn'€™t a male UFC fan who'€™d turn it down. But if there'€™s only thing we'€™ve learned about social media, it'€™s all about presentation. And Conor McGregor failed to use any tact when he tweeted that he'€™d like to have a threesome with Ronda Rousey and Miesha Tate – and went into explicit details to describe it.
Apparently, McGregor was quoting from song lyrics, in which case we'd like to check out some of the music they'€™re listening to in Ireland these days. Either way, his toe-suckin'€™ comments pretty much broke Twitter and he eventually apologized for his "€œtotally unacceptable and offensive" comments. Certainly sounds like that was written by a publicist.
Anyway, Tate was totally cool about it, tweeting back to the budding featherweight star, "€œI knew you were just joking!"
But was he, though? Really?
Bryan Caraway probably didn'€™t take this as well as Miesha did.