Making the Grade: Passes/Fails for UFC Fight Night: dos Anjos vs. Cowboy 2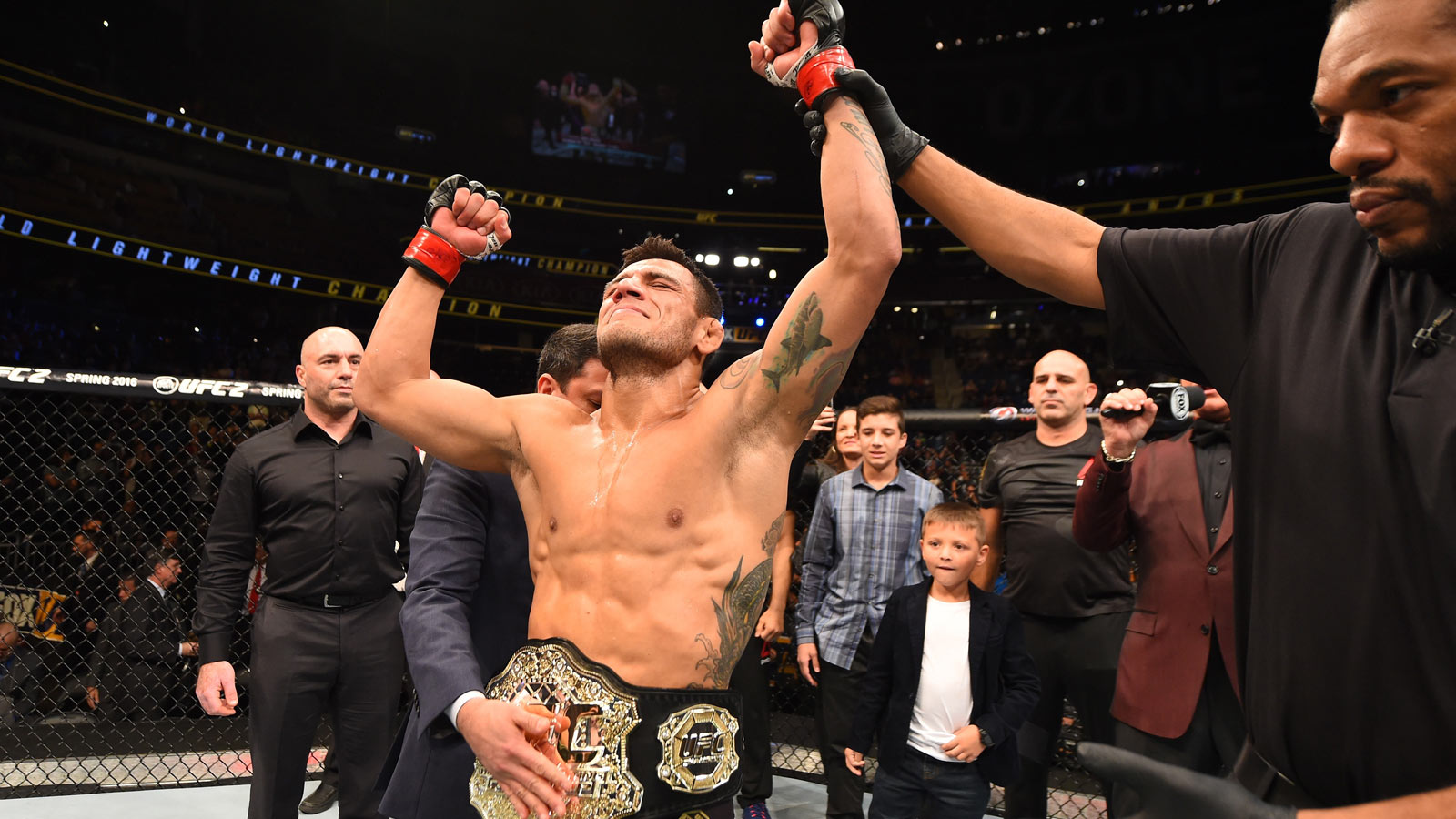 Rafael dos Anjos put a stamp on his UFC lightweight title Saturday night after finishing Donald "Cowboy" Cerrone in just 66 seconds to cap off an incredible year for him and one of the best years ever for the UFC.
While he was the favorite going into the fight, dos Anjos felt decidedly like an underdog after his performance over Anthony Pettis was somehow largely forgotten heading into his first title defense. But he certainly reminded everyone what he's capable of doing after dispatching Cerrone with a brutal display of striking just over a minute into the first round.
Also on the card, Alistair Overeem made a huge statement with a second-round knockout over former champion Junior Dos Santos. Overeem had a lot riding on the fight with his pending free agency and now he holds a lot of power in negotiations after becoming only the second UFC fighter to finish Dos Santos in his career with the promotion.
But we already know the results from Saturday night so we're going to dig a little deeper to see what passed and what failed in the final UFC card for 2015.
This is Making the Grade for FOX UFC Fight Night: dos Anjos vs. Cerrone 2.
PASSES
Dos Anjos Earns Respect By Any Means Necessary
Following a huge win in March when he defeated Anthony Pettis in a rout, Rafael dos Anjos was forced to sit out the rest of the year dealing with a knee injury while waiting for his first title defense scheduled against Donald "Cowboy" Cerrone. In his time away, dos Anjos watched three other UFC champions fall so he knew there was a lot of pressure on him to prove that his last win wasn't a fluke.
As soon as he landed his first strike, dos Anjos showed that he was just as deadly now as he was in March and once he had Cerrone in trouble, he put him down to leave no doubt who is the best lightweight in the UFC.
While his notoriety is still on the rise, dos Anjos proved that he's one of the most lethal fighters on the UFC roster and he's ready for whatever the deepest division in the sport will throw at him. Whether he scores a big payday with a fight against Conor McGregor or waits for another contender to emerge, dos Anjos is clearly the No. 1 fighter in the world at 155 pounds and he deserves a lot of credit for the kind of performance he put on against Cerrone.
Pay That Man His Money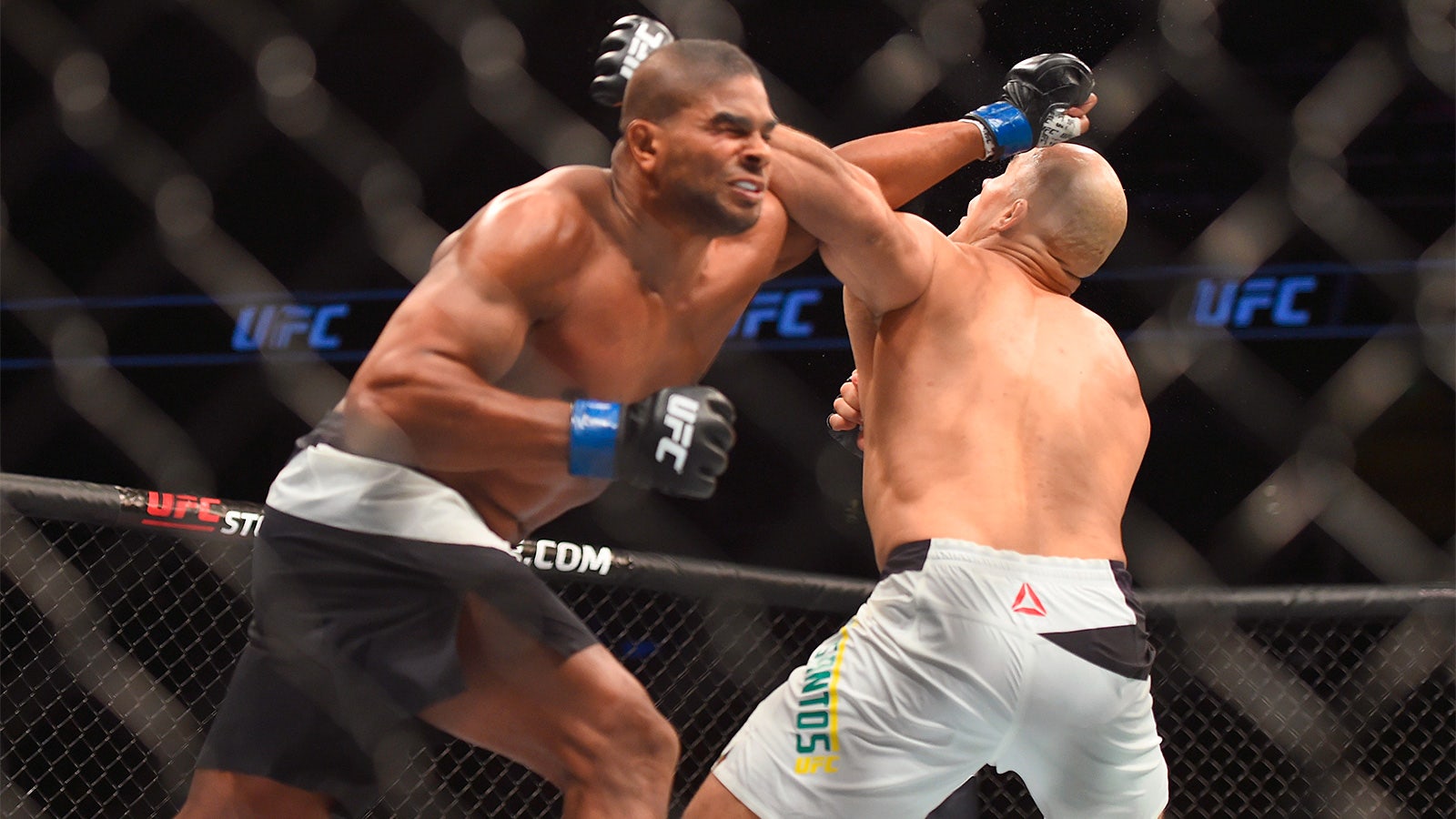 When Alistair Overeem was first signed to the UFC, he was touted as the most dangerous striker in the heavyweight division and possibly the biggest threat to the champion at the time, Junior Dos Santos. Unfortunately, Overeem fell to a pre-fight drug test ahead of their fight and he ended up dropping three of his next four fights. The skid forced Overeem to make some tough choices, but it also resulted in his arrival in New Mexico, where he began working with the coaches at Jackson-Winkeljohn and his performances since then have been nothing short of stellar.
Overeem has now won three fights in a row — including his second-round TKO over Dos Santos on Saturday night — and he enters a period of free agency negotiations off a win and a legitimate claim to a title shot in 2016. Overeem holds a win over current champion Fabricio Werdum and he's certainly one of the better names in a division clamoring for a new No. 1 contender.
Overeem deserves to get paid a hefty sum considering he's always a fun fighter to watch and with his win over Dos Santos, he's also a real threat to finally become UFC heavyweight champion.
It Was a Very Good Year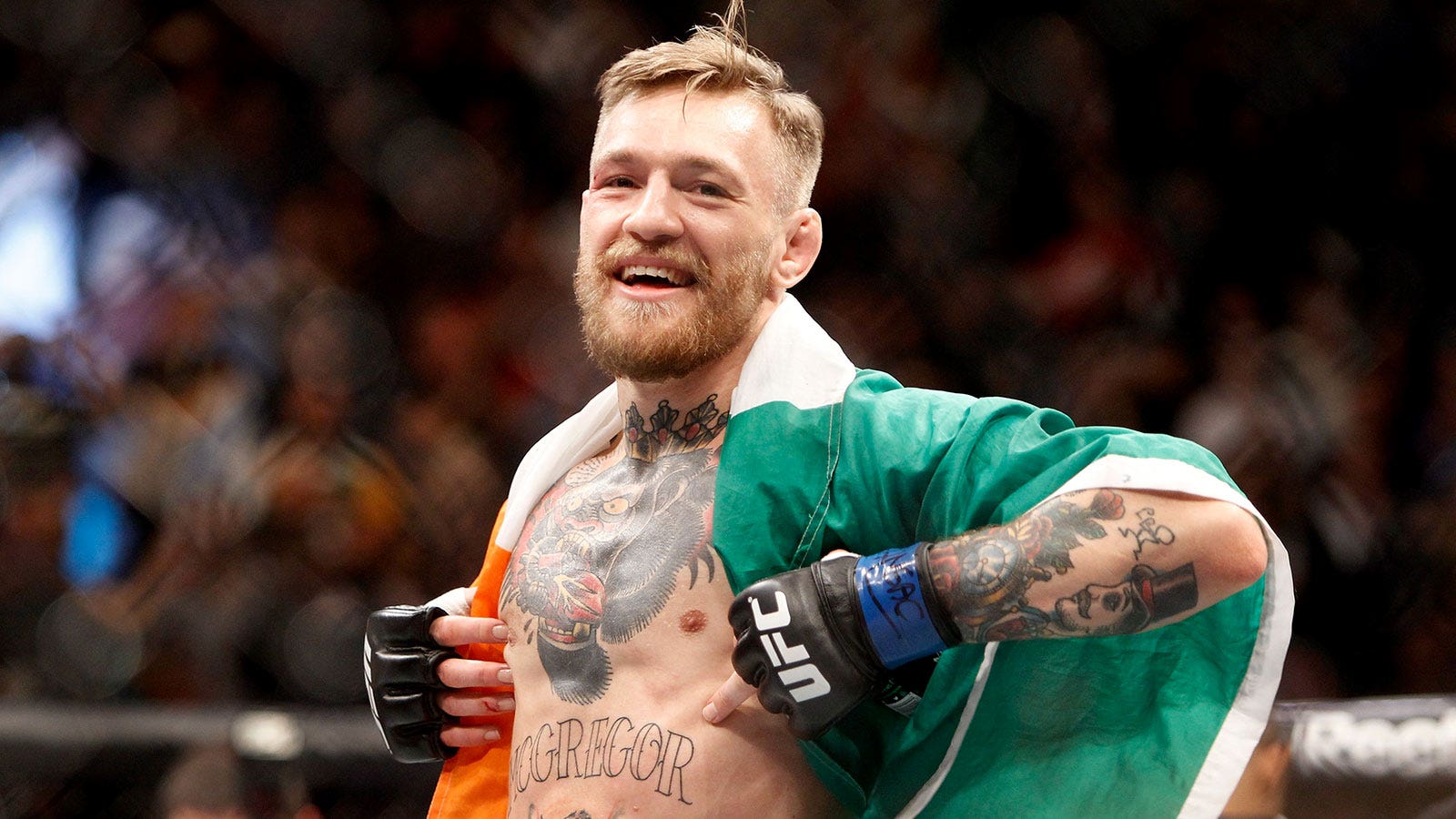 To quote the great Frank Sinatra "it was a very good year" for the UFC in 2015.
The promotion closed out the year with another great card Saturday night with dos Anjos defeating Cerrone in the main event and that came on the heels of potentially the biggest show of 2015 with Conor McGregor taking out Jose Aldo in just 13 seconds at UFC 194.
McGregor headlined three huge shows this year, including his fight against Dennis Siver on FS1 and then shattering gate records with his fights against Chad Mendes at UFC 189 and then Aldo at UFC 194.
Ronda Rousey also became a household name this year with her win over Cat Zingano in February before a monster show at UFC 190 in Brazil, where she dispatched Bethe Correia in less than a minute. Of course the Rousey show came to a sudden halt in November thanks to Holly Holm's second-round head kick knockout, but that event will go down as one of the most talked about in UFC history.
All told, 2015 saw five new champions crowned with the potential for four separate pay-per-views — UFC 189, UFC 190, UFC 193 and UFC 194 — going down as some of the largest in the history of mixed martial arts. The UFC certainly deserves a round of applause for a huge year while hopefully setting the stage for another enormous offering in 2016.
FAILS
Weighty Matters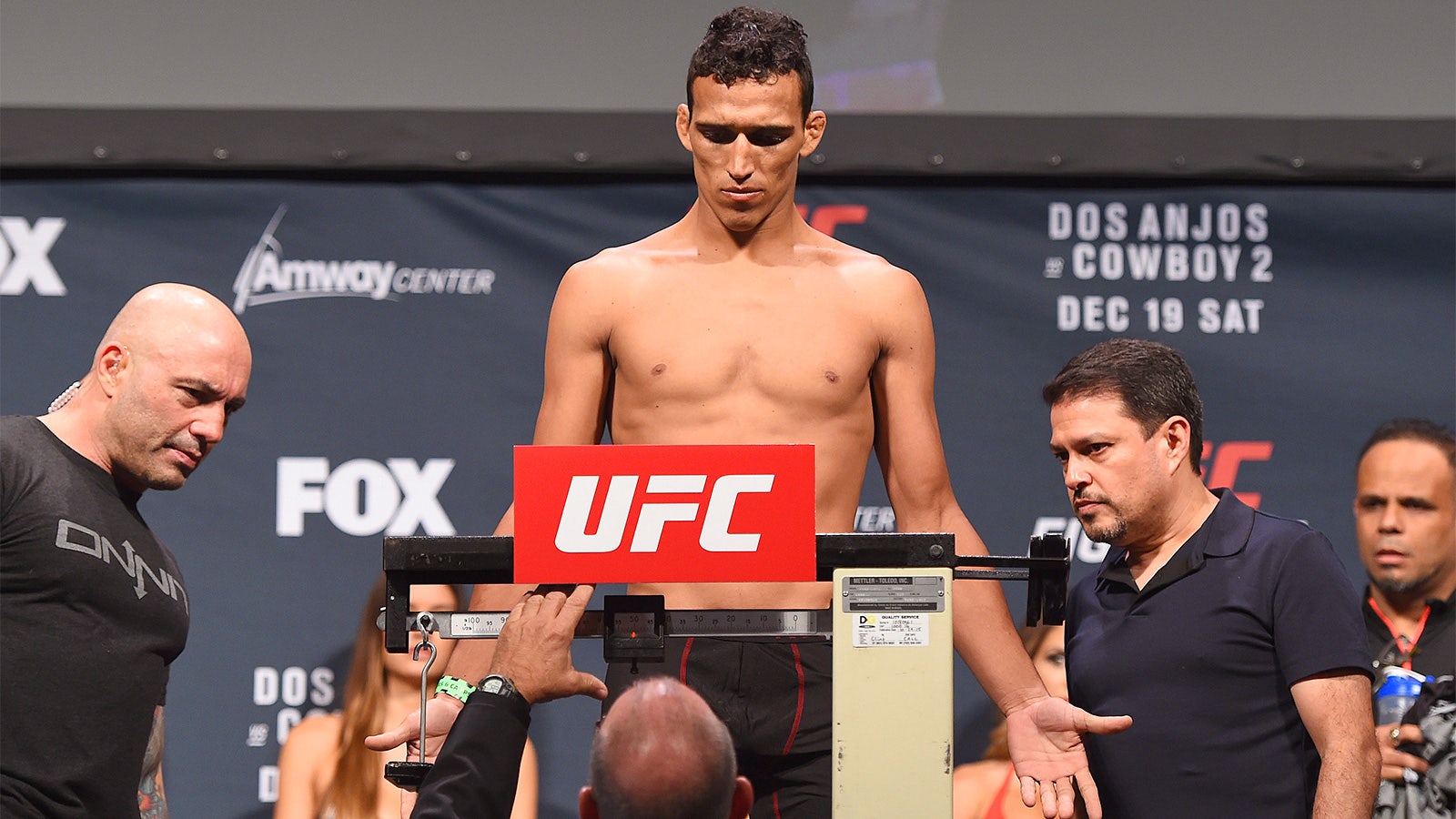 Charles Oliveira might be one of the best featherweights in the world, but until he can consistently hit the scale at 145 pounds, he'll never be a real threat to the champion.
Oliveira has now missed weight three times while fighting at featherweight and it's really a shame considering the kinds of performances he's put on lately. If you discount his weird injury stoppage that kept him from actually fighting Max Holloway in August, Oliveira has won five fights in 2014 and 2015 with four submissions and only one decision on his resume during that time. Oliveira could be a candidate to compete in a No. 1 contender's match in 2016 if he could only figure out how to actually fight at featherweight.
Weight cutting issues are no joke — Nik Lentz said on Saturday night that he'll never cut to 145 pounds again after he suffered some serious medical issues after making that cut for the final time earlier this year. Oliveira should make note because if he's struggling that much to make it to 145 pounds, title or not tile, maybe fighting at featherweight isn't his best course of action for the future.
If Oliveira truly believes he's a featherweight then he needs to start actually fighting on weight or there's going to be an asterisk next to every one of his wins.
EPIC FAIL
All New Judges
It seems appropriate to close out 2015 with one final rant about the abysmal judging that happens in MMA and the last show of the year for the UFC proved that once again.
Thankfully, poor scoring didn't cost anybody a win last night but there was no way to deny that the judges were all over the place with the cards for UFC Fight Night from Orlando.
Valentina Shevchenko made an impressive debut with a win over Sarah Kaufman, but despite her dominance through the first two rounds, one judge Barry Luxenberg ultimately scored the fight in favor of her opponent. The judging was so bad that even Kaufman called them out for declaring the fight a split decision.
"I don't think it should've been a split decision. She deserved to win," Kaufman said after the fight.
Then another UFC newcomer, Karolina Kowalkiewicz celebrated her win over Randa Markos after a hard fought battle that saw her taken to the mat and nearly submitted for a big part of the second round. Despite the obvious outcome of the round, judge Don Balas still inexplicably gave it to Kowalkiewicz when no one sitting cage side much less watching from home believes she won that round.
Bad judging doesn't always have to result in a fighter getting handed a loss when they deserved a win. It can just be one round going the wrong way or even a split decision, but the awful scoring that continues to plague our sport isn't going away and the sad part is, nothing much is being done to change it either.