Top 10 quotes from Irish superstar Conor McGregor
UFC featherweight Conor McGregor has not only stormed the rankings at 145 pounds while putting every fighter on notice in the last year, but he's also managed to become one of the most prolific talkers in the entire sport. From his first appearance in Sweden where he finished Marcus Brimage in just 67 seconds and then became the star of the post-fight press conference where he talked openly about being on social welfare just days before winning a massive 'Knockout of the Night' bonus, McGregor has been a quote machine since the day he signed with the UFC.
Considering McGregor now stands as the de facto No. 1 contender in the featherweight division with a trip booked to Brazil in two weeks time to witness Jose Aldo defend the title against Chad Mendes, there's no better time than now to count down the best of the best of the Irishman on the microphone.
He's never short on words, but he's long on quotability. So with that, let's take a look at the top 10 Conor McGregor quotes (so far):
10: "I didn't even grapple to get a brown belt! I must be the best brown belt on Earth!"
Following McGregor's win over Dustin Poirier at UFC 178, his coach John Cavanaugh awarded him his brown belt in Brazilian Jiu-Jitsu despite the fact that the fight never even came close to hitting the ground and his victory came by way of knockout. No wonder this Irishman believes he's so good!
9: "I didn't have money before this. I was collecting 188 Euro a week off the social welfare. And now here I am, with like 60 G's bonus and then my own pay. I don't know what the F's going on to be honest, right?"
McGregor might be running around in custom made suits today, but for his debut fight in the UFC he barely had two nickels to rub together in his pockets. It pays to be Conor McGregor these days.
8: "Midway through the second — I just can't get it out of my head — but looking back I should have just pulled my knee from my leg and hit him with it."
Injuries are part of the sport, but when McGregor blew out his ACL during his second fight in the UFC against Max Holloway, he pushed forward and still won by unanimous decision. Regrets, however, he had a few.
7: "He's a quiet, little hillbilly from the back arse of nowhere. His cousin is probably named Cletus."
McGregor's smack talk is legendary and when he took aim at Dustin Poirier ahead of UFC 178, he pulled no punches whatsoever.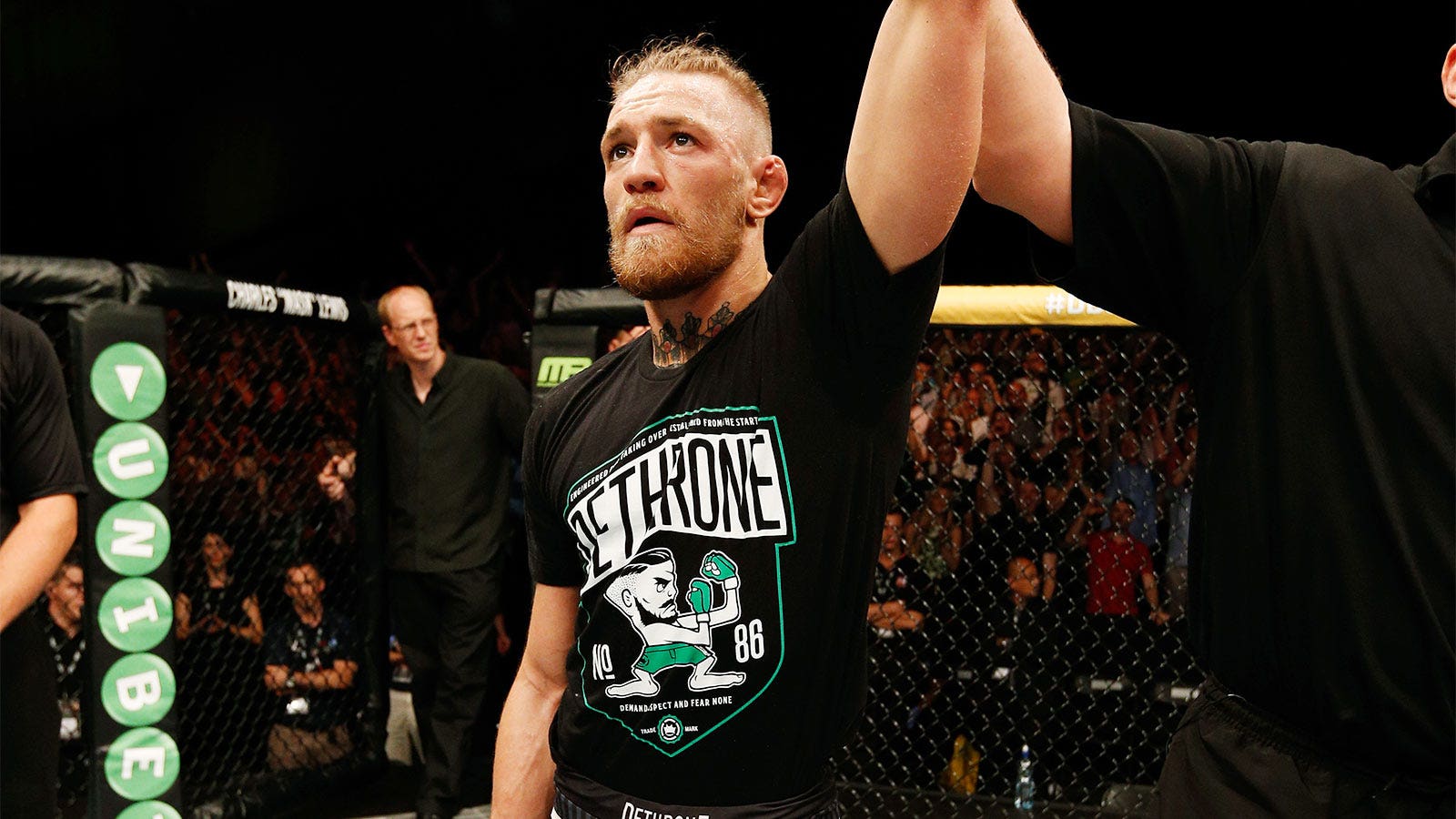 6: "There's two things I really like to do and that's whoop ass and look good. I'm doing one of them right now and on Saturday night, I'm doing the other."
Before he made his U.S. debut in Boston, McGregor whipped out this gem. Maybe he was watching "They Live" before he made it to that press conference?
5: "Eighteen fights in the UFC, or 17, I don't even know, and the motherf–ker couldn't even get off Facebook. Mark Zuckerberg rang and tried to get that man off Facebook. Nobody cares about him."
You don't get to 500 million friends without at least making Cole Miller an enemy, because that's who McGregor was going after with this quote from 2013.
4: "I am cocky in prediction. I am confident in preparation, but I am always humble in victory or defeat."
Conor came up with this one at the UFC 178 post-fight press conference and $20 says some UFC fighter within the next five years will be tweeting this exact quote as inspiration before or after a bout. Guaranteed.
3: "If one of us goes to war, we all go to war!"
McGregor isn't just well known in his home country of Ireland — he's a hero at this point. So when he fought in Dublin earlier this year there was no doubt he had a sea of green in his corner and the entire Emerald Isle behind him. Erin go bragh indeed.
2: "These custom-made suits aren't cheap. This solid gold pocket watch, three people died making this watch. I need to put people away. I need those big fights. I'm going to end up in debt pretty fast."
Conor likes to make money almost as much as he likes spending money. Who else is going to buy those $5,000 suits and Rolex watches?
1: "We're not just here to take part — we're here to take over."
There are a million hilarious Conor McGregor quotes, but this one stands out above all the rest. When the UFC first landed in Ireland several years ago there wasn't a viable superstar in the country ready to conquer the biggest stage in MMA. McGregor's emergence answered that call and now he believes the Irish fighters are ready to not only become a permanent part of the UFC, but they're coming for gold.