The Best Walkout Songs in the UFC in 2014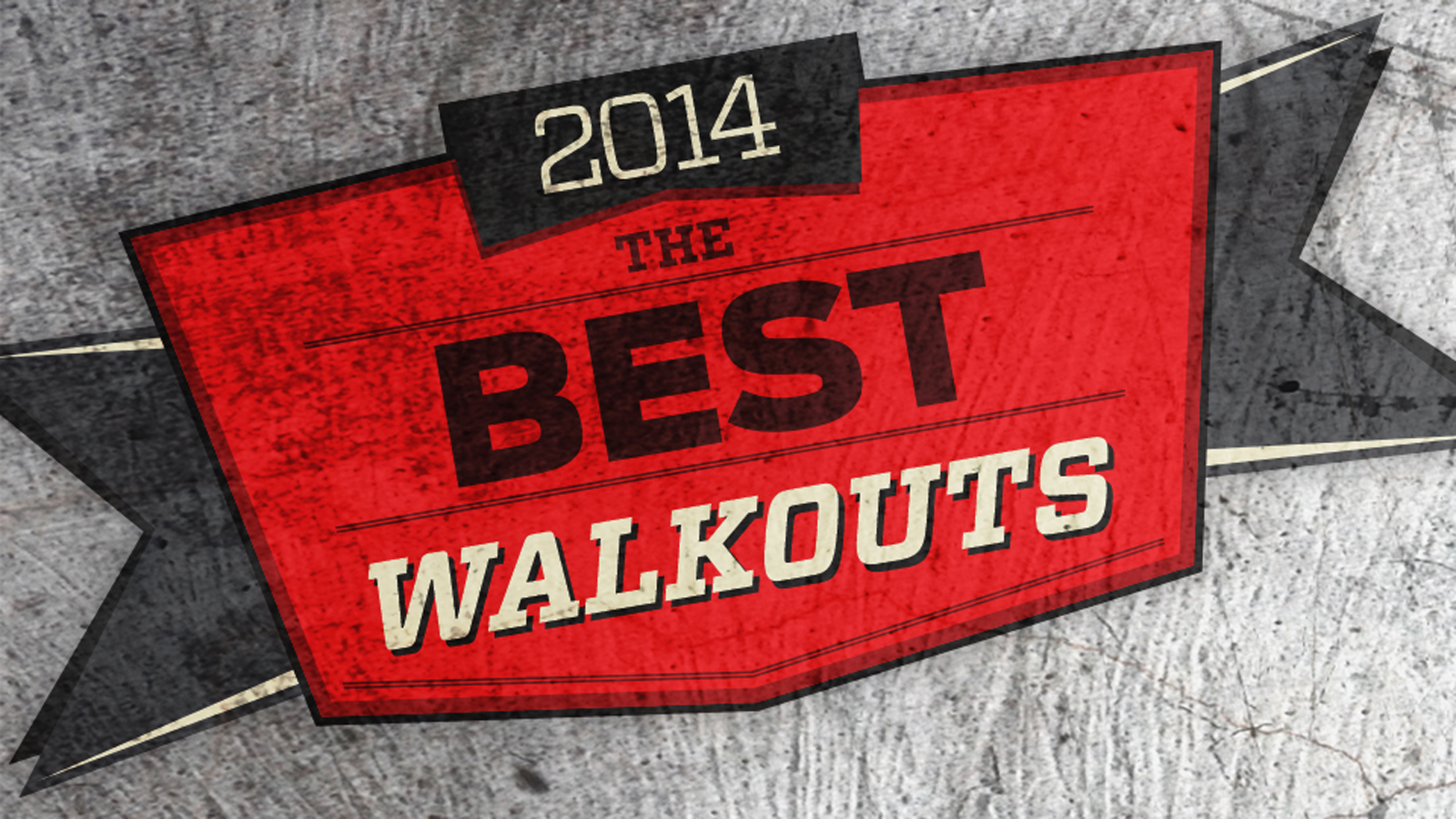 Quite possibly the best moment to sit in an arena during a UFC show is when the lights drop and the crowd goes silent just before a bass thump hits the speakers and a fighter begins his or her walk to the Octagon.
It happens at least 20 times a night during any UFC card, but the walkout song has transcended just being a top-40 hit playing while a fighter trots to the Octagon. While some fighters still don't seem to care much about what music is played before getting into the cage, many use these final few moments to get the adrenaline pumping and focus their minds ahead of the battle at hand.
2014 was no exception when it came to great moments for walkouts and walkout songs and without even knowing it, the fighters helped create a soundtrack for the UFC in the past year.
There were literally hundreds of choices, but when it was all said and done, these were the top 10 walkouts for the UFC in 2014.
10. Dan Henderson – "Made in America" by Toby Keith at UFC Fight Night: Henderson vs. Shogun 2
Dan Henderson is a very proud American so this track just makes all the sense in the world for him. It's even better when he uses it in countries around the world just to remind fans and opponents that he's red, white and blue right down to the core.
When he used this track before his fight against Mauricio 'Shogun' Rua in Brazil, Henderson set the tone for the night and he needed every bit of his star-spangled spirit to make it through two very difficult rounds before landing the H-bomb in the third round to put a stamp on his victory.
9. Nick Hein – "Bad Street USA" by the Freebirds at UFC Fight Night: Edgar vs. Swanson
Most people not on Austin, Texas back in November even saw this walkout, but Nick Hein managed to pull off one of the best musical selections of the year with this little known track from the annals of professional wrestling history.
The Freebirds — a 1980's pro wrestling group — created this song as their own walkout music, which was a new concept when they made the track in the first place. As much as some MMA purists don't like to admit it, there is a close connection between fighting and professional wrestling and it's never more evident than when a competitor walks to the cage with music blaring overhead. This was one of the first major professional wrestling walkout songs so it was a nice touch to hear it played just before an MMA fight in the UFC.
8. Ronda Rousey – "Bad Reputation" by Joan Jean and the Blackhearts at UFC 170
As long as Ronda Rousey is fighting she will probably eternally be on this list for the best walkout songs because her use of the Joan Jett classic 'Bad Reputation' might be the most befitting track used by any UFC fighter.
Rousey doesn't give a damn what anybody thinks about her and this is just the perfect song for the most dominant woman in all of mixed martial arts.
7. T.J. Dillashaw – "Can't Stop" by the Red Hot Chili Peppers at UFC 173
It's always nice when an artist chosen for a walkout song also happens to be a massive UFC fan. So when T.J. Dillashaw used this track by the Red Hot Chili Peppers before walking to the Octagon when he won the UFC bantamweight title and the band members applauded his victory on Twitter, it was just that much cooler.
Dillashaw kept the track alive for his next fight as well when he knocked out Joe Soto and at this point the champion is probably going to have to be an honorary Chili Pepper for life.
6. B.J. Penn – "Hawai'I' '78 Introduction" by Israel Kamakawiwo'ole at the TUF 19 Finale
Some walkout songs and moments are just greater than any one fight. Take for instance B.J. Penn's final walk to the cage back in July prior to a loss to Frankie Edgar. It was tough to watch Penn fall to defeat to Edgar for a third time and it was even tougher to hear him well up with tears at the post fight press conference as he walked away from the sport for the final time, calling it a career.
Still, Penn will always be remembered as a legend of the Octagon and the greatest Hawaiian fighter that's ever laced up the gloves. So it was always quite fitting that he used this track to walk to the Octagon because Penn was a Hawaiian through and through and this was just the perfect soundtrack to a legendary career in fighting.
5. Luke Rockhold – "Battle of New Orleans" by Johnny Horton at UFC Fight Night: Rockhold vs. Bisping
No one will ever mistake this track from Johnny Horton as the next chart topper on rock or rap radio, but Luke Rockhold pulled off one of the best walkout songs of the year because of the meaning behind the track he chose.
'The Battle of New Orleans' is significant because it was the final engagement between the United States and the United Kingdom in the War of 1812. Rockhold used the song as he walked to the cage to take on Michael Bisping, who just happens to be from England.
The cerebral battle in this fight was won before the referee said go.
4. Carla Esparza – "Harvester of Sorrow" by Metallica at the TUF Finale
It's funny how much a walkout song can define a fighter so perfectly, but new UFC champ Carla Esparza managed it with her use of the Metallica song 'Harvester of Sorrow' prior to her win at The Ultimate Fighter Finale back in December.
Outside of the cage, Esparza is bubbly, perky and always has a smile plastered across her face and maybe one of the nicest people you'd ever meet. When the Octagon door closes, Esparza flips a switch and becomes a terminator just like she proved when she took out Rose Namajunas to win the UFC women's strawweight title with a dominant, third round submission victory.
Don't ever judge a book by its cover because Esparza might be the sweetest person on the UFC roster, but she's like a pitbull when she's in fight mode and she certainly is the harvester of sorrow for any 115-pounder hoping to take her title away.
3. Matt Brown – "Hail to the King" by Avenged Sevenfold at UFC Fight Night: Brown vs. Silva
Fighting close to home can be both a blessing and a curse, but Ohio native Matt Brown made the most of his moment when he ran to the Octagon for his fight against Erick Silva in Cincinnati, Ohio in May 2014. Brown's former teammate and friend Rich Franklin had long reigned as the king of the Queen City by the river, but this was a chance for the former Ultimate Fighter and top five ranked welterweight to secure his spot upon the throne.
It was befitting that Brown used this track from Avenged Sevenfold for his walkout song and after he bludgeoned Silva for three rounds en route to a TKO victory, the track took on even more meaning as he walked out of the Octagon as the new king of Ohio.
2. Robbie Lawler – "Hold On (I'm Coming)" by Sam and Dave at UFC 181
Leave it to new UFC welterweight champion Robbie Lawler to not only beat the odds with his improbable return to the promotion, but then storming all the way to the top of the division before conquering Johny Hendricks to win the gold at UFC 181 in December.
To top it off, Lawler switched from his usual walkout music ('Beautiful' by Eminem) and opted for this classic soul hit instead. If you can listen to this track without immediately feeling the need to get up and dance you might want to have your pulse checked.
It seemed to work for Lawler as he defeated Hendricks and walked out of 2014 as the reigning welterweight champion of the world.
1. Conor McGregor – "Foggy Dew/Hypnotize" mashup by Sinead O'Connor/The Chieftans and the Notorious B.I.G at UFC Fight Night: Dublin
There are a lot of lists that Irish superstar Conor McGregor is topping right now and this one is no exception.
When McGregor was set to headline the UFC's return to Ireland, everybody involved knew it was going to be a special moment. But no one could have anticipated the feeling when Sinead O'Connor's voice rang out through the O2 Arena in Dublin as McGregor slowly began his walk to the Octagon that night. The crowd was already at a fevered pitch from a night filled with a slew of Irish victories, but when McGregor took the stage it felt like a title fight despite no belt being on the line.
McGregor's music then slowly faded as The Notorious B.I.G. then hit the speakers and he took his final steps towards the cage before dismantling former Ultimate Fighter winner Diego Brandao in less than one round. It's hard to imagine Sinead O'Connor and The Notorious B.I.G. working in tandem, but if there's anyone that can pull it off and make it one of the best moments of the year, it's 'The Notorious' Conor McGregor.