Survival of the fittest: Tim Kennedy talks 'The Best Ranger Competition'
For over 30 years, the best of the best from the Army get together at Fort Benning, Georgia over the course of three days to compete against one another in a series of grueling events as two-man teams attempt to place the highest scores while taking on their fellow soldiers and veterans.
The Army Rangers, who are widely regarded as some of the fiercest and most well conditioned soldiers in all the military, get together once a year for a sort of 'Ranger Olympics' known as 'The Best Ranger Competition'.
First starting in 1982, the competition sought to fight the best two-man team who would go through a rigorous course that would test the mind, body and spirit. For the first time ever, cameras were allowed to document the process of the 'Best Ranger Competition' for a special documentary that will air on FOX Sports 1 this Memorial Day at 8p ET.
Video: The Best Ranger Competition
Just being involved is something special for any Ranger who has a chance to go through the three-day course, and while every member of the military is ultimately after the same goal of protecting their country and watching each others backs, there's nothing wrong with some friendly competition between the ranks.
Before he was a top 10 ranked UFC middleweight, Tim Kennedy was a Green Beret, Ranger qualified, who like any soldier in the Army knew all about the Best Ranger Competition. While he was never able to do it himself, Kennedy attended the festivities on a few occasions and even though he wasn't competing, he carried a sense of pride watching his colleagues and brothers all digging deep to try and capture the top spot.
"I've attended a couple of them. I would have absolutely loved to have participated in them and competed in them, but it's the opposite of fight training. I would akin it to an Iron Man competition with guns, tanks, helicopters and grenades," Kennedy said about the competition when speaking to FOX Sports.
It's a good thing. It's an iron sharpens iron kind of thing. Of course there's competition and everybody's trying to be the best, but everybody's fighting for the same team
— Tim Kennedy
Over the course of the competition, Rangers will do 'buddy runs', which could mean a seven mile hike while carrying equipment or just a couple of miles while moving supplies just like they would do when deployed overseas. The teams compete in shooting events, water survival tests, and several obstacle courses including ones called the 'Malvesti' and the 'Darby Queen'.
Kennedy endured those same obstacle courses during training to become Ranger qualified, and while there's no doubt they are physically taxing and mentally training, he adored going through them each time. The obstacle courses can include any number of tasks including rope climbs, zip lines, and a 25-meter muddy course obstacle in barbed wire.
What the soldiers are going through in the Best Ranger Competition is the exact same training required to get through Ranger school in the first place, and there's a reason why being an Army Ranger is considered to be a great honor in the military. It's not for everybody.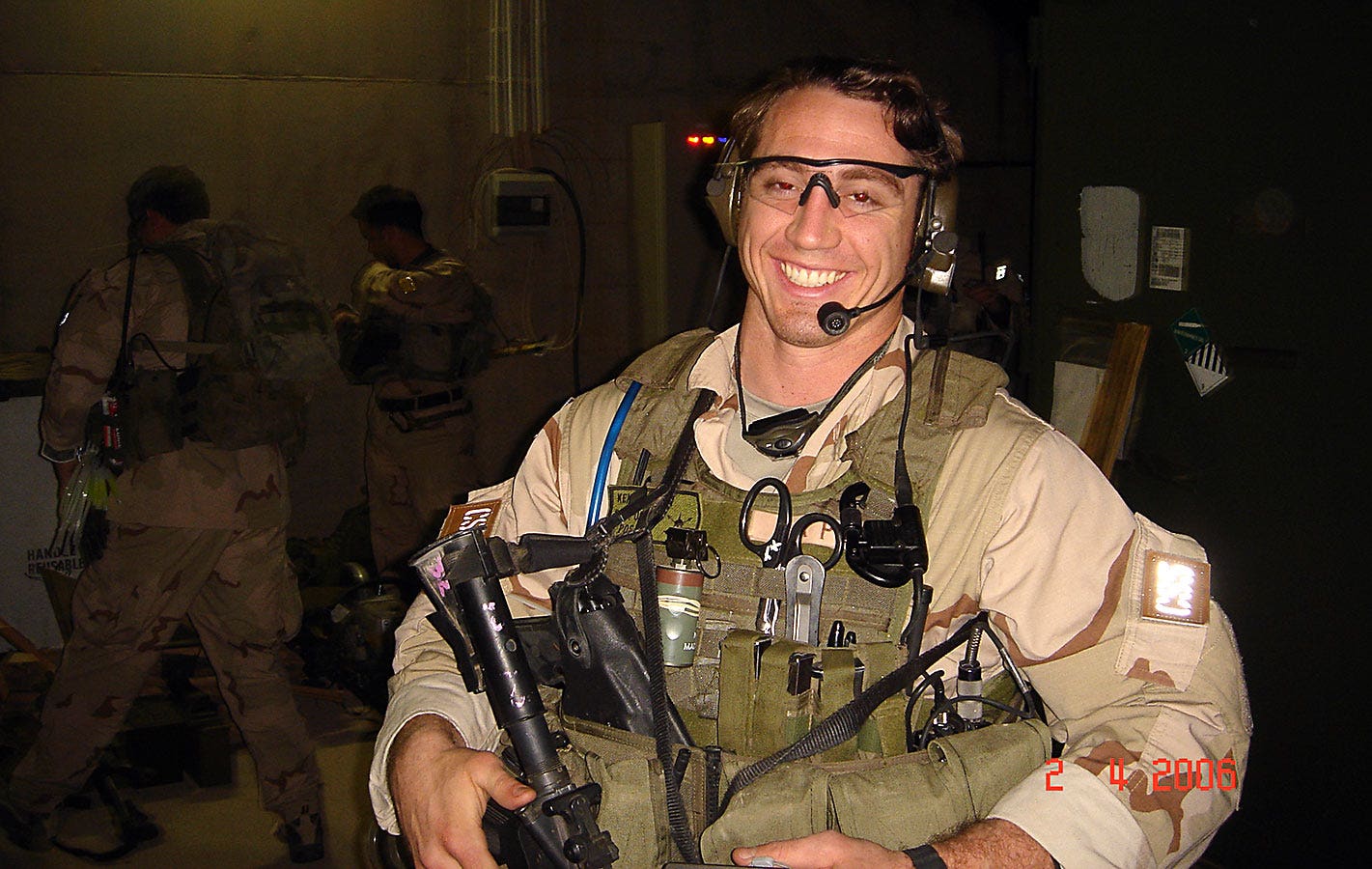 "In the Army there's a handful of them that are special," Kennedy said about the obstacle courses. "In each specialty unit they have an obstacle course and some of them are infamous for certain things and all of them have a reputation for sucking. I think they're a blast I love them. I think obstacle courses in general are a blast and I love the Green Beret one, I've done it I don't know 20, 30, 40 times. I'm always trying to break my time from the last one or use a new technique to get through a certain obstacle."
Now it might seem a little strange to the average person that the Rangers go through this Olympic style competition when the end goal is the same for everyone of them if they happen to get deployed in a live action situation. As Kennedy explains, competing against your fellow soldiers happens on the first day you arrive at basic training and doesn't stop at any point after that because pushing yourself to be better is the definition of what it means to be a member of the United States military.
One soldier pushing another soldier to get better is what makes them the best.
"Every single juncture and every single event, it's an opportunity to show that you're better and faster and stronger and tougher. Whether it's PT in the mornings or combatives training in the afternoon, or on the range on Tuesday/Wednesday/Thursday. Whatever that event is, it's pushing each other just a little bit further and by design it's like that," Kennedy explained. "It's a good thing. It's an iron sharpens iron kind of thing. You have a whole bunch of it there.
"Of course there's competition and everybody's trying to be the best, but everybody's fighting for the same team. It's not like we're going to sabotage each other's equipment before an event. That's not the idea or the intent behind it. There is a sense of comradery behind it."
The Best Ranger Competition is a special event that every soldier who has ever gone through Ranger school understands and would likely enjoy conquering. While at the end of the three days, only one team can come away as the champion, everybody who competes feels a sense of accomplishment.
Kennedy is certainly focused on his fight career right now and working his way towards a UFC title shot, but deep down at some point in the future, there's no denying he would love to take part in the Best Ranger Competition and maybe even bring another title home.
"Just participating in that, it's humbling to be a part of it," Kennedy said. "I would love to do it and it's something that I've always wanted to do, but something I've never had the time to do it. I would love to do it."
Watch 'The Best Ranger Competition' Memorial Day at 8p ET on FOX Sports 1.