Spinning sh*t: A look back at the only two spinning arm knockouts in the UFC before Kim vs. Hathaway
At the TUF China Finale last weekend, Dong Hyun Kim became just the third man in UFC History to finish a fight with a spinning arm strike when he viciously KO'd John Hathaway in the third round of their main event scrap. The centrifugal force (or "spinning sh*t," as Nick Diaz would put it) generated by Kim's beautifully placed elbow was roughly equivalent to an F-4 tornado and no I will not back that up with facts, so to honor "Stun Gun's" stunning, spinning win, we are taking a look back at the ones that came before it.
John Makdessi vs. Kyle Watson – UFC 129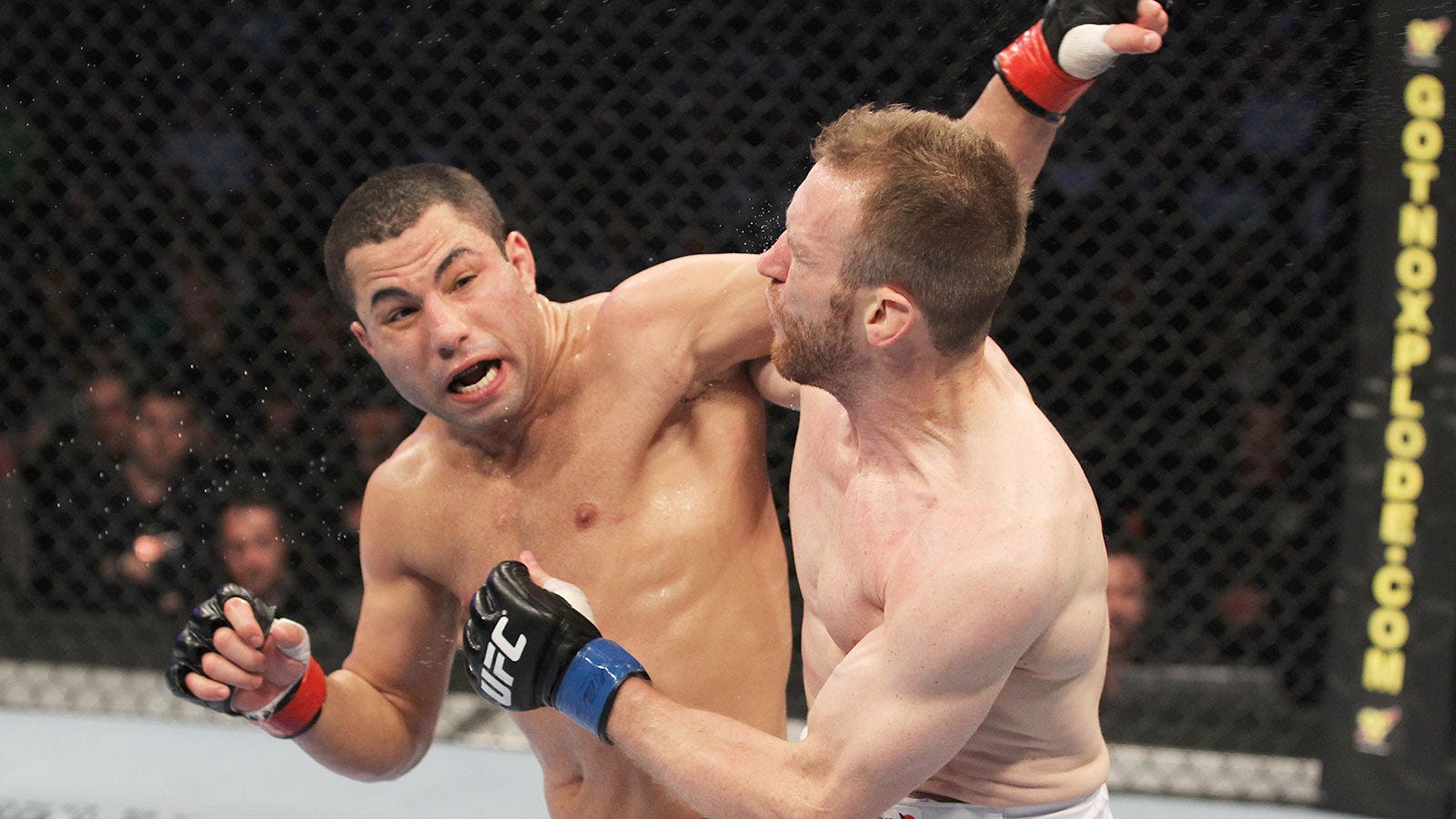 UFC 129 was a veritable potpourri of violence, with 7 of the night's 12 fights ending inside the distance. The evening kicked off with a featherweight clash between WEC veterans Pablo Garza and Yves Jabouin that ended via a flying triangle choke, setting a high bar for the action that would follow. In the second bout of the night, TUF 12 alum Kyle Watson faced off with Canadian slugger John "The Bull" Makdessi.
A submission specialist with a smothering top game, most expected Watson to look for the takedown early and often, taking advantage of Makdessi's somewhat lackluster grappling prowess. However, Makdessi fought brilliantly for the first two rounds, picking apart Watson with counter left hooks and straight right hands while staying just out of the range of Watson's takedowns, which came few and far between.
It wasn't until the third round that Makdessi was truly able to unleash Hell, though. After cutting Watson during a battle along the fence, Makdessi "smelled the opening" (as Mike Goldberg would say), faking a right low kick and uncorking a spinning backfist that sent Watson careening to the canvas. Technically speaking, the KO was "f*cking brutality on the level of a Mortal Kombat game," according to top fight scientists around the globe (unconfirmed).
Watson would never fight in the UFC again, and has only fought once since (suffering a second round doctor stoppage TKO to Juha-Pekka Vainikainen in May of 2012). Makdessi, on the other hand, would be choked out by noted Speedo-enthusiast Dennis Hallman in his next bout, so you could argue that Watson got the better end of the deal in the end. You'd be wrong, but has that ever stopped anyone on the Internet before?
Shonie Carter vs. Matt Serra
Ah yes, the spinning backfist that started it all.
Shonie "Mr. International" Carter is many things: An 80 fight veteran, a TUF alum, and most importantly, a certified pimp (also, certifiably insane). He's also the guy who secured his place in MMA history by scoring the first ever spinning backfist knockout in the UFC at UFC 31: Locked n' Loaded (or as Carter likely refers to it "Pock n' Locked n' Loaded").
The date was May 4th, 2001. Carter was down two rounds to grappling whiz (and future welterweight champion) Matt Serra and in desperate need of a finish. I imagine the conversation between Carter and his cornermen went something like this:
Cornerman: "You really need a knockout to win this one, Shonie."
Carter: "Zabadoo, grape ape, one flew over the cuckoo's nest."
Cornerman: "Right, right, but you gotta stay outta the clinch!"
Carter: "How's the mailman 'sposed to deliver if the post office is closed on Sundays?"
Cornerman: "Shonie, I'm pretty sure I just heard Serra call your pimpness into question."
Carter: "Hand me my baby powder."
With nine seconds left in the third round, Carter showed Serra the backside of his hand, then strolled off into the sunset like the goddamn baller that he was. According to scholars, the knockout is said to have inspired both Jay Z's "Big Pimpin" and Wu Tang Clan's "Bring Da Ruckus," despite the fact that UFC 31 went down some years after the latter was released.
While Carter's knockout would be featured on countless highlight reels for years to come, Serra would eventually score his revenge, defeating Carter via unanimous decision when the two met again in the TUF 4 semifinals. And sure, Carter may have dropped something like 11 out of his past 13 fights, but it doesn't change the fact that his KO of Serra inspired entire generations of MMA fighters that came after to embrace the art of spinning sh*t.