Six UFC squash matches that ended exactly like we knew they would
Despite not having fought in over a year on account of narrowly surviving a car wreck last October, Gunnar Nelson was listed as high as a 3-to-1 favorite over Omari Akhmedov heading into their Fight Night scrap last week. Why? Because Gunnar Nelson is an emotionless cyborg who just so happens to have the nastiest submission game in the welterweight division, and Akhmedov has lost by submission before. Everyone including Akhmedov himself knew that Nelson was going to win that fight, and anyone who says otherwise is a goddamn liar. It's as simple as that.
Of course, Nelson vs. Akhmedov wasn't exactly the first squash match to occur in the UFC over the years that didn't feature a Serra vs. GSP-level upset. No, for every victory earned by a massive underdog in MMA, there are at least ten poor bastards who get annihilated like we all knew they would in the first place. Here six such fights.
#6 – Daniel Cormier vs. Pat Cummins – UFC 170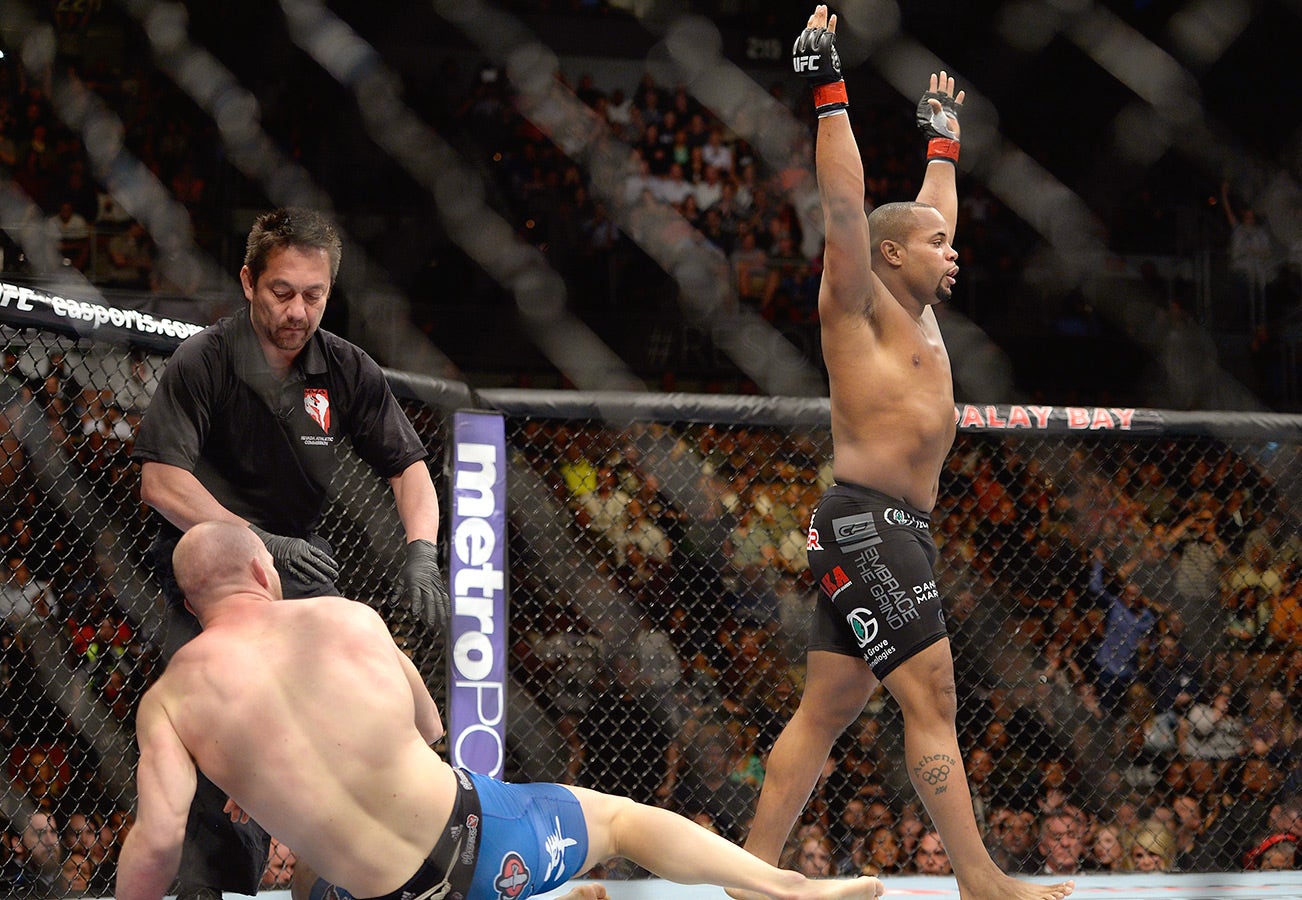 This may come as a shock to some of you, but the UFC's decision to book a former Strikeforce heavyweight champion and Olympian in Daniel Cormier against a Starbucks barista (albeit, a hell of a grappler for a barista) in Pat Cummins on 9 days' notice did not end well for the latter. Despite hyping the fight with tall tales of "breaking" Cormier in training, Cummins was barely able to land a strike before feasting on a generous bounty of Cormier's knuckle sammiches at UFC 170. The fight lasted just 79 seconds, but must have felt like an eternity to Cummins, who was so clearly outmatched from the get-go that it makes one wonder how the Nevada State Athletic Commission ever allowed the fight to happen in the first place.
Cummins took home $8,000 for his efforts, or enough to buy four cups of coffee from his former employer.
#5 – Erick Silva vs. Takenori Sato – UFC Fight Night: Machida vs. Mousasi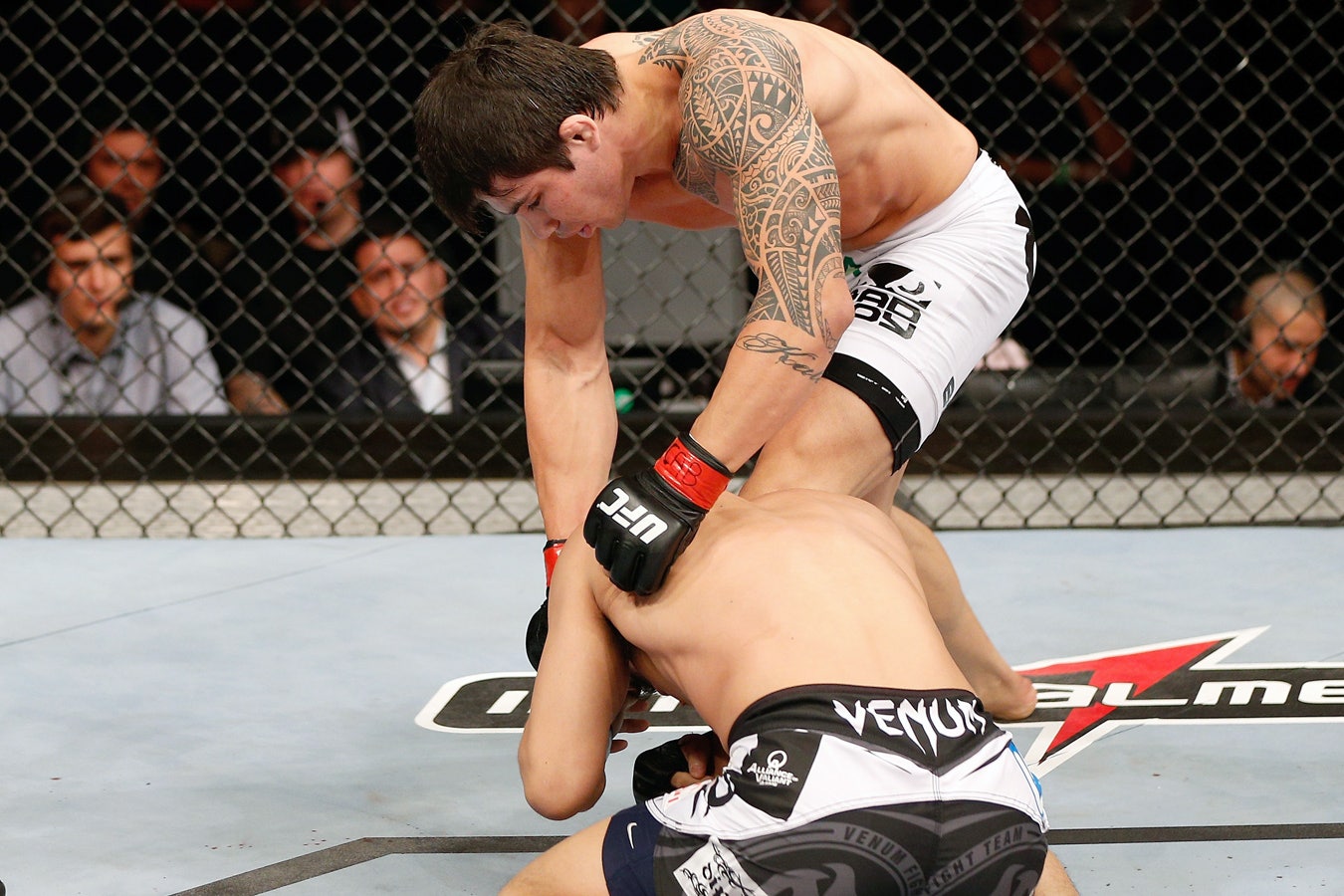 Odds: Silva -1200, Sato +900
Result: Silva via KO, :52 of round 1
For our first entry, we look back to a time in the UFC's infancy, to a time when the promotion was still ironing the kinks out in regards to where the line was drawn between "fair fight" and "public execution." That time was February 15th, 2014, when welterweight powerhouse and possible drug kingpin in a Fast and the Furious movie Erick Silva beat up an old man with rickets named Takenori Sato.
To be fair, Sato was (and still is) the welterweight King of Pancrase at the time, and was/is actually three years younger than Silva. He had won 8 of his 10 fights, and although only one of his opponents had a Wikipedia page, he was as good a late replacement opponent (for Nate Loughran) as we were gonna get right?
Wrong.
To say that Sato looked outmatched in this fight would be generous bordering on rosy retrospection. Sato's method of attack was…awkward to say the least — stilted yet loose, tense yet herky-jerky. Jardine-esque, you could say. Anyway, after getting hit with a body kick, Sato dove in on a single leg takedown that he refused to let go of, even after Silva took to "hacky-sack kicking" him in the face and destroying him with punches while balancing on one foot. It honestly appeared as if Sato was under the impression that Silva's leg was a palm tree or telephone pole keeping him from being sucked into a hurricane. Takenori Sato got knocked out while grasping onto his enemies leg like a scared girl, before ever throwing a punch. But like we said, it was a different time for the UFC. A simpler time.
#4 – Chad Mendes vs. Cody McKenzie – UFC 148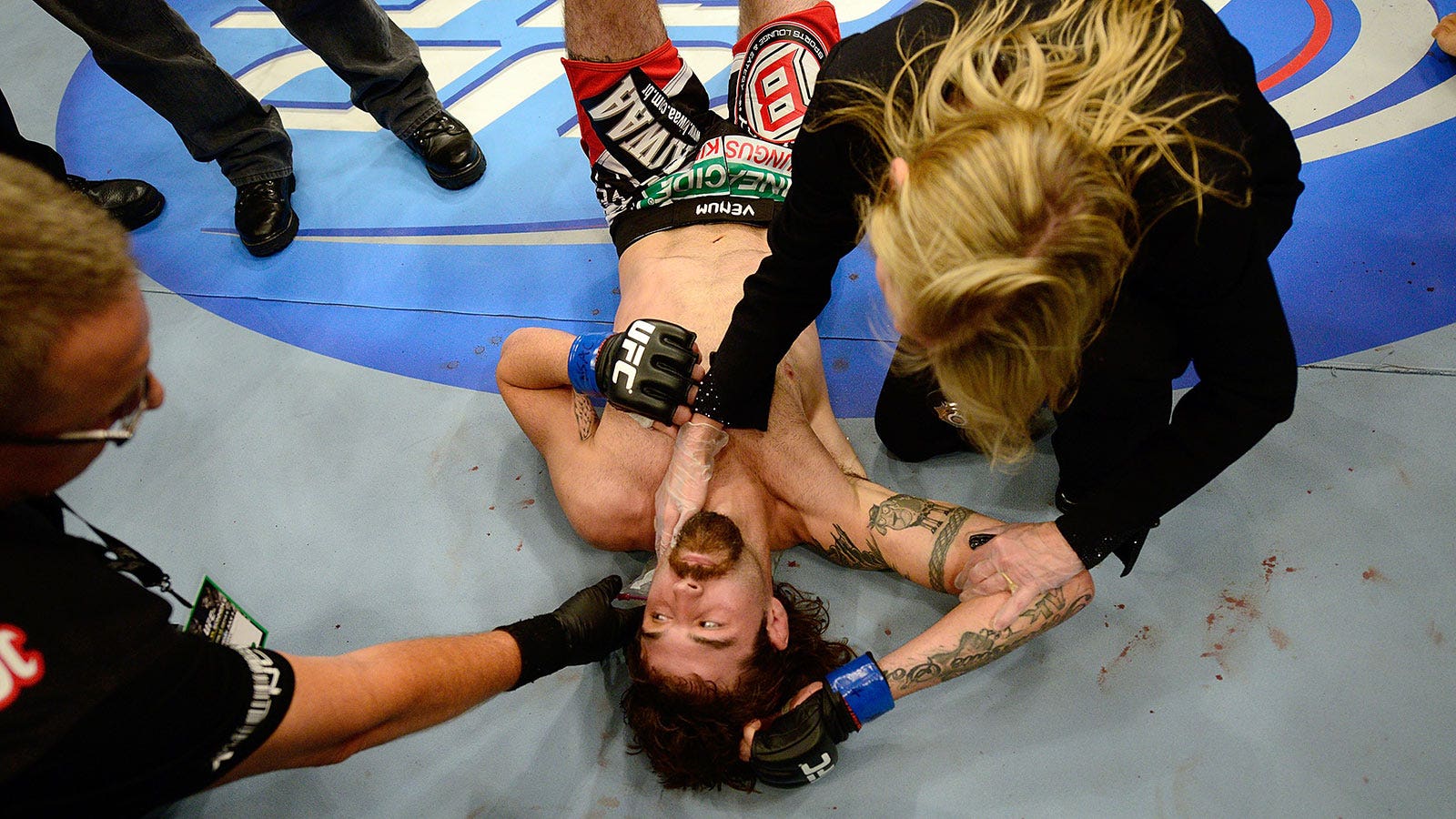 Odds: Mendes -750, McKenzie +570
Result: Mendes via KO, :31 of round 1
The Ultimate Fighter 12's Cody McKenzie is easily one of my favorite contestants to ever pass through the TUF house. Everything from his mangy hair/beard combo and complete absence of muscle definition to the laid back, hard-partying vibe he gives off are the antithesis of what we expect from a mixed martial artist, and are incredibly refreshing in today's PR-robot dominated sportscape. Plus, dude has a signature submission (the Mckenzietine) and has collected 11 wins by it (including one over Marc Stevens in possibly my favorite TUF moment of all time).
That said, myself and the rest of the MMA nation were horrified to learn that, after going 1-2 at lightweight, McKenzie would be dropping down to featherweight and facing Chad Mendes at UFC 148. For context: McKenzie had just fought Marcus LeVesseur (who? exactly), and Mendes had just fought Jose f*cking Aldo.
Take a guess at who won by body shot TKO in less than a minute.
#3 – Mirko Cro Cop vs. Eddie Sanchez – UFC 67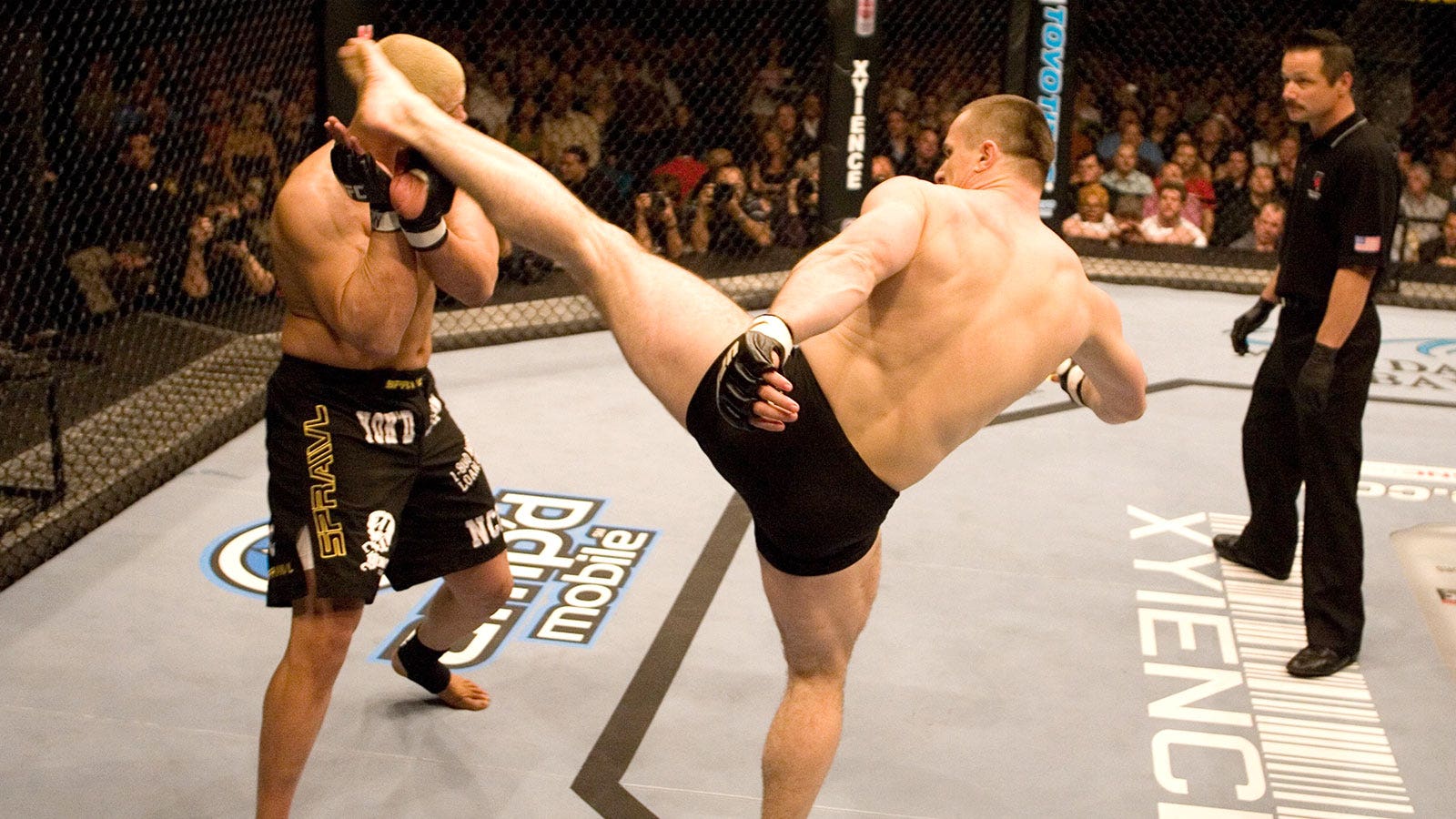 Odds: Cro Cop -1600, Sanchez +400
Result: Cro Cop via KO (left kick cemetery), 4:33 round 1
Prior to entering the UFC in 2007, Mirko "Cro Cop" Filipovic had collected 21 wins alongside just 4 losses in professional MMA competition. He had faced Fedor Emelianenko, Josh Barnett, Wanderlei Silva…you name it. Prior to that, he had compiled a 22-7 professional kickboxing record, had served as a commando in the Croatian police anti-terrorist unit Alpha, and was a member of the Croatian Parliament from 2003-2007. He was a bad mother*cker, as Samuel L. Jackson might say.
So it would make perfect sense then that Cro Cop, coming off the greatest performance(s) of his life at the 2006 Pride Open-Weight Grand Prix, would be paired against 6-0 brawler Eddie "El Dirte" Sanchez in his promotional debut.
Filipovic could have been throwing his signature left high kicks from the 4th row that night. It wouldn't have mattered. Sanchez had been waiting for that kick his entire life and didn't even know it. The date on that kick was 1982 and it had been traveling 24 years to get to him.
#2 – Anderson Silva vs. Forrest Griffin/Stephan Bonnar/James Irvin (your choice)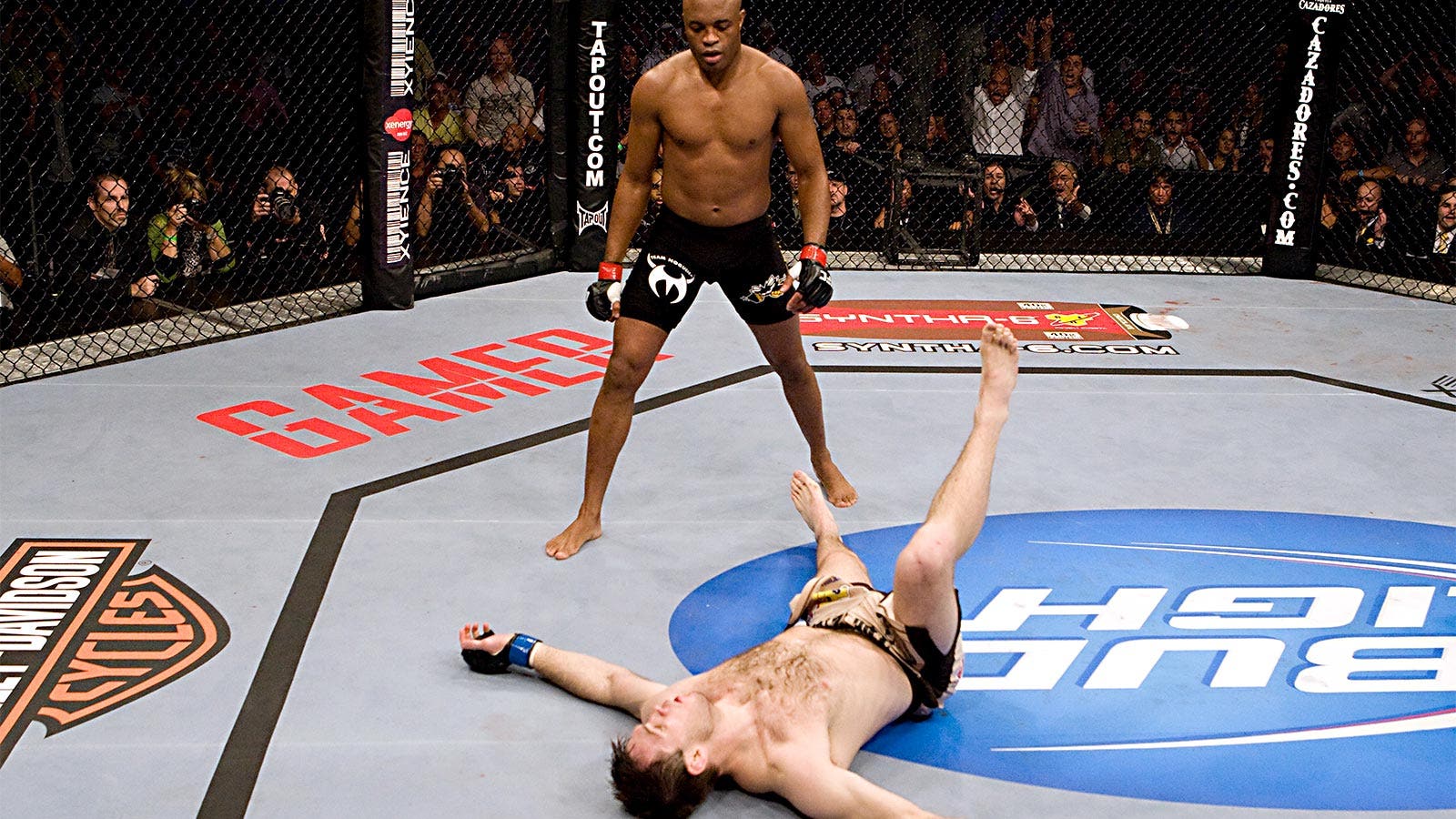 Worst odds: Silva -1350, Bonnar +850
Result: Silva by 1st round KO, in each case
For each of Anderson Silva's forays into the light heavyweight division, we were told that James Irvin, Forrest Griffin, and Stephan Bonnar each presented "unique" challenges to the middleweight champion at the time. Aside from all holding the slightest of slight size advantages on a man considered to be the greatest fighter ever at the time – a deciding factor if there ever was one – James Irvin was "the hardest hitting guy Silva had ever faced," Griffin was "the guy who beat Shogun Rua" and Stephan Bonnar "had no quit in him."
These tidbits of hyperbole were apparently lost on Silva, who trounced all three gentlemen like it was just another day at the office. If your typical day at the office involved relentless ridicule and occasional knees to the sternum, which mine does. What can I say? Brenden in accounting will just not learn how to fill out those TPS reports.
#1 – Mark Kerr vs. Greg "Ranger" Stott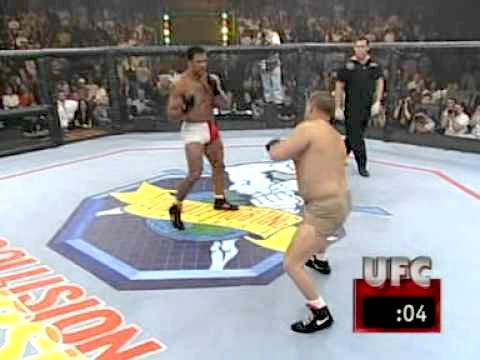 Odds: Unknown
Result: Kerr via KO, :17 round 1
OK, I take back every negative thing I ever said about squash matches. CM Punk vs. Bob Sapp in a ring of fire: Let's do this Dana!