Making the Grade: Passes/Fails from UFC Fight Night in Brazil
Dan Henderson pulled off one of the greatest comebacks in UFC history and rearranged "Shogun" Rua's face in the process. C.B. Dollaway might have become someone we should all care about.
That's all well and good. And the event was fun. But we're more concerned about reading between the lines.
Here's what Haymaker took away from UFC Fight Night in Brazil:
PASSES
Celebrations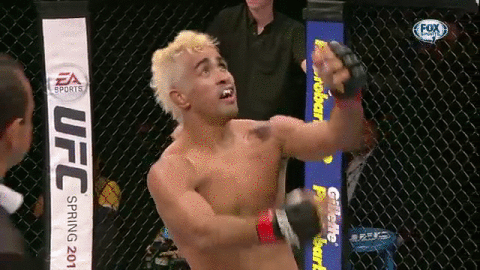 Maybe it's that Carnival wasn't that long ago. Maybe it was the hot crowd (I mean that literally — it was crazy sweaty in there). But it just seemed like there was a little more je nais se quoi with fighter celebrations than usual Sunday night. No, that is not Portuguese for "awesome dance moves."
Godofredo Pepey started us off with some weird pagan praying ritual and Rony Jason brought the class with a little matador bow and kiss to the crowd. That, by the way, is much better than smashing some glass in the back with your forearm. Just sayin'.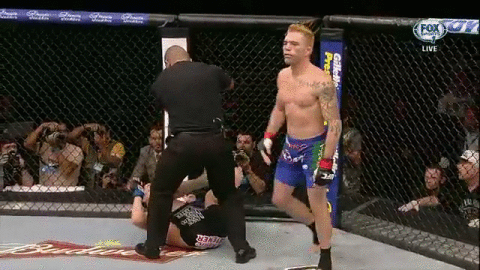 Finishes and 'dogs
I guess we're beginning to balance stuff out now. After starting the year with a ridiculously abnormal amount of decisions, UFC Fight Night in Natal was a finish fest. Seven of the 11 fights on the card ended inside of the distance, which is pretty fantastic.
Think that's crazy? How about nine underdogs winning in 11 fights? A few people must have made some serious bank Sunday night. The "MMA is unpredictable" cliché has been repeated ad nauseum by every promoter since Greek Pankration, but hell if it isn't absolutely true once in awhile. There's no hard and fast way to bet on fights. Never will be. I'm still not entirely sold you can tell a story about a fist fight through statistics.
Zombie mode
Has Fabio Maldonado been cast for the next season of "The Walking Dead" yet? The guy did nothing before getting hit with a knee to the forehead by Gian Villante. Once blood started pouring down his face — and there was a lot of it — Maldonado became a new fighter. I'd say he came to life, but there's no evidence that he is indeed a living human. Maldonado just walks through punches and throws bombs. Is there any way we can see him move up to heavyweight and fight Mark Hunt? Please?
Then there's Dan Henderson, the OG of the UFC. Henderson does not give a crap. At 43, he's the baddest could-be grandpa on the planet. Maurico "Shogun" Rua hit him with an uppercut and left hook that would have ended the nights of mere mortals. Not Henderson. He came back in the third round and blasted "Shogun" with a right hand that sent Rua's nose to Curitiba. When asked in the press conference how hurt he was, Henderson said: "It didn't feel good."
Lies. We're not sold he feels a damn thing.
FAILS
Heat
Doesn't 93-degree weather with 83 percent humidity sound beautiful? It's perfect beach weather. Except Jon Anik and Brian Stann were not on vacation. The UFC commentators had to wear suits in those conditions inside a packed arena filled with more than 10,000 Brazilians screaming about Americans on the verge of dying. There's something cruel and inhumane about that. Good thing the fights didn't suck.
This seems to be a common problem in Brazil. The arenas don't have air conditioning and some of them are unused and dilapidated. Some are only in operation once a year or so by the UFC, empty otherwise and not maintained. The fans in Brazil are awesome, but there probably ought to be some kind of arena reform down there since the market is so important to the organization. Having guys compete in 93-degree heat can absolutely affect the outcome of fights.
What the ref?
It's always a good night when the judges don't get too involved and having seven of 11 fights end in a finish is perfect. But how about those referees? They had a pretty bizarre night. Mario Yamasaki took two points away from Mairbek Taisumov for grabbing the fence and good for him. Yamasaki has been inconsistent about that in the past and he was mostly firm with Taisumov. Two points might have been extreme, though.
Then there was Wernei Cardoso, who had a pretty odd night. He took a point away from Norman Parke for grabbing Leonardo Santos' shorts — while Santos himself was holding onto the cage. Huh. No warning, either. Just a swift point taken away and the fight ended up being a majority draw. Earlier, he missed an inadvertent headbutt by Jussier Formiga that directly led to Formiga's submission win over Scott Jorgensen.
Cardoso also had a weird stoppage in the Steven Siler-Rony Jason fight. Jason walloped Siler with an overhand right, putting him on jelly legs and dropping his hands. Siler was nearly out on his feet. A left hook by Jason then sent him to the canvas, but it also seemed to wake him up. Siler was getting into guard and attempting an up kick when Cardoso stepped in to stop it, giving Jason a TKO. I'm all for fighter safety, but Cardoso should have given Siler a little more time. Even it was one more punch.
Chope-Brandao scrapped
This whole situation sucks. It's hard to feel bad for Chope, who was discharged from the U.S. Air Force in 2011 for repeatedly assaulting his wife. Chope denies the severity of the charges (threatening her with a knife and slamming her head against the floor, for starters), but admits he did plead guilty in the Air Force Court of Appeals. But no one comes out happy from this whole mess.
The UFC had to scrap a fight and has a bit of egg on their face after the news of Chope's discharge was broken on Bleacher Report. (PS: Anyone who says it shouldn't have been reported because of the timing knows nothing about journalism.) Brandao misses out on a fight, though he was given his show and win money. And Chope, who should have been more up front about his conviction and past, ends up getting cut.
In talking to Chope on Sunday and speaking with people who know him, it does seem like at age 23 he's a different person than he was at 18 when this all went down. He has a new wife now in Thailand where he trains and another child. He's even reconciled with his ex-wife. The two of them are taking their daughter to Disney World this week and Chope said they'll issue a joint press release Wednesday.
We'll never know what really happened on that Guam Air Force base five years ago and maybe Chope is rehabilitated. Something bad did occur, though, and he should have been straight up with the UFC. The UFC should have also been more diligent about a background check.
Should Chope have to continue being punished for something he did at 18, something he's already done the time for? That's something I'm struggling with.
EPIC FAIL
What a twit
Sunday night was certainly not my best work. I commandeered the UFC on FOX Twitter account for UFC Fight Night and put my foot in my mouth more than once. I admit my mistakes. Terrible job out of me.
That was absolutely a good stoppage. Siler was unconscious. He came to, but he was in bad shape.

— UFCONFOX (@UFCONFOX) March 23, 2014
I was way over the top in my defense of referee Wernei Cardoso for his stoppage in the Jason-Siler fight. On first glance, I thought Siler was in worse shape than he actually was. In real time, I judged Siler being extremely wobbly standing up and I missed him being responsive — and defending — once he hit the ground. The worst part was, instead of looking more closely at the replay, I blindly defended myself. It was a knee-jerk reaction and I'm embarrassed by it. Twitter is like a loaded gun and I shot myself in the foot repeatedly.
I was punished for it by a barrage of hate tweets. All well deserved. Actually, they probably could have been worse. For whatever reason, I wasn't on my Twitter game Sunday night. I wish I could say I was in the sweaty Natal arena or I was feeling under the weather or, you know, I was drunk. I wasn't any of those things. I was just a moron.
No excuses. Won't happen again.